The Killing Floor: "Leap to Safety"
By Sarah L. Myers
Editor-in-Chief
New York, NY, USA
---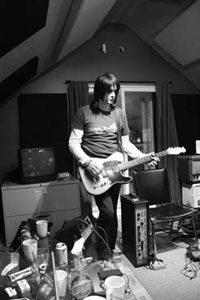 Mark Alberici
Sometimes being such good friends with a band can invade interview time. We've tried to have a proper conversation with The Killing Floor many, many times, but two things seem to get in the way - alcohol and laughter. We failed last year at the Mercury Lounge, and somewhere in the Thirsty archives is an audio track of myself and the guys having a nonsensical discussion about gloves before we're bounced from Piano's in the Lower East Side. In short, I love these men.
It's that classic New York story of one band meeting another at rehearsal, though in this case brothers Mark and Oliver Alberici were visiting from England. This US/UK hybrid demands an efficiency that certainly translates - The Killing floor, both live and on record, are polished. Mark's musical history alone is impressive, having toured with Big Country on Stuart Adamson's last tour and executing post-production on the band's final effort, Driving to Damascus. The Killing Floor's debut record, out now on Soundmine Musicworks, features standout track "Star Baby". The video - directed by none other than Joel Schumacher - debuts June 12th.
I recently sat down with Mark at Freak Bar in Coney Island for that classic musician/journalist exchange: The Top 5 List. Rock n' roll!
5. Joe Satriani
"Not because of his musical style, but because of his technical abilities. When I was a kid I used to literally sit down and learn all these scales religiously, and buy a fucking Guitar World and practice all this stuff. So he was probably, technically, the most influential guitarist when I was growing up. 'Big Bad Moon' was pretty much one of the great ones."
4. Angus Young
"When I was 13, he was pretty much it. I went to see them live at Wembley. I think it was the Razor's Edge tour, I can't remember. Basically when I started out I used to be a keyboard player, but when I saw him I realized I wanted to be a guitar player because of the whole front man thing, that's what I wanted to do. When I saw him do that, that's kind of what made me want to be in a band, so Angus is pretty much my main reason for joining rock n' roll bands. So he was pretty fucking influential."
3. Slash
"Just because he's so fucking amazing how he plays. I kind of feel like I play like him now, I saw him twice at Wembley Stadium in London. That whole album (Appetite for Destruction) was a huge eye-opener for me. I remember being a kid with my headphones on, listening to the whole lyrics. So it wasn't just Slash, but the whole. Slash to me is the ultimate blues, straight-up kind of guy, iconic in the way he looks, so I look up to him."
The Killing Floor
2. Jimmy Page
"Huge influence, not only in The Killing Floor, but to me as well, and Oliver, being British. But also guitar-wise, if I could be in any band it'd probably be Led Zeppelin. John Bonham is my favorite drummer of all time. John Paul Jones I think is totally underrated, and is one of my favorite bass players. And Jimmy Page is obviously Jimmy Page. He's always been fucking influential to me. In terms of like their folky, English style and the way they cross-over is kind of cool."
1. Jimi Hendrix
"It's obvious and it's kind of cheesy, but I have to say Jimi Hendrix. He's the guy that sets the guitar model for everyone. He's the quintessential lead guitar player. He's the best. Not only his guitar playing, but also his lyric writing and his singing, just as an artist. No one's ever touched him, no one ever will. He's a unique kind of guy and for me, growing-up, he was a huge, huge influence. And I'm still learning from him."

Link: