Dumpstaphunk: "Everybody Want Sum"
By Michael Lara
Tokyo, Japan
---
"With my life! With my life! With my life! With my life!" MOBY's urgent, emboldening opening track of "Machete" on the White Stage at FUJI ROCK 2000 best sums up the diverse stylistic and generational fare that will be served up once more in the mountains of Niigata in demonstrating the resilient strength to overcome after a most cruel and uncertain 2011 for Japan. Witnessing MOBY back then at my baptismal FUJI ROCK and soaking in that raw, liberating shared energy with all present in such a pristine setting, pure inspiration and resolve were naturally provided as it will be again 13 years later that history repeats itself.
Unlike all previous years, promoter SMASH did not wait to announce its listing of artists on the bill until May this year. After a very arduous 2011, President Masa Hidaka's tightly knit family wisely launched an offensive early on and began releasing information in January with Manchester-bred legends THE STONE ROSES leading the way for this year's crusade for the tired and hungry masses at home and abroad.
In a sense, you could say that the longtime Virginia Slims motto of "You've come a long way baby" is an equally fitting one for this epic gathering, as FUJI ROCK has done just that from its birth back on the slopes of Mount Fuji, a temporary urban Odaiba home in central Tokyo for 1998, onto its legendary spread on the grounds of the Naeba Ski Resort from 1999.
Spreading its wingspan since then, FUJI ROCK has become one of the elite festivals in the world, celebrating a wide range of artists that have included EMINEM, RUN D.M.C., Neil Young, Bjork, Beastie Boys, The Cure, Queens Of The Stone Age, Jonathan Richman, Lou Reed, Primal Scream, Chemical Brothers, Underworld, Dresden Dolls, Mogwai, Sparks, Denki Groove, Y.M.O., New Order, System Of A Down, The Pixies and countless others, alongside a sea of humanity that effortlessly and respectfully builds its own community over the course of the festival's duration.
Just as always, since its 1997 birth, a muscling of humanity is about to gather across the sprawling grounds of Naeba for perhaps the most enticing menu since 2004 when Basement Jaxx's were at their maximum power as were The White Stripes, and it is of note that Jack White will return this year. The anticipation of this FUJI ROCK is particularly high after the internationally well-known wild ride for the entire nation of Japan.
As per usual, the campgrounds open at high noon on Thursday, July 26th with opening fireworks and surprise guests in the evening to ignite this long glorious weekend for all who desire to be in pristine nature to fully savor the universals in life to be unleashed in full: music, drink, film, art and food. And for those lucky enough to have the requisite time to enjoy from Thursday to Monday morning, there is no shortage of talent, passion and more to induce a natural gaining of inspiration and friendships from the forthcoming perspiration to be delivered alone or shared as new treats and long desired ones will be on this most anticipated menu of sound and vision.
Friday, the ever difficult to assemble foursome of THE STONE ROSES will duly be one of the top savory sweets of this weekend as headliners. First attempting to see them play in L.A., after the release of their seminal debut album in 1989, when their gig was cancelled at the absolute last moment, what will happen between these four is to bound to be full of surprises and not to be missed. Their gathering alone is reason enough to take the bullet train to Echigo Yuzawa station. But the treasures this day are deep between BOOM BOOM SATELITTES, COBRA, LOS LONELY BOYS, GOSSIP, ED SHEERAN, OWL CITY and veteran returnees such as THE TROJANS as are THA BLUE HERB (both part of my FRF'00 baptism).
Saturday, BUDDY GUY, DENKI GROOVE, THE SPECIALS will duly provide happy feet and aerobics on these fields and floors on fire as will FRF returnees such as JUSTICE, but rest assured that under the radar secrets such as SPECIAL OTHERS and BUSY P will deliver in full. MY BEST FIEND, CHE SUDAKA are others will wholly inspire, as shall SWISS LIPS. Additional whipped cream and other delights is to be provided by THE D.O.T., CARIBOU, RAY DAVIES, TOOTS & THE MAYTALS and ELVIN BISHOP.
Sunday, the final and lamenting day for all FUJI ROCK newcomers and veterans in knowledge that the end is near is full of souls with their own special sauce to distribute. While RADIOHEAD is at last headlining, a plethora of appetizers beforehand are equally ready to deliver their dishes, if not more. AT THE DRIVE-IN, DUMPSTAPHUNK, ELVIS COSTELLO & THE IMPOSTERS, JACK WHITE, JAMES IHA, REFUSED, HOWLER, OCEAN COLOUR SCENE and THE SHINS are just a few who will deliver a robust audiovisual banquet.
While the ever-unpredictable weather in these mountains flavors each day from dawn-to-dawn for all, all veterans know that the final destination is Crystal Palace and its adjacent gathering spot of Palace of Wonder. Until those final gasping hours on Monday morning, the last ones standing and dancing about there or at the Red Marquee enjoy in full, reluctantly knowing that in a matter of hours they will be kicked off the festive grounds, but with a most satisfied mind, body and soul wherever that resides and a strong will to return in 2013. No matter if you economically camp or splurge in staying in the Naeba Prince Hotel or another sturdy sheltered place, one's life and outlook on it is forever changed from the glorious time spent together. A worthy life investment, be ready for all in full-flavored intensity for a robust shared educational journey.


Links: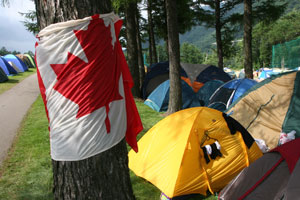 Photos courtesy of Michael Lara
FUJI ROCK 2012
Naeba Ski Resort, Echigo-Yuzawa, Niigata, Japan
July 27th-July 29th (Opening party July 26th)
Essential info to this Promised Land at the end of every July:
www.fujirockfestival.com
www.smash-jpn.com
www.smash-uk.com
www.smash-mobile.com
www.fujirockers.org
www.smash-uk.com/frf12/about_general.html
www.princehotels.com/en/naeba/
www.jreast.co.jp/e/
2012's LINE-UP THAT'S STILL UNFURLING:
FRIDAY (7/27)
ARAAB MUZIK: www.araabmuzikmvp.com
BEADY EYE: www.sonymusic.co.jp/Music/International/Special/beadyeye/
BOOM BOOM SATELLITES: www.bbs-net.com/
COBRA: www.oithecobra.com/
ED SHEERAN: wmg.jp/artist/edsheeran/
ELECTRIC GUEST: www.electricguest.com
ELI WALKS: www.motion-pm.com/?p=228
www.soundcloud.com/eliwalks
GOSSIP: www.sonymusic.co.jp/Music/International/Arch/SR/thegossip/
www.gossipyouth.com/
LOS LONELY BOYS: www.sonymusic.co.jp/loslonelyboys
OWL CITY: www.owlcitymusic.com/
www.beta.universal-music.co.jp/owl-city
THA BLUE HERB: www.tbhr.co.jp/
THE KOOKS: www.emij.jp/kooks/
THE STONE ROSES: www.thestoneroses.org/
THE TROJANS: www.gazrockin.com/
THIRD COAST KINGS: www.thirdcoastkings.com/
SATURDAY (7/28)
BUDDY GUY: www.sonymusic.co.jp/Music/International/Arc...
BUSY P: www.busyp.coolcats.fr/
CARIBOU: www.caribou.fm
CHE SUDAKA: www.chesudaka.com/index.php/en/
DENKI GROOVE: www.denkigroove.com/
JUSTICE: wmg.jp/artist/Justice/
MY BEST FIEND: www.myspace.com/mybestfiend
RAY DAVIES & BAND: www.universal-music.co.jp/u-pop/artist/ray_...
SPECIAL OTHERS: www.specialothers.com/
THE SPECIALS: www.thespecials.com/
STEVE KIMOCK: www.kimock.com/
SPIRITUALIZED: www.spiritualized.com/
SWISS LIPS: www.swisslips.com/HOME.html
TOOTS AND THE MAYTALS: www.tootsandthemaytals.com/
SUNDAY (7/29)
HOWLER: www.howlerband.com/
AT THE DRIVE-IN: www.atdimusic.com/
CTHONIC: www.chthonic.org/
DIRTY DOZEN BRASS BAND: www.dirtydozenbrass.com/
DUMPSTAPHUNK: www.buffalo-records.com/artists/NewOrleans/dumpstaphunk.html
ELVIS COSTELLO AND THE IMPOSTERS: www.elviscostello.com/
GALACTIC: www.trafficjpn.com/galactic
JAMES IHA: www.emimusic.jp/jamesiha/
JACK WHITE: www.sonymusic.co.jp/Music/International/Arch/SR/jackwhite/
M. WARD: www.hostess.co.jp/merge/mward/
OCEAN COLOUR SCENE: www.oceancolourscene.com/
www.trafficjpn.com/
REFUSED: www.officialrefused.com/
SHIBUSASHIRAZU ORCHESTRA: www.shibusa.net/
THE SHINS: www.sonymusic.co.jp/theshins
All opinions expressed by Michael Lara are solely his own and do not reflect the opinions of Stay Thirsty Media, Inc.