Bonnie Koloc: "Kentucky Dream"

By Stay Thirsty
---

Bonnie Koloc
It was 1968 when Bonnie Koloc, an Iowa girl of 22, burst onto the Chicago folk music scene. At the time, the nation was absorbed by the Vietnam War and the protest riots during the Chicago Democratic National Convention. She quickly became a pivotal act at the Earl of Old Town, Chicago's legendary folk music club, and completed the holy trinity of Chicago's folk music scene, along with Steven Goodman and John Prine.
During the next decade, Bonnie recorded seven albums, two with Epic Records (Close-Up - 1976 and Wild and Recluse - 1978). She moved to New York, appeared on the Dick Cavett and Mike Douglas Shows, toured the US and Great Britain and opened concerts for the Eagles, Dan Fogelberg and Gordon Lightfoot. Storied critic Rex Reed wrote that, "She has awesome control, directness, and an uncluttered purity that grew on me like moss."
As times changed, however, so did she. In 1984, Bonnie had a starring role in Joseph Papp's Broadway production of the William Saroyan novel, The Human Comedy. For her debut appearance on Broadway, she won the Theatre World Bronze Award for Most Promising New Talent.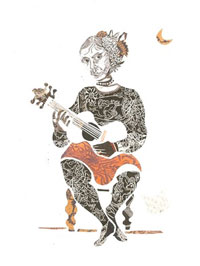 Woman With Guitar I
by Bonnie Koloc
Again, in 1987, Bonnie shifted gears and at the age of 41, she returned to college and earned a B.A. in Art Education. Since high school, she had shown a talent for fine art and she turned her energies into printmaking, painting and ceramics. In 1996, her collection of linocuts, poetry and music entitled A Bestiary won the Best in Show at the Iowa State Fair's art salon. And, in 1999, her work was included in the National Exhibition of the Los Angeles Printmaking Society.
From musician to actor to artist, Bonnie Koloc is a remarkable talent. This June, at the age of 66, her latest album, Bonnie Koloc Rediscovered, is scheduled to be released, and she is making some very special concert appearances around the Midwest. If you are lucky enough to catch Bonnie Koloc live, you will indeed be fortunate.
Links:
Bonnie Koloc
Bonnie Koloc - Upcoming Concerts

Bonnie Koloc in Concert