#37 - 2012 May
By Sarah L. Myers
Editor-in-Chief
New York, USA

It's my favorite New York City bar, my favorite New York Dolls song, and now it's my favorite way to get trashed.
I waited nearly a year for twelve sweet days in the UK. They flew by and before I knew it, I was on the plane back to New York. Isn't that always the way? It was one of the busiest months in Trash history, with so much more to come this summer. I'm not yet speaking with an accent, but I might be permanently writing this column from England if this love affair continues!
United Kingdom Trash…

Alice and Pete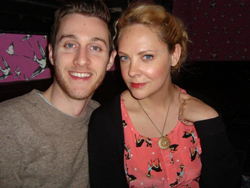 Pete and Sarah

Sarah and Rory
London is my new New York. Loyal Trash readers recall spring 2009, when I left Chicago and moved to the city that never sleeps. While it's true the possibilities are endless here, it also instills a type of restlessness. I can only stay for a month or two at a time before the feet start itching and the suitcase comes back out. London is like a box of new adventures just waiting to be opened. I feel so at home there, yet small challenges present themselves (How do I make a collect call? Why are there no cross streets? Why do the nickels look like dimes?) I arrived the night of the 13th and immediately jumped on the Underground to Piccadilly Circus, where Pete, Rory, and Alice awaited me at the pub. It was freezing cold as I juggled my bag and an umbrella through their version of Times Square, desperately looking for street signs and any hint of a proper direction. There are so many little side streets in London I didn't even realize I'd passed the pub at least twice. We had one night of calm before going completely off the rails for the rest of the trip. I experienced punting in Oxford, which requires pushing against a river bed with a pole, but the only skill I needed was reclining and drinking Pimm's while Rory and a hungover Pete handled the boat. I absolutely love the tradition of Sunday lunch, and met up with Pete and Alice the next day for beef roast, potatoes, Yorkshire pudding and carrots before hitting Spitalfield's market.
With nothing on the schedule, I spent my days wandering around Camden, drinking endless pints of Kronenbourg, and hunting for the perfect bangers and mash (found at the Coach and Horses in Soho). I took in the Damien Hirst exhibit – a multi-sensory assault featuring a decapitated cow's head and a room of butterflies emerging from cocoons which Hirst had painted onto canvases. After a few days in London I was off to Glasgow to visit Derek. I can pick out a few beautiful memories throughout the years, and that train ride north is one of them. I'd never seen such incredible scenery, with rolling green fields full of lambs, llamas, and horses. I must have listened to Richard Ashcroft's "Brave New World" at least 20 times looking out that window. I spent a day in Edinburgh looking for Sick Boy and friends, yet only found some drunken Swedes in silly hats interrupting my whiskey time. We checked out the Dandy Warhols and hit up the Captain's Rest for Derek's DJ set ("Frankie Teardrop" on a loop, you say?) Perhaps the quickest part of my trip, Scotland is just one more place I can't wait to explore further. One rowboat trip through a proper loch is not enough, let alone when an epic storm system is following you back to shore. With just a couple of days left in London, the gang and I took in the Brick Lane flea market and hit the infamous Teyyabs for dinner. Go early before the line forms and order the spicy lamb chops! I needed two more things before heading back to New York. After permanently etching Verve lyrics on my ribcage I just needed absinthe for my trip to be complete. My fix was met my last night when we ordered a fountain of the forbidden elixir. The headache was killer but the evening was lovely.
I learned a couple of things on this most recent trip to the UK. I'm not a true New Yorker. I'm not a true anything. I'm always looking for something and I'm not sure what it is that I want. I'm in love with my friends overseas and will be as long as the conversation holds out. My next trip is already planned and I will be reporting Trash from Glastonbury next year. Something tells me I won't, and can't, wait that long to return.
Thirsty for More?
As if taking this incredible trip wasn't enough, I had an opportunity to meet the amazing Alan Vega at Bowery Electric. Appearing as part of a small benefit show April 30th, Vega took the stage for a few numbers including "Dream Baby Dream" and "Cheree", which very nearly brought me to tears. There was this sense in the room that everyone was seeing something so special, so indicative of another time, when this radiated music and minimalistic growling galvanized a community and created punk rock. Speaking with him upstairs he was just as I'd expected – whip smart and steeped in that New Yawk accent…. Thirsty would like to say big congratulations to family member Kevin Carroll, who appeared on last week's episode of NBC's "Grimm"! We know this is just the beginning for you and we couldn't be more proud! Tomorrow the world, friend!
Until next time...


Links: