#35 - 2012 March
By Sarah L. Myers
Editor-in-Chief
New York, USA

It's my favorite New York City bar, my favorite New York Dolls song, and now it's my favorite way to get trashed.
When reading "Trash" from this time last year, it's funny to see just how much and how very little has changed. The gang was out in full force, celebrating birthdays, record releases, and Fashion Week parties. But our cast of characters has changed in other ways. I'm using this month's "Trash" to congratulate our friends for their accomplishments this past year!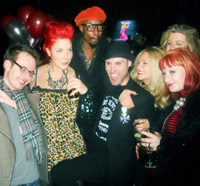 Betsey Johnson party
Jordi Scott is responsible for 99% of our shenanigans, so it's no surprise we all converged on Stone Rose for Betsey Johnson's after party. Betsey, Jordi's first employer in NYC, cuts a diminutive figure with her bleached dreadlocks and puffy skirts, and not even 6" stilettos helped Johnny catch a glimpse of her behind the DJ booth. This party is one of the few Fashion Week indulgences I'll allow, as my ability to endure pretension is at an all-time low these days. But Betsey is a different story. It's like someone cracked open a Lisa Frank piñata. Glitter, ribbons, tulle, balloons, polka dots, and lightning bolts were everywhere. The place was packed, with the queue for the open bar reaching ten deep. We held court in the middle of the room, trying not to slip in all of the spilled beverages coating the floor. Betsey's parties are that one place you can feel unashamed for losing your cocktail because "I Wanna Dance With Somebody" comes on. We ended that night back at The Skinny and 200 Orchard. Like I said, some things never change! Congratulations to Thirsty friend Justin Dean Thomas of the Bowery Riots, who walked for Levi's collection this year. Rock n' roll!

The Kills backstage
(credit: Jo Murray)
I first saw The Kills in 2005, when they opened for Bloc Party in Chicago. I was so enchanted by this grating music, and didn't quite understand what I was looking at. Alison, at the time, was kind of scary in her reclusiveness onstage. Her hair hung straight down like the girl from "The Ring". Jaime just seemed angry as hell, which he conveyed through his guitar. I didn't know if they were 20- or 50-years-old. I just fell in love with them. The Kills celebrated their 10-year anniversary at NYC's Terminal 5 on February 11th. I'd already had the privilege of seeing them in Boston earlier that week, where we hung backstage watching YouTube videos, drinking, and debating the Ramones. Jaime hates them. Myself and Jo Murray do NOT. A couple of sports bars later I'm dancing to the Violent Femmes with Alison and laughing my ass off as everyone tried to "quiet down" during "Blister in the Sun". Boston is a confusing city at night, so by the time we reached the tour bus I'd lost all concept of time. It was great to spend even a little time with Alison, Jaime, and their wonderful crew. They are such genuine, generous people, and singing "Happy Birthday" to them with the rest of Terminal 5, with BP Fallon leading the charge, felt even more special after that great night.
Congratulations to Alison and Jaime and here's to another INCREDIBLE 10 years!
Prospector
(credit: Lisa-Thi Beskar)

Isn't all "Trash" about rock n' roll? This month it hit especially hard, with two of our greatest friends celebrating record releases! Our beloved Prospector marked "Between 0 & 1" with two shows – one at Milk Studios, and one at Fontana's, that great LES home-away-from-home. After rocking out to these songs live for almost three years, it's a little weird to hear them on record. I'm already experiencing that innate ownership that comes with your favorite band, but I couldn't be happier for their success. The Milk show was a riot, with all of us working off the open bar at Cabin later that night. Fontana's is a place for old friends, and it was great to catch up with LT, Barry, and Seymore.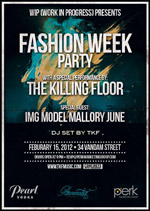 Also celebrating this month were The Killing Floor, who played a Fashion Week set at the so-cool-it-hurts bunker Work In Progress. In attendance was Mallory June, star of their "Star Baby" music video directed by Joel Schumacher. The past two KF shows have been pared down, swapping Oliver's guitar for keyboard, but as I joked that night, "Marco still looks like he's playing in a stadium", acoustic or not. We spent the rest of the night nursing the bottle service and catching up, already making plans for the months ahead. "Star Baby" premieres soon, and we'll have it right here at Thirsty!
Congratulations to Prospector and The Killing Floor! And congratulations to newlyweds Mark and Erica!
The Dirt Daubers
Proper congratulations are in order for the Dirt Daubers, as single "Get Outta Way" has gathered more than 22,000 views in just five days. The video, featuring Danielle Colby from "American Pickers", stars a defiant Jessica Wilkes firing off a round while husband JD works the washboard and harmonica. Be sure to catch these guys on tour; selected dates share the bill with th' Legendary Shack Shakers! I'm counting the days until I get to see them myself - in London! "Trash" goes international yet again when I spend two weeks in Europe. Stay tuned!
Until next time...


Links: