By Anna Murphy
New York, NY, USA
---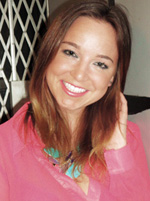 Anna Murphy
When I started my monthly column for Stay Thirsty about a year ago, I was a single twenty-something who shared a cramped living space with my sorority sister and spent way too many hours of my week publicly relating beauty products to the masses. I sometimes met with a few people to play music when we had an hour or two to kill. And I was living in the quarter-life, with crises on the reg.
Today, I am in a nearly 8-month relationship, living alone (still in a very cramped space) and am employed at a company that is the epitome of awesomeness and combines all of my interests - people, the internet and music. I also actually got serious about my "band" and we threw together a four-song EP that we've decided to semi-promote. But even with all these changes, I am still living in that gray area where I'm done building the framework for my future - but still just sitting on the rafters, not willing to commit to the full picture.
All these changes have come as a result of both fate and choices. I was lucky enough to be reintroduced to my boyfriend in NYC five years after initially meeting him in DC (our friends are siblings). I was persistent enough to jump ship from a three-year career that I was comfortable in to follow my dream of working in music. I was confident enough that I could live alone - pay bills, lock my door, clean the bathroom myself - and hunkered down in an East Village studio solo.
And as I get older, the "now is the best time" mentality rings truer than ever. So the "band" put in a few extra practices, rented a recording studio and laid down a few tracks to try to drop the quotes when talking about our "band."
I loved my quarter-life a year ago, but today, I love it even more. It gets monotonous in this city that never sleeps, and it's nice to change the scenery every now and again to maintain one's sanity. And while I welcome changes, I also still cling to the things that I loved a year ago. I go on weekly dinner dates (see also - concerts) with my former roommate, I am still addicted to avocado sushi rolls (takeout, sit-down or otherwise) and am still running races - but have replaced the half-marathon's of yore with a full one this fall.
And while I'm not quite there, I'm confident that all these little changes during my quarter-life will just result in one big life. And in due time (and probably behind my back), that framework will actually fill itself out.
All opinions expressed by Anna Murphy are solely her own and do not reflect the opinions of Stay Thirsty Media, Inc.