You must have Adobe Flash Player to use this function.
#28 - 2011 July/August
By Sarah L. Myers - Editor-In-Chief
New York, USA
---
It's my favorite New York City bar, my favorite New York Dolls song, and now it's my favorite way to get trashed.
Pardon the delay! If there's one thing about New York I can't figure out, it's how to fall ill and stay on top of a schedule. When I wasn't navigating Mt. Sinai's glamorous emergency room (my second visit this year), I was figuring out which parties most needed my time. In the end, I decided Mermaid Parade, the Legendary Shack Shakers, and Jordi's birthday could NOT be missed! Deciding my glass will stay half-full, I'm not focusing on summer's downswing, but rather next month I'll be back in Chicago taking a well-deserved break. It's time for some rest, and this time it won't be in a hospital bed!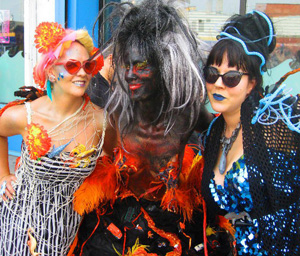 Sarah, Whitney Ward and Jordi
---
Thirsty readers know Coney is my true love. Wind-worn boardwalk signs, that hot bartender at Freak Bar, Nathan's chili cheese fries, my beloved sideshow, and the one day we pull out all the stops - Mermaid Parade! The gang assembled early this year, making it out to Brooklyn while the parade was underway. I'd been constructing my outfit for weeks and couldn't wait to debut my crab-adorned platforms and fishnet cape. Nothing thrills like the sight of hundreds of "freaks" all dressed for the love of surf and sand. I kept my eyes peeled for Joe Coleman and Whitney Ward, who wore a hand-painted volcano dress complete with burning miniatures and a bra of sparklers. The gang stuck it out until dark, when the boardwalk became Wonderland for grown-ups. When we weren't giggling like kids on the rides (I'm looking at you, Marco!), we manned the patio at Cha Cha's, taking full advantage of the $10 "floater" specials. For those of you not schooled in the classiness of the boardwalk, that's a frozen beverage with a floating shot on top. Add an umbrella and it's instant Spring Break. You could be in Florida, though the water's clarity reminds you otherwise! The costumes seem to get crazier every year, and I'm sure it's just a matter of time until our wigs and shoes barely fit on the train. If only we could look like this every day!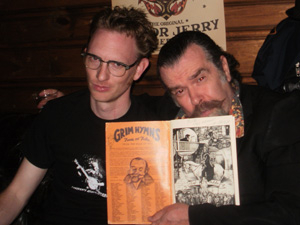 JD Wilkes and Joe Coleman
---
Our other annual party seems to fall whenever those Legendary Shack Shakers roll into town! I couldn't wait to introduce singer JD Wilkes to Joe Coleman, of whom he's a massive fan. The two talked art and illustration while Whitney and I shared wine and girl talk backstage. The guys completely rocked Brooklyn Bowl and, as the night was sponsored by Sailor Jerry, everyone was in great spirits. Openers Two Man Gentleman Band brought their upright basses, bow ties, and kazoos onstage for songs about chocolate milk and trousers, setting up the crowd for JD's notorious performance. There's a reason he's consistently named rock n' roll's greatest front man. I've known them five years and am just as blown away as I was the first time I saw them. The Abbey in Chicago seemed too small for their explosive energy, reaching the back of the house by the second song. The night brought old favorites like "Iron Lung Oompah" and "Ichabod" and "Sugar Baby" from their latest, last year's brilliant "Agridustrial". Friends of Thirsty from our very first issue, the Shack Shakers can always be counted on to blow the minds of first timers. It's become a hobby of mine to introduce people to these guys, so if they're stopping anywhere near you, RUN! I recommend 4-inch heels for dancing!
Chad, Jordi, Johnny and Sarah
---

Summer in New York also means birthday celebrations! In lieu of a huge theme party, this year Jordi opted for a small LES affair at Boho Karaoke, situated on our home stretch of Orchard off Houston. The gang of myself, Elena, Erin O, Johnny, Chad, Eric, Nefra and Yin completely embarrassed ourselves by singing Dolly Parton, Cher, Britney and Prince while the overpriced Andre flowed! Karaoke is one of those things no one admits to liking, but if you let yourself, it can become a sloppy blast. What's cooler than dropping the pretension and drinking bodega beers in the bathroom? You can't be at the Hudson Hotel every night (though I wish Ladyland was a daily occurrence). After a couple of hours, and a quick scope at the Goth party next door, we headed to our other second home, The Skinny, before finally calling it the next morning. As this was my first real night out, I took it easier than most, but we still hit our Turkish after-hours spot and greeted the sun. As always with this group, we're already planning the next party. Now we're thinking Halloween…
Thirsty turns 5 years old in just a couple of months. I always knew those meetings around the table in Chicago would lead us here. New York is huge, and it's just one spot in the middle of the world, but knowing we've made a contribution is all we wanted. We've turned a global audience on to a "Thirsty" way of life, and whether its lived by three hundred or three million isn't my concern. When you click through and slide underground, you're part of our lifestyle. And we have amazing things planned for the milestone. Stay tuned, and until next time, Stay Thirsty!

Links: