By Jaclyn Sarah Shanfeld
Los Angeles, CA, USA
---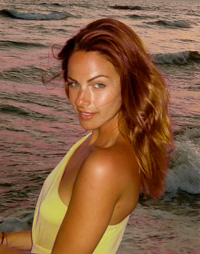 Jaclyn Sarah Shanfeld
---
In a country where a fanny pack accessorized with a miniature Speedo is considered acceptable and rather functional daytime attire, one mustn't waste vigor attempting to understand the origin of trend when precious carbohydrate consumption is at stake. In a place where a woman's undergarment exposed is rewarded and often encouraged, the civility of a slip is wasted. In a realm where strident catcalls are predictable and public displays of affection deemed ordinary, why hide behind pleasantries and societal restrictions? In a town whose streets are lined with ancient contributions from artistic geniuses and brimming with spirituality and godliness, it seems petty to ever squander expression. Such is my experience of Italy. An experience I was fortunate enough to have just this past month.
La Dolce Vita (Italian for "the sweet life" or "the good life") is a 1960 film by the critically acclaimed director Federico Fellini. The film is a story of a passive journalist's week in Rome, and his search for both happiness and love that will never come. While I am certainly not passive or lonely, as I was fortunate enough to have brought my love along with me, I, like Fellini, describe Italy as a place of sweetness, goodness and style.
Elegance is in the Italian blood and most Italians would unhesitatingly give up comfort in order to achieve it. Italy is a nation that cherishes outward appearances. Yes, it is great if you have a good heart, but Italians would expect you to have well-groomed hair, a faultless sense of fashion and a really fabulous pair of shoes. So, it is no wonder that some of the world's best sartorial artists are from Italy.
From one of the pioneers of modern fashion, Elsa Schiaparelli to the modern czar of extravagant opulence, Roberto Cavalli, Italian fashion has had it all. Italian men and women have had some of the best fashion visionaries watching over what they wear, be it clothes, perfume, shoes, jewelry or hair, for almost a century.
The privileged Italians have had names like Brioni and Zegna look after their work wear, and the house of Valentino to call upon when they needed clothes for that special occasion. Armani has been at hand letting Italians know that they can be subdued yet elegant, just as the house of Versace has given new meaning to glamor. Diesel is a world conqueror in a category all its own, and the likes of Prada, Missoni, Ferragamo, Ferre, Bottega Veneta, Damiani and Bvlgari are discussed in hushed tones of awe in fashion circles across the world.

Colosseum, Rome
---
And for the everyday lives of stylish Italians, there has been the affordable yet stylish Zara, and countless other names strewn across Italian cities that continue to take pride in making men and women beautiful. Hollywood has paid homage to Italians and their sense of fashion; for the past few decades, most of the glitterati on the red carpets are clad and bedecked in clothes and jewelry made in Italy.
Fashion in Italy is almost a national passion, and to see the latest trends, one need only glance around the various piazzas, restaurants and streets. Interestingly, these are trends worn to show off the best of the wearer and, imperceptibly, conceal any flaws, while being durable, classic and genuine.
A sylphlike Italian woman marching down the cobbled streets in the latest ultra-high wedges without missing a step, hair flying in the breeze, epitomizes an attitude of dressing with care and confidence, while seemingly artless. And this attitude can only be achieved through a tradition of seduction and refinement handed down through generations. Many Italians love to show off, but mostly in an individualistic, understated way; their clothes fit, but still allow room for sensual movement.
While I still refuse to walk the cobbled streets with anything north of a flat sandal, I take back with me to California a taste of the fearless expression of sensuality that is the Italian way. My bra is still modestly tucked within my dress, but it now is a shade of vibrant red, oozing with black lace. Baby steps.
Link: