By Matt Cutugno
Indio, CA, USA
---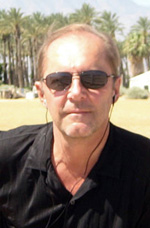 Matt Cutugno
---
There are two kinds of people in this world: those who love Costco and those who don't. I'm facing a moral dilemma, and it's not one most of us would think of as such—I'm trying to decide if I want to shop at Costco or not.
Costco is the largest membership warehouse club chain in the United States. If you're not familiar with it, you likely live in a place outside its sphere of influence. I did, having lived in New York City for most of my life. But now I reside in California and here, as in many places, Costco is king.
Do you need a four-pound bag of pretzels? Or a 36-roll pack of toilet paper? Do you want to be able to shop for a flat screen TV at the same time you purchase a head of lettuce? And do you think it would be a grand idea to fill up your car's gas tank with Costco unleaded and get 4% back while you're at it? If you answer in the affirmative, then this place is for you.
If, on the other hand, you know what globalization is and it presents a problem for you to eschew the Mom and Pop store in favor of shopping at the multinational corporate one, then you understand the dilemma.
For an outsider like me, the Costco experience is surreal. I show my identification card at the front door and I enter a cavernous space that seems more like an indoor city than any store I know. There is a mini food court, there is a customer service counter, and there are restrooms. But most of all, and this is where spaciousness is essential, there are stacks and rows and piles and shelves upon shelves of edible and non-edible products. The ceiling in the hangar-like edifice has got to be 80 feet high.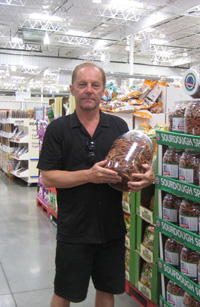 Matt Cutugno shopping
---
While you push your momentarily empty shopping cart (which by the way is the size of a Smart Fortwo), you'll stop at the free sample stations that are everywhere. Have some mango salsa and chips, how about a piece of barbequed sausage? Try a Dixie cup of Pomegranate juice with antioxidants, now a mini Belgium waffle, followed by a scoop of Summer Fun potato salad.
The freebies are by way of reminding customers that these food items and much more are stacked all around them. Stacked high. Thus the filling of the shopping cart begins. I wanted some cheese, but I couldn't find any that wasn't the size of a brick. If I was looking for the best deal on shampoo, I had to purchase a year's supply.
It's very different from the small business-owned store. Isn't it a good idea to patronize local merchants, buy from Mom and Pop? Therein lays the moral dilemma. The Costco or Not decision is not a slam dunk. Frankly, Mom and Pop can be grouchy and they can overcharge, so I can see the appeal of the alternative shopping experience.
I must say that Costco employees seem a helpful and happy lot. When I asked a couple workers at checkout how they liked the company, they were quick in their praise. The globalizers are generous employers, impressive.
But I do think they are purveyors of consumerism. Buy more, use more, eat more. Being philosophically opposed to that, I'm thinking of becoming a selective shopper at Costco. They have some good deals, and a nice wine selection, and perhaps I can avoid the temptation to purchase 10-pound containers of coleslaw.
And if I want to stop at Manny's Electronics for a television or at the local taquería for a snack, good for me.
---