You must have Adobe Flash Player to use this function.
#27 - 2011 June
By Sarah L. Myers - Editor-In-Chief
New York, USA
---
It's my favorite New York City bar, my favorite New York Dolls song, and now it's my favorite way to get trashed.
If it's May in New York City, it's time to celebrate Joey Ramone! I've been coming to the Joey Ramone Birthday Bash for five years now, my first being when the Dolls headlined in 2007. I was still living in Chicago and flew out for a riotous week in NYC. Mickey Leigh invited me to Joey's old apartment for an interview, and Arturo Vega gave me a tour of the famous Ramones loft, just steps from Joey Ramone Place and what used to be CBGB. I met my first true New York friend in Sabrina Hawkins and decided I really could move to the city. No longer just a vacation spot, New York became a goal for which I was always aiming. This place reminds me a little of Joey himself, promising the same optimism he wore like a leather jacket. No matter how complicated, it always rights itself. "It's gonna be alright", just like Joey said.

We kicked off our Birthday Bash week with rehearsal. My girl Erin O and I had planned the official Joey Ramone "Not So Silent Auction", assembling a super group that included Ali McMordie of Stiff Little Fingers and Jon Airis on drums. Big thanks to Fred over at Rivington Studios for the space! We were definitely the loudest in the building that night, ripping though Ramones classics for over two hours. It's amazing the effect Guinness and PBR has on volume! Our auction landed the night after the Bash, and after months of planning we placed it in the hands of the party gods. It was time to rock n' roll.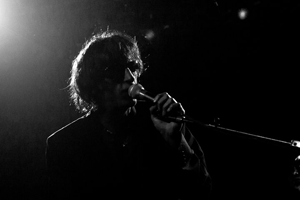 Mickey Leigh (credit: Jason Kuffer)
---
This year's Bash included the usual players - Walt Stack, Mickey Leigh, Richie Ramone, Clem Burke, Tommy Ramone, Bebe Buell, Ed Stasium - and a host of countless others paying tribute to our punk hero. Old footage of Joey played on the big screen, followed by live performances of "Chasing the Night" and "Rockaway Beach", bringing a sing-a-long from the crowd. I was reminded of my first Bash, when a packed room traded the real Ramones for the ones on screen. It was as if Joey, Johnny, Dee Dee and Tommy were really there. Once the screen went up, only Tommy stood. Like Mickey said, the Bash is bittersweet.
I couldn't wait to get to Manitoba's, the official after-party spot. So many fond memories at Mani's, a place so comfortable for me I could sleep in its booths. We mingled with Mickey, Clem, Richie, and some local firefighters who'd been brought onstage as part of the All-Star set. I caught back up with Joey Lanz of the Bullys and talked heavy metal with bartender Chris. Pictures of Joey hung all around us, and I remembered seeing that shot of one of Joey's last shows, right in the corner at Manitoba's. Mickey's wrapped around the mic stand, leaning over casually with a beer in his hand, looking at his brother and smiling. We stayed at Mani's for the long haul, walking out with the sunrise and that wonderful sound of Lower East Side birds singing in the trees.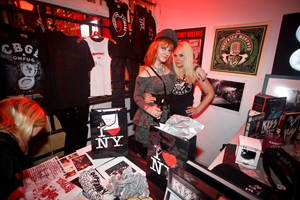 Erin O and Sarah (credit: Jason Kuffer)
---
Our "Not So Silent Auction" would've made Joey proud. The whole thing began with a shot of Ramones/Spinal Tap humor, as Erin and I arrived to a venue still full of patrons from the previous event - a dog dating party. If the Tap opened for puppets, dogs opened for us. Older women with even older dogs, each dressed in varieties of sequins, socialized while we set up and the bands arrived. Michael Levine blasted the Ramones as the last of the dog lovers cleared out, our version of the Panama invasion! The Suffolk is a rock n' roll space, and I doubt the ladies who lunch will be coming back. The transformation was incredible. At once it was dark, loud as hell, and ready to host Ingrid and the Defectors, who opened the show.
I manned the merchandise booth, collecting bids on everything from KISS coffee-table books, autographed Henry Rollins posters, original photos from Godlis and Bob Gruen (who'd stopped by earlier that night), and our prized item - an autographed WWII soldier hat from Lemmy Kilmister. We each took turns wearing it. If you ever want to make a nice guy look scary, give him one of Lemmy's hats. Just ask the Prospector guys! Jordi held down the front door while Erin managed to get everyone on stage. The Thunderfucks kept everyone dancing, Prospector blew the place apart, and the guys from Belikos brought it all down with a chilling version of "I Wanna Be Your Dog". At the end of the night, we'd raised more than $1,000 for the Joey Ramone Foundation for Lymphoma Research.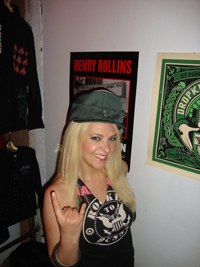 Sarah in WWII hat from Lemmy
---
I'd hosted a few events before, but that night at the Suffolk really lit a fire. Maybe it's that "Thirsty" way of thinking, but bringing people together for rock n' roll feels amazing. I'm already planning another showcase with Erin, and we're working out a party for the Killing Floor boys when they get in from England. It's going to be an incredible summer. Back home to Indiana, a trip to Chicago, and hopefully rounding it all out with a VERY special interview in LA. You'll just have to stay tuned. Thanks to everyone who made our auction a success! Special thanks to Thirsty friends Lemmy, Anthony Bourdain, Bob Gruen, and Henry Rollins for their generous donations. We did it! Gabba Gabba Hey!

Links: