By Jaclyn Sarah Shanfeld
Los Angeles, CA, USA
---

Jaclyn Sarah Shanfeld
---
It's almost noon and I am seated center stage in one of the five most sought-after, yet faded, maroon booths at La Scala Restaurant in Beverly Hills. I am sandwiched between two delicate, somewhat flamboyantly-swathed women in their mid-40's and a group of feverishly enthusiastic teenage girls dressed uniformly in pricey sweat suits, adorned in gregarious miens. I struggle to turn a deaf ear to the gender specific and monotonous gabbing that fills the room, but the lunching ladies are hopelessly distracting.
I deliberately chose the quintessential Angelino eatery, made famous for slinging $20 Chopped Salads, for my interview with local fashion designer and Rails creator, Jeff Abrams. He, like me, was born and bred in the city of perpetual sunshine, accidental trend forecasting and imported movie star worship.
Abrams arrives punctually wearing a breezy, plaid button down - a caramel brown and nautical navy, woven shirt, that he calls the "Aiden." The shirt, in it's many resurrections, has become his signature look for both his men's and women's clothing lines. With a cult following that includes supermodel, Kate Moss, as well as young movie stars like Ashley Greene, Anne Hathaway and Emily Blunt, this unruffled garment, an obvious throwback to the coveted flannels made famous by the grunge enthusiasts of the mid-90's, suits the young designer very well and gives off a careless, yet modish vibe. I am proudly wearing the pastel and floral "Eden" blouse he designed, coupled with a pair of Rails denim shorts. Abrams is all compliments when I stand to greet him.

Dana by Rails
---
I applaud him for his company's continued relevance and longevity as Los Angeles shoppers are famously fickle, changing their personal style as often as most do underwear. Abrams resilience is perhaps due to his distinct approach to the world of fashion. He did not attend a school for the arts, like so many of his predecessors. Abrams went to Berkeley where he studied Political Science. The closest he ever got to an education in retail, he recounts, was an afternoon stroll through Urban Outfitters with a co-ed he was diligently courting. However, Abrams grew up passionate about both the arts and business, and it was only after living in Europe post-graduation that he was able to fuse both passions together. And, the result was the founding of Rails. He rationalizes his passion for apparel as one would express affection for the unknown. He tells me that someday he'd like to expand his reach, showcasing his product in both a high-end market and a more accessible platform. Abrams strongly believes that simple, classic style should be available to anyone and everyone.
When I ask him which clothing line he wishes to emulate, he replies, "Vince or Theory," two brands that stay true to their original aesthetic while growing at rapid speeds.
Abrams clothing is currently found at retail sanctuaries all over the world. In Los Angeles, Rails inhabits magnets like Kitson, Planet Blue and Revolve, Singer 22, and Revolve.com, just to name a few. His prices are fair considering the competition.
"There is definitely a category of people who are willing to pay top dollar for premium items, but the vast majority of consumers now are much more price conscious and value driven. Particularly in difficult economic times, a shopper has to feel like they are getting a piece they can wear many times over without spending a fortune," Abrams confides, just as our salads arrive.
In unison, we scoff at our identical plates, consisting of lettuce essentially chopped with a sprinkling of salami and canned vegetables. Abrams points out that this lunch is a nice treat as he usual devours fast food in his downtown Los Angeles office between meetings and conference calls.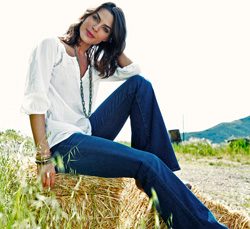 Amelie by Rails
---
I ask Abrams what he predicts for the coming season. With out skipping a beat he replies, "Sexy silhouettes in bright neon's, short hem lines with dynamic structure and floral patterns." Abrams never chases the trend and stays true to himself, always providing a classic look for his customer. While seasonal inspirations come and go, the Rails look is consistent.
I ask what inspired his summer line and he describes the women in his life. Abrams has two sisters, one older, one younger, and their influence is something he doesn't take lightly. He elaborates that growing up in a home full of women brought him closer to his future, primary buyer. He later mentions that he is single and straight, a rare alliance in this business. Ladies take note.
Our lunch ends with a cordial goodbye, and I try to imagine the future of Rails and whether homegrown Angelino Jeff Abrams will stand the test of time. I don't have the answer, but after today, I've got faith that he is on the move.
Links:
Rails Clothing
Jaclyn Sarah's Blog
---
Jaclyn Sarah Shanfeld is a Los Angeles-based writer, and in the spirit of full disclosure, she wanted her readers to know that Jeff Abrams presented her with a bag of goodies from Rails at lunch for her to personally road test.