By Anna Murphy
New York, NY, USA
---
I chose a career based on my interests and talents - weird, right? Nowhere in my mind did I factor in the disproportionate male/female ratio of my future field. As Public Relations is known to be a female-dominated industry, I guess I wanted to ensure even less chance for distractions when I specifically chose Beauty PR. And it goes unsaid, but I'll say it anyway, straight males do not wander down this narrow, niche road. Unless of course they're the FedEx man making a delivery or the IT guy fixing my computer - both always a welcome interruption.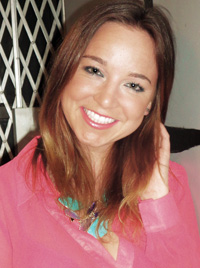 Anna Murphy
---
When I started working at my current company, everyone said, "Don't drink the water…" because at this agency, engagement was like a contagious and rapidly spreading virus. Within my first six months, six people had either gotten engaged or married - for us non-math majors, that's a one-per-month average. I knew I was immune to this "love bug" because I had absolutely no prospects on my radar. I also wore my singledom as a badge of honor and stylish accessory.
Well, now it's become kind of my shtick, with setups and matchmaking galore. Because being the token unattached person in the office isn't a secret, I openly develop/discuss crushes on our cross-functional agency partners, always rush off to dinner or drinks with XX (although I'd like to think this is research for my dating blog), recap the latest episode of The Bachelor or read excerpts from my dating how-to book.
The point of this long-winded intro is to convey that, although I am entirely boy crazy, I have almost completely lost the ability to communicate/socialize normally with the opposite sex. I can hold my own at a bar mainly because I'm also holding a glass of Sauvignon Blanc. But when it comes to daily interactions? No dice. The kicker of the whole shebang is that when I am completely myself, no holds barred, it's because I have no interest in a person. Which, in turn, makes them like me…for me. But when I do happen to find someone funny or attractive, my actions get contrived, I develop a stutter and my neck gets spotty. It's a vicious cycle spiraling out of control.
My few and far between interfacings with guys are ones I wish I could press rewind on. This is why I like texting. You can read the comment, marinate it in your mind, determine what exactly was meant by their salutation (Are the ellipses after his "hey…" supposed to convey annoyance?), mull over whether or not you'll respond, consult a friend if need be, and then write back if you deem it worthy. But when you're face-to-face with a stranger in a one-on-one situation, you have to think fast and basically be "on," which can result in one-word answers and sometimes - even a lie.
My latest interaction at a coffee shop was far from the ideal "meet cute." I was en route to my favorite New York spot - The Open Pantry on 11th and 2nd - and spotted him from afar because he was attractive, well-dressed and had an air of confidence, not arrogance (the fact I made up this entire scenario about him is telltale boy crazy sign #1). He crossed the street in front of me. I was wearing gym clothes, but with an awesome neon Nike tank so I didn't feel particularly unfortunate. I saw him step into The Open Pantry and since this was my destination, I followed him right on in. He ordered his coffee like a pro, and then I did too.
The Open Pantry is a small place. I could sense he was about to talk to me. And, of course, this is when I felt my face flush and my throat constrict.
"That sounds really good," he said about my choice of Iced Coconut Crème coffee with soy.
"It is," I say because that's all I can think of.
He then commented on the fact the coffee shop was kind of a hidden gem (mainly because it looks like a health food store on the outside and the name itself is misleading).
I go, "Yep, I come here every day." And in slides - the lie - because I do not go there every day.
The man behind the counter knew this. Thank goodness he took pity on my poor, nervous soul and didn't utter a word to contradict me.
Then, because this is also what I do when there's a beat too long of silence, I basically repeat what he said, "It's definitely a secret little spot."
Deeper flushing. No eye contact. MAKE MY COFFEE FASTER PLEASE.
So then the guy looks at me for a while, and says, "Well, you enjoy that and enjoy your day."
I squeaked out a barely audible, "Thanks."
To any onlooker, I was socially inept, boring and an all around buzz kill, which is not how I generally think of myself.
So how does one cure the opposite of engagement fever - boy crazy bashfulness? I don't plan on meeting my future someone at a bar or at work or while I'm in a 99%-girl yoga class at the gym. If I don't pull my act together, I'm going to need an intervention on par with the one in The King's Speech. Or, maybe I should just start caking on the foundation before stepping out - so at least my blushing is kept under wraps.
---
Anna Murphy works in Beauty PR and resides in the East Village of Manhattan with her sorority sister. She enjoys long runs on the Hudson River, live music, vegan cookies and the Florida Gators.