By THIRSTY
---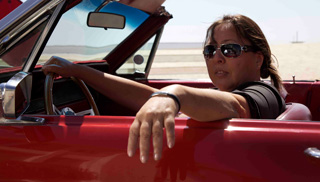 Susanna Lo in 1967 Mustang
(credit: Russ Lyster)
---
"How America raised a nation of female serial killers," is Susanna Lo's tagline for her upcoming movie, Manson Girls. Based on the infamous harem cultivated by Charles Manson, Lo's original screenplay offers a fresh profile of the women responsible for what has been called the Manson Murders. With accomplished actors like Eric Balfour, Estella Warren and Taryn Manning, to name a few, and a score written by Doobie Brothers Guy Allison and John McFee, director Lo aims to recreate the Summer of '69, a time when sex, drugs and rock n' roll ruled the world.
THIRSTY: What persuaded you to write the screenplay for Manson Girls?
Susanna Lo: As a kid who just moved to the United States from Hong Kong, I remember seeing the commercial for the movie-of-the-week, Helter Skelter, and that terrified me. We never had anything like the Tate/LaBianca murders in Hong Kong that I was aware of. Then ten years ago, I found myself living across from the LaBianca estate on Waverly Drive. There were tour buses filled with people from all over the world coming to see the murder site. I became fascinated in finding out more about the story, not Charlie's story, that's been told a million times, and quite frankly, bored me. But as a woman, as a writer, as a director, I thought that the story of the girls, who they were before they met Charlie and who they became at Spahn Ranch, was infinitely more captivating and powerful; not to mention more original.
THIRSTY: How long did it take you to research and write the screenplay?
Susanna Lo: It usually takes me less than two weeks to come up with a first draft of any screenplay. Manson Girls took nearly a year for the first draft. It wasn't just the overwhelming amount of research involved, it was the fact that the story was such a devastating and horrific part of American history that it made it very tough to write. I simply had to take breaks to breathe.
THIRSTY: You have assembled an extraordinary cast of young, very talented actors and actresses. What is your secret?
Susanna Lo: I believe the only way to get a talented and very dedicated cast of actors onboard is to offer a strong screenplay and original acting parts that have not been offered to them before. Manson Girls has many roles that will give an established actor: Taryn Manning; Estella Warren; Eric Balfour - or up-and-coming young actors in television series: Tania Raymonde of MTV's Death Valley; Brit Morgan of True Blood; Gillian Zinser of 90210, the ability to flex their acting muscles.
THIRSTY: What does the Manson Girls logo mean?
Susanna Lo: The peace sign in the logo is obvious, the flower is innocence and love, and the drop of blood is the evil that invaded this world of peace and love. That was the 60's, hope and idealism mixed in with the tragedy of Vietnam, and ultimately, the crimes of the Manson Family. It's all about innocence lost.
THIRSTY: How do you plan to recreate what it was like to live the Summer of '69?
Susanna Lo: Without a doubt, the music of the times plays heavily in this film to evoke what it was like to be there during the Summer of Love. I was approached by many representatives of musicians, from members of Guns N' Roses to Prince's band. Then I was introduced to Guy Allison of The Doobie Brothers. Guy and I hit it off immediately. Then he brought John McFee into the mix and it was a no-brainer, I knew these were the guys to help me recreate the musical vibe of the 60s. The props are also vital. We're working on bringing back the everyday items from the 60s, from Zippo lighters and Zig-Zag papers to Harley Davidsons. Then the clothes, from wearing Levis to tie-dye while smoking a Lucky Strike and tossing a shot of Wild Turkey. All this helps to recreate the Summer of '69. And some of the actresses are so dedicated to their parts, they're going au naturel and not bothering to shave. It's quite a captivating cast and creative crew that we have assembled to bring to life Spahn Ranch, Venice Beach and Haight Ashbury in 1969.
---

True to the time-honored tradition of Hollywood movie tie-ins, Manson Girls recently opened a MANSON GIRLS virtual store to allow fans an opportunity to show their support for the film by wearing the film's logo.