By Susanna Lo
Los Angeles, CA, USA
---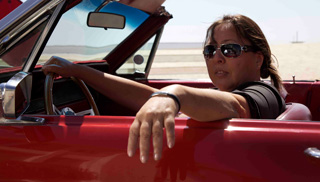 Susanna Lo in 1967 Mustang
(credit: Russ Lyster)
---
A funny thing happened on the way to the theater - a couple of record labels came knocking on our door. They had heard a remix my composer, Guy Allison of The Doobie Brothers, recorded with Taryn Manning, one of the leading actresses in Manson Girls. And suddenly - A Soundtrack Was Born.
When I first wrote the script for Manson Girls, music from the 1960's was to play through many of the scenes in the film. Everyone from The Doors to The Beach Boys to The Doobie Brothers influenced this story. Then, I actually met Doobie Brother Guy Allison and he wanted to be my composer. How lucky was I! And, it didn't stop there. He brought another Doobie Brother, John McFee, onboard.
Then, it got even better. Several of my cast members turned out to be magnificent singers. Taryn Manning had been on several soundtracks, from 8 Mile to The Italian Job. Estella Warren grew up in a musical household with a mom who was a music teacher. Jen Landon surprised us all at Sundance with a voice that was part Janis Joplin and part Judy Garland. So why not make a soundtrack with iconic songs from the sixties with the rock n' roll genius of a couple of Doobie Brothers and the super-cool hipness of my extraordinary, young cast!

Taryn Manning and Guy Allison (credit: Jodie Adler)
---
This California Dream came true on Tuesday, June 7, 2011 when we recorded the first single while taping an interview for Entertainment Tonight on the "Making of the Manson Girls' Soundtrack". Guy Allison, Taryn Manning and John McFee put together a brilliant version of the song California Dreamin'. Somehow, I got roped into singing with these great musicians on the single. I couldn't believe it. Here I was jamming with these fabulous icons of the music biz, who have played with everyone from Elvis Costello to the Moody Blues, and with the incredible actress who starred in Hustle and Flow, whose voice traveled from Nina Simone to Macy Gray. Groovy!
Link:
MANSON GIRLS logo apparel and merchandise courtesy of  CafePress.