You must have Adobe Flash Player to use this function.
#26 - 2011 May
By Sarah L. Myers - Editor-In-Chief
New York, USA
---
It's my favorite New York City bar, my favorite New York Dolls song, and now it's my favorite way to get trashed.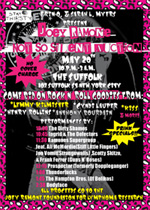 Click to enlarge poster
---
It always feels like Groundhog Day around this time of year. Spring is here, the windows come open, the drinks are taken outside, and we gear up for that one party - the Joey Ramone Birthday Bash, May 19th at Irving Plaza. Joey passed away ten years ago, making this an especially poignant celebration. My fellow rock chick Erin O and I host the Joey Ramone "Not So Silent Auction" the next night at the Suffolk! For you Thirsty readers in NYC, come down to the Lower East Side and throw down some dollars. We have incredible auction items, and my warmest thanks to friends Lemmy Kilmister, Henry Rollins, and Anthony Bourdain for their generous contributions. If you're looking to own some kick ass rock n' roll memorabilia, our auction is the place to be! Drink specials all night, live performances from Prospector and The Thunderfucks, and a special Ramones tribute set with our supergroup - featuring Ali McMordie from Stiff Little Fingers. Gabba Gabba Hey! All proceeds to benefit the Joey Ramone Foundation For Lymphoma Research.
Sarah and Danny
---
When my friend Danny rolled into town for a quick visit on his way from Chicago to Germany, I did what any trusted New Yorker would do...Rudy's! Rudy's is my staple, my constant, my forever unchanging home where I run into the same figures every time. There's the doorman, who does his job well by being twice the size of the entry way, the guy in sweatshorts whom we've affectionately named "Soy Sauce", and our faithful bartender - the blonde serving the Blonde (re-titled PBR, I'm guessing). Something happens every time I'm at this Hell's Kitchen landmark. I've had tables of beer spilled on my Betsey Johnson, withstood the inane ramblings of a "Drinking Liberally" political group, and Danny and I made more memories by spending the night wearing Hannibal Lecter masks. It sounds immature and ridiculous, but when you're looking for a good laugh on a warm night in NYC, just head to Rudy's and try to be the oddest one there. You'll lose. I showed him NYC on a budget, starting with Crif Dogs and Manitoba's (hanging with bartender Chris is always recommended!), then moving on to Double Down for the "Ass Juice" special. A couple slices of $.99 pizza later and I'm wondering why I don't have my own show on Travel Channel. I hope Berlin treats him just as kindly!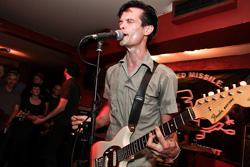 Dan Sartain - Buffalo Bar, London
(credit: Rachel Lipsitz)
---
Big congratulations to Justin Dean Thomas of the Bowery Riots, who jumped from stage to screen this month on HBO's "How to Make it in America"! We hope to see him on "Boardwalk Empire" next... For Thirsty readers in California, be sure to check out Pasadena Museum of California Art on May 14th for new exhibits featuring the Clayton Brothers and the history of street art. Sponsored by Guitar Center, the opening reception will also have live painting and exclusive gifts... We're closely following Thirsty friend Dan Sartain as he heads out on a European tour supporting his latest record, "Legacy of Hospitality". A CD/DVD collection of b-sides and performances, the record's first single "Fuck Friday" is an attitude-rich throwback to the Ramones, complete with "ooh ooh" chorus and a play time of 58 seconds. And just like classic horror movie packaging, "Legacy" comes with 3D glasses! Ryan Spoto of Des Roar and Two Tears handles bass for Dan, and promises to check in as the guys hit Italy, France, Spain, the Netherlands, and the UK. Major congratulations to Ryan on this one! We can't wait to hear the new record and have Dan back in NYC. Check out the website for all tour dates: www.myspace.com/dansartain
Not quite summer, but winter is gone. My cast is off, the crutches are stored, and I'm ready to take on the city. Stay tuned next month for all of our Joey Ramone coverage! We might also be reporting to you from a chair in the tattoo parlor. Details coming soon! Until next time...

Links: