You must have Adobe Flash Player to use this function.
#25 - 2011 April
By Sarah L. Myers - Editor-In-Chief
New York, USA
---
It's my favorite New York City bar, my favorite New York Dolls song, and now it's my favorite way to get trashed.
It was a month of great comebacks, as both Richard Ashcroft and The Adicts released new records and went on the road! I love my rock n' roll, and I love every band I've worked with, but this month was a defining one for me. Being a journalist is great, and being a fan is even better, but being both at the same time is what I live for.
Monkey and Sarah
---
I've had a crush on Monkey since middle school. I saw that candy-colored 1983 "Bad Boy" video showing the droogs and their Joker front man being sweet as pie, and I just fell over. The Adicts made their first NYC appearance in five years on March 17th, and I jumped at a chance to meet them. Backstage after sound check, Monkey readied his bag of tricks (bouncy balls, playing cards, stuffed monkeys) while I chatted with Pete and Kid. I was still on the crutches, so big up to the roadie who carried me upstairs after the interview! Monkey sat with us during the opening band, sharing a great story about seeing his face tattooed on a guy who didn't even know who The Adicts were! ("That's me! That's my band, mate!") Only one fan seemed to recognize him without the makeup, but once Kid came around he was found out! The show itself was a blur, marked by me jumping on my one good leg, spilling my own beer (during "Who Spilt My Beer?", no less), and dousing the crowd below with our own silly string and confetti. Afterwards, I grabbed a few final moments with a spent Monkey and chatted it up with Scruff (so handsome, he is)! No one loves their fans like The Adicts. Let's just hope it's not another five years before we see them again… Viva!
| | |
| --- | --- |
| Sarah and The Adicts | Scruff and Sarah |
Sarah and Richard Ashcroft
---

Last month I wrote about "a dream I've had since I was 15." This is it! Thirsty readers know how I feel about Richard. He's my favorite voice in rock n' roll - not just writing songs, but soundtracks to major events in my life. I'd been tracking the United Nations of Sound release for months. It finally debuted in the States in March, which became Richard Ashcroft Month in Thirsty-land. His New York press included a day at Sirius, and I was invited to sit in on an intimate acoustic set, followed by an interview for the Spectrum. Justin Dean and I walked in as Richard was strumming "Space and Time", and I took a seat next to his wife, the beautiful Kate Radley of Spiritualized. As he went into "Song for the Lovers", I remembered the first time I'd heard it. I was going through terrible challenges. Music was one of the only things I found pleasure in, and the single had just been released. To hear it so closely, in a room with five other people, was my reward for making it through that time. He took a shot at "Are You Ready?", stopping a few times with a humble expletive. He'd never done it acoustically before, so we all had a laugh as he poked fun at himself for trying!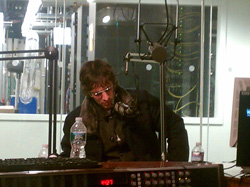 Richard Ashcroft (credit: Justin Dean)
---
The interview itself was a blast. Only a few of us stayed in, so it was like catching up with an old friend. He spoke about the record, but also of family, The Verve, his children, his love for New York, and his need for a shower! He's the second rock star in a week to laugh about how dirty they were (I'm looking at you, Monkey)! A couple of days later he sold out Bowery Ballroom, where the first in literally ran to the front. The favorites were there, including "Sonnet" and "Lucky Man", but the real surprise was "Lonely Soul". It was dark and quiet, with hands facing the front and heads nodding. That the track still sounds modern shows his collaboration with No I.D. was just a matter of time (Jay-Z was also reportedly in the house that night). After a couple of encores, the lights stayed off teasingly until it became clear the night was over. I party-hopped around the Skinny, Double Down, Local 269, and Manitoba's before finally turning in around 5am. It's as if I didn't want the night, or the week, to end. But now I'll always remember the first time I heard "Born Again" or "America" - in front of a packed house, with Richard blowing out the speakers, and a tall Guinness at my side. It was a perfect night in his favorite city!
It's such an exciting time in New York! Three of Thirsty's favorite bands are currently in the studio. Des Roar, Prospector, and the Killing Floor are all laying down tracks for upcoming releases, which means this summer is going to ROCK. When I think of June I think of sundresses, cold beer, and nights out at the Mercury Lounge and Fontana's. Now if only these guys would team up and form a super group (the LES Rat Kings?) all would be right in the world. And if Richard wasn't enough, Liam Gallagher is also back with Beady Eye's "Different Gear, Still Speeding" LP. First single "The Roller" has classic Our Kid vocals and Gem Archer melodies, with a perfect sing-a-long chorus. Beady Eye hit NYC this summer, and you know I'll be there! I'm also digging The Kills video for "Satellite". They just keep getting sexier, these two. And I thought "U.R.A Fever" sounded like a hangover.
| | | |
| --- | --- | --- |
| Des Roar | Prospector | The Killing Floor |
Finally, our thoughts are with those affected by the events in Japan, including Thirsty's Tokyo Bureau Chief Michael Lara. It was just announced that Richard Ashcroft, Primal Scream, and Beady Eye will perform at London's Brixton Academy April 3rd, with proceeds benefiting the Japan Disaster Relief. Please visit Richard's homepage for more information: www.richardashcroft.co.uk
Until next time…
Links: