You must have Adobe Flash Player to use this function.

Music To Drop Acid By - Sneak Preview
Composer/Keyboard - Guy Allison
Guitar - John McFee

By Susanna Lo
Los Angeles, CA, USA
---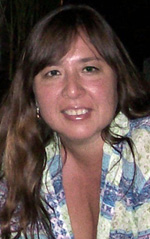 Susanna Lo
---
Among the extraordinarily talented women starring in my upcoming film, Manson Girls, are Tania Raymonde, who plays Leslie Van Houten, and Brit Morgan, who plays Patricia Krenwinkel. The film is told from the perspective of eight of the girls in the infamous "Manson Family", starting from their teenage years, before they met Charles Manson, and ending just before the Tate/LaBianca murders are committed. I sat down with Tania and Brit, after Monica Keena, who plays Lynette "Squeaky" Fromme, created the photos for this column, and we talked "Manson Girls".
Susanna Lo: In Manson Girls, you play Leslie Van Houten and Patricia Krenwinkel, people who are currently serving life sentences for the most vicious and notorious murders in American History. What attracted you to play such people?
Tania Raymonde: I'm attracted to deviant, off-kilter behavior. Idiosyncratic characters are the most challenging and fun to play. I get a chance to portray a real person, which I've never done before. And although she was massively scrutinized and examined by the media, she still remains a kind of mystery to this day. I'm fascinated by her, but a part of me is horrified. I think that's where the attraction lays.
Brit Morgan: I think it's always interesting to portray women who have committed a crime that seems inhuman and find the humanity within that. The crimes were vicious and it's a challenge because, on many levels, it seems unimaginable putting yourself in a place where that was the right thing to do. Finding understanding for Patricia and compassion for who she was, rather than judgment, is really fulfilling for me as an actor and as a person.
Susanna Lo: This is a film that is more about sex, drugs and rock 'n roll, and less about murder. Were you surprised or disappointed that the infamous Tate/LaBianca murders were not depicted in the film?
Tania Raymonde: The fact that the movie ends before the murders take place was the reason I wanted to be in the film in the first place. I think it's a very smart way to make the audience shift their focus away from Manson and the murders, and instead, consider who the girls were as people. Everyone thinks these women were monsters, but they didn't look behind the madness to figure out what happened to them to drive them to do the horrible things they did. This movie gives us an opportunity to show that.
Brit Morgan: I was surprised, but not at all disappointed. Before I read the script, that's all I knew about Manson and the girls. I knew about the murders. I was intrigued because this script gives a little bit more insight as to who they were and the circumstances surrounding them before those few days occurred. If the Tate/La Bianca murders were depicted, it would become about how horrific the crimes were and the heart of the movie would be lost.
Click image to enlarge

Brit Morgan and Tania Raymonde
(credit: Monica Keena)
Click image to enlarge

Brit Morgan and Tania Raymonde. Monica Keena with camera.
(credit: Monica Keena)
Susanna Lo: You are both young and upcoming actresses on the big and small screens. Some of your older and more experienced co-stars have admitted to avoiding nudity and strong sexuality early in their careers. Do either of you have a concern about doing the girl-on-girl sex scenes between your characters or the group sex scenes at such an early stage of your career?
Tania Raymonde: You can't make a movie about the Manson girls without showing how the girls related to one another. They shared sexual connections as well as emotional ones. They were coerced and brainwashed into group sex situations that they more or less enjoyed. Sex was the glue that held their family together. It's important to show how these girls lived. I'm only portraying a character as accurately as I can, as I would with any role. As far as the nudity is concerned, I'll get over it.

Official Production Logo for Manson Girls.
---
Brit Morgan: I have been avoiding nudity, for almost everything, so far in my career as well. So the sex scenes are new territory for me, but I am not as concerned as I imagined I'd be. Probably because this is one of the only films I've read where it seems like it's necessary and integral to the authenticity of the story. Sexuality was such an important factor in the 1960's and in the lives of these girls, so I am willing to express that part of myself.
Susanna Lo: Will either one of you make an attempt to contact the women you are depicting in Manson Girls? If yes, why? If not, why not?
Tania Raymonde: The great thing about playing a real person is the amount of information I have access to. I don't need to imagine what Leslie would be like. I can just look her up on YouTube. Researching her and the Manson family has been really fascinating, even overwhelming. Contacting Leslie Van Houten in jail is a tempting thought, but I don't think it's necessary for the film. I'm not playing Leslie now. I'm Leslie from a different time, a long time ago. As far as research is concerned, I think I have everything I need. I'll just have to use my imagination when I need to fill in the blanks.
Brit Morgan: I am definitely going to make an attempt to contact Patricia. I've never portrayed an actual person before, so to have the chance to talk to them and learn even more about who they were and that era of their life is such a great and unique opportunity. I think, in the end, knowledge is power and the more questions you answer, the richer your work is.
Susanna Lo: Do you believe that Leslie Van Houten and Patricia Krenwinkel are monsters? Or are they victims of Charles Manson, and in a larger part, victims of a society gone crazy from drugs and the Vietnam War that so influenced the Summer of '69?
Tania Raymonde: I do not believe that they are monsters. They did something monstrous when they were young. However, there are parts of the human psyche that nobody can truly understand. Maybe this movie will shed a little light on what drove them to do what they did.
Brit Morgan: I do not believe they are monsters and I don't believe they are victims either because they made a choice. I do believe that, between the influence of society at that time, the drugs, Charles Manson, and the lack of any real self-love or understanding, they felt trapped. And the only way they knew to connect to the love they were so desperately searching for was through Charles Manson and his ideas. It's really tragic because they where so young, and I think they saw no way out.
Link:
Thirsty : 2011 March : Taryn Manning and Monica Keena talk MANSON GIRLS
---
Susanna Lo is an award-winning director and screenwriter. Her upcoming film, Manson Girls, is scheduled to begin shooting in 2011. Her novel, Alma Of My Heart, was released by Stay Thirsty Press in November, 2010.