You must have Adobe Flash Player to use this function.
By Anna Olswanger
Fair Lawn, NJ, USA
Photos courtesy of Berl Olswanger estate
---
Sometime during the 1960s, the Memphis press dubbed Berl Olswanger "Mr. Music of Memphis." My dad loved his hometown. He was born there in 1917 and began playing the piano when he was three years old. He won a Tennessee Federation of Music Clubs contest when he was eleven years old, but couldn't accept the prize, a scholarship, because the winner was supposed to be a high school senior.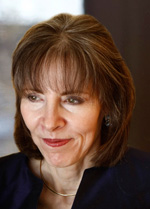 Anna Olswanger
---
When he was twelve, he made his professional debut as a piano player at Dreamland Gardens, a Memphis dance hall, and the same year had his own radio program in Memphis over station WMC.
Berl toured the country with the George Olsen Orchestra in the 1930s, and during World War II became Admiral "Bull" Halsey's entertainment officer for the South Pacific. He accompanied Bing Crosby, Bob Hope, and Jack Benny, among others. Back from the Navy, Berl played a sellout concert at Ellis Auditorium in Memphis and used the proceeds to go to New York where he was represented by the William Morris Agency.
But he walked out on the three-year contract because he was not willing to get out on the road again. He returned to Memphis and never left. By the early 1950s, he was the star of his own local television show, "The Berl Olswanger Show," and released his first album nationally through RCA. In 1956 he published Berl Olswanger Piano Course, used throughout the country to teach his chord method of piano playing.
I knew all this from newspaper articles in my father's scrapbook and stories I heard from older family members.
But what I didn't know was that my dad was also a composer.
After he died in the early 1980's, I discovered almost forty compositions in his office file cabinet. This was music he had written thirty years earlier, including the score to a musical. I never knew my father composed music, or that he wanted to write for the stage. He worked long hours because he had a wife and two children to support. Composing music apparently didn't pay the bills, so sometime in the 1960s he put the music into a file cabinet and forgot about it.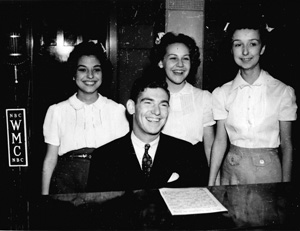 Berl Olswanger, coach and arranger, with the Blue Belles
(Betty Jane Fitzpatrick, Frances Griffin, Louise Hardison)
WMC radio, Memphis, c. 1941
---
Was it important music?
After my dad died, I contacted David Evans, the director of the Ethnomusicology/Regional Studies doctoral program at the University of Memphis. Dr. Evans is a specialist in American folk and popular music, particularly blues, spirituals, gospel, and African-American folk music.
Here are some excerpts from our correspondence:
About Berl's music.
In general, I would say that your father had a musical consciousness based in the 1920's and 1930's (pop music, blues, jazz), filtered through the fact of his residence in Memphis with its particular social patterning at that time.
About the ragtime music that may have influenced Berl.
The improvisational qualities of blues and its odd structure contributed to the breakdown of ragtime and led to the popularity of jazz, which was in full swing by the 1920's. Some piano rags were still being composed in the 1920's, but they often showed blues influence or were harmonically complex "display" pieces like your father's "Juice Harp Rag" and "Berl's Jazz Polka."
About the distinctiveness of Berl Olswanger's music.
The pieces that I find most distinctive are "Chicken Bone Man" (could have been a country or pop hit song 50 years ago), "Snow Falling" (could have been done by a 30's style crooner like Bing Crosby), "You Can Play It Cool, Baby" (nice clever pop song), "I Wouldn't Care for Any Kind of Life But Mine" (clever show tune), "Juice Harp Rag" (chromatic novelty rag, a difficult test piece for the performer), and "Berl's Jazz Polka in Elevenths and Thirteenths" (similar qualities).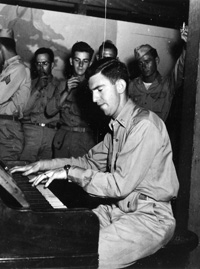 Berl Olswanger,
January 26, 1944, South Pacific
---
A few years after my correspondence with Dr. Evans, I traveled to Los Angeles and spoke with Floyd Huddleston, who had once been my dad's collaborator. Born in Leland, Mississippi, Floyd sang and wrote songs for Glenn Miller's Army Air Force Band during World War II. Back in Memphis after the war, he was the Vice President of Pepper Records when my dad was the Music Director there. The two of them wrote "Best Kind of Love" and "Peace of Mind," both in a 1950's jazz vocal style, and recorded a number of their own compositions on the Pepper Records label. Then Floyd went out to L.A. where he had a prolific career writing lyrics for songs in films, including The Ballad of Josie Wales, Midnight Cowboy, and The Aristocats. In 1973, he was nominated for an Academy Award for his song "Love," from Disney's Robin Hood.
I asked Floyd about his years with my dad at Pepper Records. Here are some excerpts from our conversation:
What do you remember about the music you and my dad wrote together?
We wrote quite a few things. I'd write lyrics, but he was so good at both, he didn't need me too much. I'm not just trying to flatter him, but he was quite gifted. He had a good sense of lyrics. I might add a line or two, and that's about the biggest contribution that I made.
What would happen at a recording session? Was my dad the kind of composer who would put everything on paper first before he went into the studio?
Yes, he did. See, he had people in his orchestra that were unique to Memphis - they could read! Most of the people were like the ones over at Sun Records and places like that. They couldn't read a note. They knew maybe three chord changes, and that was it. Your dad wrote everything out and the guys could play it. They could all read and once in a while he'd bring in other players.
He left Pepper Records before you did?
Oh, way before. He didn't stay there long because it was hurting his business. He was forthright. He said, "Look, I'm dividing my time. I'm hurting my business by being away. I should be at the office." Customers expected him to be there and he was fooling around with those damn records!
| | |
| --- | --- |
| You must have Adobe Flash Player to use this function. | You must have Adobe Flash Player to use this function. |
What was your opinion of him as a musician?
He was a brilliant musician, no question about it.
How was he different from other musicians?
He was like a white Scott Joplin. He could do stride. He had all the facility in the world. He was a great pianist, wasn't any question about that. He also had the personality to go with it because people expected to look over at the bandstand and see his smiling face. That was a big plus for him because I don't care if you're the greatest musician in the world, you have to have an attractive looking demeanor.

Berl Olswanger, W.C. Handy, Paul Flowers, Memphis,
December 1, 1953
---
Why do you think he chose not to go out on the road?
Had he gone out on the road and formed a band, he could have been as big as any of these bands, but I don't think Berl liked the road. He told me several times, he had chances to go with different bands, but he didn't want to do it. I think he liked to stay home and have his friends and know everybody. He was a very loving person about his family.
Did my father have a piano style?
Oh, no question about a style. I would describe it as very progressive ragtime. He could play ragtime as well as anybody, probably better than anybody.
Some of my dad's music has the word "boogie" in the title.
I think he used that because it was a popular expression. He thought that had a chance of making it as a single song, but he could play anything. He could play boogie woogie. He was as good as anybody in that kind of stuff, but I still think of him as ragtime.
Where did ragtime come from?
Probably from the riverboat people that played on these boats out of New Orleans. I tell you something, ragtime has never gone. There was an era when blues was popular and then boogie woogie and then R&B - rhythm and blues - and then rock and roll, which is nothing really but just a combination. But your dad, what he had was an art. Not many people can play that well. See, to play good ragtime, you can't fool around, you can't kid yourself or kid the people when you're playing it. You've got to hit those notes. Your dad had facility. If you ever say, "I regret that my dad never really made it in the big time," well, the only thing that kept him back was himself. He could have made it any place in the world, that's how good he was.
So, while Floyd Huddleston was in L.A. making a living composing lyrics for songs in film, my dad was back in Memphis running a music store and playing in his dance orchestra. As all the newspaper articles - and Floyd - made clear, Berl could have been a big star, but he chose to remain in Memphis to be with the family and friends he loved. Memphis, in turn, seemed to have loved him. Bill E. Burk, a columnist for the Memphis Press-Scimitar, wrote when my dad died in 1981: "His music will be missed, true, but what I will miss even more than his music will be Berl Olswanger, the man."
I was never a musician like my dad, but I've written books, and one of them is a fictionalized version of my dad's childhood in the Jewish neighborhood of Memphis when he was a little boy who loved playing the blues. The Kaufman Center in New York adapted the book into a musical for families called Shlemiel Crooks, and it had its world premiere on April 10, 2011, in Merkin Concert Hall. The composer and lyricist for the play created their own original music for Shlemiel Crooks, but they also included my dad's original composition, "Chicken Bone Man," what Dr. Evans called "a pop song in ragtime style with Southern flavoring."
I know now from what Floyd Huddleston said that my dad was a brilliant musician who could play ragtime "better than anybody." My dad may never have wanted to leave Memphis, but fifty years after he gave up composing because of my mother, my brother and me, one of his compositions - and it's in his signature ragtime style - debuted in New York's Merkin Concert Hall to an audience of four hundred. I was there, and I heard the audience laugh along with "Chicken Bone Man" and I heard it applaud enthusiastically when the song ended. One audience member emailed me afterwards: "I was there with my two daughters, who were thrilled by the play. My six-year-old is continually singing 'Chicken Bone Man,' your father's song."
You must have Adobe Flash Player to use this function.
I hope that somewhere, my dad is singing it, too.
Link:
---
Anna Olswanger is the author of Shlemiel Crooks, a Sydney Taylor Honor Book and PJ Library Book. Like her father, she grew up in Memphis, but now lives in the metro New York City area. Anna is a literary agent with Liza Dawson Associates.