You must have Adobe Flash Player to use this function.
#24 - 2011 March
By Sarah L. Myers - Editor-In-Chief
New York, USA
---
It's my favorite New York City bar, my favorite New York Dolls song, and now it's my favorite way to get trashed.
February is one of those months. It's not quite winter anymore but, despite two 60-degree days, it's definitely not spring. I had the displeasure of sitting out the last couple of weeks after I broke my ankle leaving the Des Roar/ le Mood show at Santo's Party House. New York City busses can be dangerous! Beware the giant step. For this reason, I'm glad it's still chilly in the city. I can't imagine watching the arrival of spring from the couch - my home since sustaining my rock n' roll fracture…

It was a great month for art! Our friend Jason Yarmosky debuted his "Elder Kinder" collection at the Spice Gallery in Brooklyn. The pieces explore transitions of personal freedoms and social norms between the young and old. His subjects are painted as showing a type of vulnerability, yet many are adorned with weaponry and objects for battle. "Elder Kinder" is also showing at the SCOPE art show through March 6th… Banksy returned to the streets of LA, transforming an electric company's billboard into a model being groped by a drunk Mickey Mouse-like character. It's not surprising, since "Exit Through the Gift Shop" was nominated for an Academy Award. Because it didn't win, we never had to worry about that mysterious someone accepting an Oscar in a monkey mask.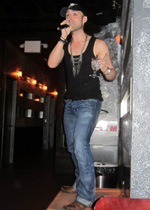 Johnny
---
With a crew as large as ours, there's always a birthday to celebrate! Last month it was our Lindsay, so we all headed out to Mexican Radio to be loud and obnoxious and toast our friend. I don't think the bartender wanted us to notice the drink special - if you check into Mexican Radio via Foursquare, the margeritas are $5! Needless to say, it was our drink of choice. After our dinner we headed to the Lower East Side and had a real New York night, meaning we sang karaoke with complete strangers and drank brown-bagged beers in the bathroom. Jordi did all of her Cher songs, I busted out "Rapture", and Johnny tried his best at old 1990s r&b classics. After karaoke it was onto our second home, The Skinny, where last call was announced to "Naïve Melody", prompting a dance party and another round of birthday drinks. A great night in the city. Happy Birthday, Linds!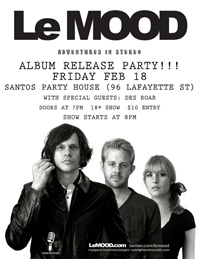 The night I will never forget! I love Santos Party House. It's the perfect joint for dancing, with a huge floor, multi-colored spotlights, and a bar on each side. Our buddies Des Roar kicked off the night with a badass set as usual, with the whole gang shimmying and shaking along. It had been awhile since we'd seen the guys, so everyone caught back up and we made plans for the after party at, where else?, 200 Orchard. The night celebrated Le Mood's record release for "Adventures in Stereo". A great pop band that sometimes borders on shoegaze and Britpop, le Mood are the perfect band to see live. Chill enough to lean against the bar and nod along to, but rocking enough to get you up and going. Singer Marco Argiro writes beautiful songs, and while le Mood have already achieved mainstream exposure, "Adventures in Stereo" will shoot their star out of the atmosphere. Catch them while you can! These guys are going to blow up. We made plans to meet up with everyone at 200 Orchard after the show, and set out to grab the downtown bus to the Lower East Side. I took the steps down and immediately met the pavement. I knew my ankle was broken, but somehow managed to limp into a taxi and through my front door. My hospital visit the next day confirmed, and I have about four more weeks of casts and crutches to endure. All for the love of rock n' roll!
Sarah, Jordi and Erin
---
Not even broken bones can keep me away from Motorhead! I'd heard their new record, "The World is Yours" at Lemmy's apartment and couldn't wait to see it live. The night began with one of my new favorite bands, Valient Thorr. These guys are insane! Singer Valient Himself is a possessed extraterrestrial who claims he's from inside the planet Venus, and works the crowd into an absolute frenzy. Wearing second-skin red jeans and blue wrestling boots, he throws himself around the stage while bass player Dr. Professor Nitewolf Strangees wails on his flying V. Valient's stage patter is pure David Lee Roth, which makes him funny as hell. At one point he jumped into the crowd, motioning them to part down the middle and kneel. Then he pretended he was rowing, urging everyone to join in. It sounds, and looks, ridiculous, but these guys can ROCK. Clutch followed with a short set, and the room began chanting for Motorhead as the stage was set. Upstairs in the VIP balcony, my leg propped on a chair, I scanned the people below and picked out Trash and Vaudeville's Jimmy Webb in the front row! Lemmy, Phil, and Mikkey arrived to an avalanche of circle pits, playing for more than an hour. The highlight for me is always "The Chase is Better Than the Catch", but when Doro Pesch and Todd Youth came up for "Killed By Death" everyone went ballistic. "Ace of Spades" closed the set. The room exploded into mayhem. Bodies flew over each other, cups and t-shirts sailed through the air, and smoke shot out of cannons next to Mikkey's drums. Lem thanked the crowd for being the loudest in the world, setting off yet another near riot in the venue. Amazing night, even more so when I rode the elevator with Keifer Sutherland on the way out!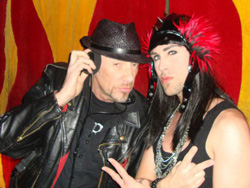 Ali McMordie and Johnny
---
Also on my radar this month: Motor City hosted Stiff Little Fingers bassist Ali McMordie for a night of "Punk's Not Dead". I had to sit this one out, but Johnny and Erin O rocked it out in my place. Ali spun punk all night and Manic Panic supplied everyone with party favors! I'm also beyond happy for my Prospector (formerly Doppelganger) boys, for landing a spot on the Louis CK show AND providing background music for the Sports Illustrated swimsuit issue! The guys are also in the actual magazine. Be sure to pick it up! Next month brings huge interviews and features, one of which has been my dream since I was fifteen. No surprises being revealed yet, so you have to stay tuned. Until next time…

Links: