You must have Adobe Flash Player to use this function.

Music To Drop Acid By - Sneak Preview
Composer/Keyboard - Guy Allison
Guitar - John McFee

By Kent Brown
Los Angeles, CA, USA
---
When one thinks about the Doobie Brothers, or catches one of their songs on the radio, certain imagery comes to mind: motorcycles, leather, California, beautiful vocals, or maybe just a laundry list of classic songs that most of us know by heart. The Doobie Brothers are, however, a band that certainly cannot be pinned down to any label or definition. The band has been reinventing itself since its inception in 1970. Today, the band could probably look back at its Hall-of-Fame-worthy career with over thirty million albums sold just in the United States alone, kick back, play a few shows here and there, and sleep pretty well at night. That's not how Guy Allison and John McFee operate. The two longstanding members of the Doobie Brothers have reinvented themselves once again by collaborating with writer/director/producer Susanna Lo to create the soundtrack for the upcoming film
Manson Girls
. I was fortunate to catch up with Guy Allison and John McFee to discuss their role in
Manson Girls
and their storied careers in the world of rock n' roll.
I actually knew two of the convicted Manson murderers personally - Bobby Beausoleil and Susan Atkins – John McFee.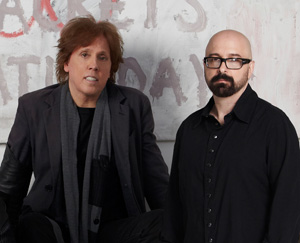 John McFee and Guy Allison
---
THIRSTY: When most people think of the Doobie Brothers, the first thing that comes to mind certainly is not serial killers. What was the Manson Girls project like for you as musicians?
Guy: I should hope not - "Sex, Drugs and Rock and Roll" is enough of a stereotype, don't you think? Even though this is a movie dealing with a group of exceedingly nefarious people making horrible decisions, this cast and the creative team involved are a wonderful family. It's been a real joy so far.
John: For me, it's a great opportunity to try new things and hopefully learn more about music by approaching it from a different angle. The simple fact that the music is directly involved with the telling of a specific story, and a set of themes within a story, dictates an approach that differs considerably from, say, the usual ways of going about making an album with a band like the Doobie Brothers.
THIRSTY: What about the movie Manson Girls sparked your interest and made you want to be involved in this project specifically?
John: Well, in my case, it was Guy who approached me about working on this with him, and the fact that I've always felt like we are a good team musically definitely got my attention. Then there is the fact that this movie was about something that I had come in rather uncomfortably close contact myself back in the day - I was very much a part of the culture and scene from which the subjects of the movie evolved, and somehow it felt appropriate to me that the chance to be involved with this movie came along.
Guy: In a movie, music is undeniably intrinsic to the process of storytelling, no matter what the subject matter is. Manson Girls deals with characters that are arguably unforgivable and events that are profoundly tragic. It's a fine line, to be certain, but there's still an underlying emotion and human aspect to this story. The allure, for me, is to find that balance - musically speaking. Susanna's wonderful script is "refreshingly" told from a different angle. It's a new look at a bit of history that most of us have heard many times before, and that's also central to my attraction to this project.
THIRSTY: Did you feel like you had to tap into a different side of you artistically to create the sound for such dark subject matter?
Guy: Not for me, I love dark, emotive music, but that doesn't mean it has to be ominous all the time. Many of my favorite film composers create moments where the music plays against the scene, which can also be very effective.
John: I'm kind of reliant on Guy for the "dark side" stuff - ha ha. Actually, the fact is that I do trust Guy's instincts for guidance on a lot of this, but I'm hoping to learn and grow from the experience, and push my own boundaries.
THIRSTY: Being a California-based band, I'm sure the Tate/LaBianca murders were something that you remember vividly. What are your thoughts on the movie Manson Girls and the story of the ladies responsible for those murders?
John: Gee, here's where I have to admit that I actually knew two of the convicted Manson murderers personally - Bobby Beausoleil and Susan Atkins. Back in the sixties, I was in a band called Clover, and our bass player (John Ciambotti) had been in a band called the Outfit with Bobby immediately before he joined our band. So I knew Bobby because we had been playing gigs together and would see him around and stuff. Susan Atkins was, for a while, the girlfriend of one of our crew, so I was around her quite a bit. Then they drifted south to the L.A. area - Clover was a Marin County band - and when the news hit about all the killings, all of us that knew Bobby and Susan were in shock. We talked about it a little bit at the time, and only when I got involved with this movie did I realize that none of us ever brought it up again in all the years since - I think it was just too much for us, truly something that crushed a part of our youthful optimism forever. The one thing that struck me was that, given the incredibly loose way in which ridiculously powerful drugs were being passed around and ingested in those days, how easily so many of us could have gotten sucked into some dark vortex like the Manson cult under just the right - make that wrong - circumstances; I'm hoping that some of this aspect of the human side of things can be gleaned from the film.
Guy: I absolutely remember the headlines. For me, it marked the end of the innocence of the 60's. I was 10, but I can still recall how the fear here in Los Angeles was palpable. Doors that weren't locked before were suddenly locked. While I'm certain that there's no escaping the responsibility of their actions and mistakes, I can also recognize that there's a human story in the radical transformation of these girls. It's a story worth telling.
THIRSTY: Have the Doobie Brothers ever been involved with a movie soundtrack before?
John: Not in the way that Guy and I are involved with the actual score for Manson Girls - there have been songs used, such as "It Keeps You Runnin'" in Forrest Gump or "China Grove" in Field of Dreams, though.
THIRSTY: Creating a mood for the audience is so important in filmmaking. The music and soundtrack of the film plays an integral role in that. What was the collaboration like between you and the producers and director of Manson Girls?

Official Production Logo for Manson Girls.
---
John: For me, since Guy was aboard first, it was pretty smooth sailing because he had already developed a rapport with Susanna Lo. Susanna is a real sweetheart and has been very supportive of our efforts, which really makes us eager to make sure that she's getting the music that will best serve the movie and the story as a whole.
Guy: Susanna Lo and I have been on the same page throughout the preproduction stages of the movie, which is always a good sign. We connected the moment we met. It's very natural to give her a call and share ideas, which, as a composer, is a very comfortable place to be.
THIRSTY: I hope "Blackwater" was included in some capacity. I can listen to that song 100 times and not tire of it…
John: This is the kind of thing that really will, I am sure, be dictated by what's appropriate to the story and setting itself, so we'll see…
THIRSTY: The Doobie Brothers have a unique way of reinventing themselves from the early classic rock days to the Michael McDonald years and now in the twenty-first century creating a movie soundtrack for Manson Girls. Is change something that you discuss as a band or does it occur more organically for you?
John: Now that is a great question - the Doobies have always embraced change, and have never limited themselves stylistically. That's something I've always loved about the band, and it's something that is important to me personally as a musician. It's not something that is really discussed or "worked on" consciously, but is really just a part of all of our nature, I think - so, I would have to say we qualify for an "organic" label in this sense…
THIRSTY: One of the more dramatic changes for the band came in the 1970's when Michael McDonald joined the Doobie Brothers. Looking back on it today, how does the band view the Michael McDonald years and what is your relationship like with him today?
John: I can only really speak for myself, although I know we are all very fond of Michael and appreciative of his incredible talents. We're still friends, and play shows with Michael as part of the band on occasion. Michael worked with us on one of the songs from our new album "World Gone Crazy", and he really added a nice element to the music - once again. My memories of playing in the band back in the 1970's and early 1980's are all good - Michael is a great guy, and one thing that people who haven't been close to Michael don't realize and are missing out on is that he is incredibly funny - a great joke teller.
THIRSTY: John, you've recorded with numerous artists like Boz Scaggs, Emmylou Harris, Van Morrison, Elvis Costello, and Steve Miller just to name a few. It must be exciting to work with so many different artists from such different backgrounds and musical genres. Would you say those experiences have broadened your horizons as a musician and helped make you the artist that you are today?
John: Yes, I feel very fortunate to have had the chance to work with all the great artists you've mentioned, and many others, and I'd like to think that all those experiences have helped me to expand my musical boundaries and learn. Sometimes, when I look at a list of recordings I've worked on, it kind of overwhelms me, but there's no doubt that every one of the artists I've worked with has had an influence on who I am today musically.
THIRSTY: John, you also worked with the Grateful Dead on the Mars Hotel album, which is one of my all-time favorites. Can you talk a little bit about what it was like working with the late Jerry Garcia and the Grateful Dead?
John: Having lived through sort of the beginnings and evolution of the "San Francisco Scene" of the sixties, I was pretty blown away when I got the call to work on an actual recording with the Dead. At this point, it's a little hard for me to recall all the chronology, but I did end up doing quite a bit of work with Micky Hart, outside of the Mars Hotel session work, and really have a lot of great memories of working at Micky's place on a variety of projects. The Dead were really nice to me and I have to admit to nostalgic tendencies when I think about the great bands of that scene - I just saw Peter Albin from Big Brother at one of our recent shows, and Peter Lewis from Moby Grape is a good friend - so I feel lucky to be a tiny little part of the legacy of the Grateful Dead.
THIRSTY: Guy, your personal career has been just as intriguing. You've been a member of the Moody Blues, Air Supply and World Trade and have now been a member of the Doobie Brothers since 1996. Can you talk a little bit about how those experiences have molded you as an artist?
Guy: I really started out as a "fan" of these musicians, so actually sharing the stage with them was surrealistic in the beginning. Funnily enough, the path I took feels a bit like a Hollywood movie script. Working with professionals at this level of creativity and musicianship has undeniably influenced my musical growth. Every band has given me the opportunity to strengthen and explore different areas of my musicality and I feel lucky for it.
THIRSTY: John, you joined the Doobie Brothers in 1979 and rejoined the group in the 1990's after disbanding in 1982. You have worked with countless artists, but have spent a majority of your career with the Doobie Brothers. Guy, you had a shorter stint with the Moody Blues and a seven-year relationship with Air Supply. You have spent the past fifteen years with the Doobies. What about this group has kept you both motivated artistically to have such long-standing relationships?
John: In my case, when the band broke up in late 1982, it never felt like things were really finished. The fact is, notwithstanding that the press at the time talked about "inner strife" and all that kind of junk, in reality the band was simply burned out by endless touring and studio work. When we got back together in 1987 for what turned into a tour of benefit shows, it was fun again. Then some of the guys got back together in earnest, and eventually Keith Knudsen and I - who had been working with our country group, Southern Pacific - got kind of pulled back in. I think it was because we felt that the band still had some good music to make, and now that we had learned what NOT to do, we could pace ourselves and keep things fun. We all like each other as friends, and it's a pretty great situation to be in to have a band where you can make music you like with people you like.
Guy: Each band was the right place for me at the right time. I've had the pleasure of working with musicians and vocalists who are exceptionally good at what they do, and most of them have turned out to be great friends as well. Those kinds of relationships are rare and worth keeping.
THIRSTY: I saw the Doobie Brothers perform live in the late 1990's with Lynyrd Skynyrd in Atlanta. I remember having such a wonderful time at the show. One thing that really stood out to me was the amount of joy and fun everyone seemed to be having on that stage. It seems like the Doobie Brothers are a band that love to play together live. Would you say that there's more love amongst the Brothers than maybe other musicians you have previously been associated with?
Guy: When it's good, you can't help but have a great time. I've found that with every band I've worked with, especially the Doobies.
John: One thing about the Doobies is that we, all of us, put out our best efforts every show we play. We believe in our music, we know we can rely on each other as a real team, and I do think that in these ways we're perhaps more blessed than most groups.
THIRSTY: Recently, the Doobie Brothers have seemed to be more focused on touring and performing live. Is that simply the love of performing live outweighing the love for the studio or are there more new albums in the works?
John: In some ways, I think we are a real performing band - one that does enjoy the live performance aspect maybe more than anything else. Having said that, we have a new album that we put together over the last few years around our touring schedule, and we're really proud of it. Even though we love to play live so much, we also want to have new music to perform live as well, so it's sort of a balancing act. The response to the new songs from "World Gone Crazy" has been the best we've ever had for new material - that's really cool for us.
THIRSTY: The Doobie Brothers were elected to the Vocal Group Hall of Fame in 2004 and have sold over 30 million albums. Any thoughts on being inducted into the Rock and Roll Hall of Fame?
John: That's a dangerous question because, if I were to give a thorough and honest answer, it would very likely diminish our chances, such as they are, of ever being inducted by that organization. I can say that, especially since I was a fan of the band before I had any inkling that I would become a member, the band clearly deserves to be inducted by any logical set of criteria, and has deserved that for some time.
THIRSTY: Once Manson Girls hits the big screen, do you feel like this will open new doors for the Doobie Brothers as far as working with filmmakers?
Guy: It's something that has always felt like a natural progression for my career. I love movies and I love the marriage of visuals, dialogue and music as they conspire to tell a story. Open new doors? I welcome it. Hopefully, this is just the beginning.
John: I have a lot of faith, for one thing, in Guy Allison's abilities and potential in regard to scoring movies. He's a natural, and has put a lot of work and study into this particular art, and I fully believe that when people get a chance to hear what he can do that he will be somebody that filmmakers will be looking to.
THIRSTY: What can we expect to hear from the Brothers in the near future?
John: We've got the new album, "World Gone Crazy", and are working on videos of songs from the album. We'll be touring around the world this year - Australia, New Zealand, Japan, Hong Kong, throughout North America. We just did Europe towards the end of 2010, but we may even make our way back there again in 2011.
THIRSTY: Thank you so much, guys. It's an honor for me to interview you both!
Guy: Thank you for the great questions Kent. The honor is mine.
John: You're quite welcome - our pleasure.
Links: