You must have Adobe Flash Player to use this function.
#22 - 2011 JANUARY
By Sarah L. Myers - Editor-In-Chief
New York, USA
---
It's my favorite New York City bar, my favorite New York Dolls song, and now it's my favorite way to get trashed.
Screamadelica (1991, Creation)
---
I told you last month there'd be a surprise! "Trash" is officially international. We did it up proper. Pure rock n' roll. I was invited to Primal Scream's "Screamadelica" shows back in June, and waited almost five months for five short days in London. The 20-year anniversary shows, at London's Olympia Theatre, sold out 24,000 tickets in a month.
"Screamadelica" is part of the British cultural fabric. It's pure sex, drugs, and rock n' roll, with a transcendent quality. It ushered in a new genre in 1991, yet still sounds modern. It pays no mind to space and time, yet comes together like one perfect moment. It's amoebic logo is iconic - an instantly recognizable symbol, with colors as primary as those of the Union Jack.
Primal Scream were always a favorite band of mine. I knew they influenced my beloved Verve and Oasis, and "Rocks" just kicks you right in the ass, so I was in love. I loved Bobby as a front man, and I loved Mani for being Mani. I'd met them years before in Chicago, after a sold-out gig at the Metro, and dreamed of seeing them in the UK, where unlike in the States, they've always been huge. It would be like my first trip to New York. I couldn't believe it until I landed.
I left Thanksgiving morning. My morning was London's afternoon, and it was dark when we finally touched down. My friend Pete met me at Heathrow, and we jumped on the Tube over to my hotel, nestled between the Hammersmith and Earl's Court stations. A giant iTunes billboard held the corner across from my hotel, so when I saw the Beatles, I knew I was on the right track.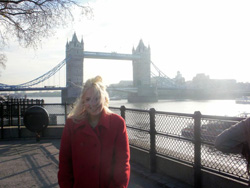 Sarah in London
---
My history lesson came first, with Pete taking me around the Thames and the Tower of London, then to the West End and Fleet Street, my favorite site of the day. I just loved the cobblestone and lanterns tucked away in little corridors. We marveled at St. Paul's Cathedral, and I resisted the urge to pop into every pub (there really is one on every corner). Soon it was time to ready myself for the first "Screamadelica" show. I met up with Oliver and Dan from The Killing Floor (love those boys!) and was in heaven for the next few hours.
Performed start to finish, "Screamadelica" takes on new life. There was a short set to kick off the night. Bobby, wearing his black skinny suit, announced, "we're going to play some upbeat rock n' roll songs for you!" They launched into "Country Girl", "Jailbird", and "Swastika Eyes", before a short DJ set filled the intermission. Friday's show, while brilliant, ended up being just a warm up for the guys. Saturday was perfect. But I'll get to that in a minute.
After the show we headed over to Punk in Soho, where Pete had been at it since 7pm. To say we shut it down is putting it lightly. I wanted a night out in London, and I more than got what I asked for. Punk is just like any dark NYC bar, with music girls like to dance to while boys watch them, so I felt right at ease. If it hadn't been for the strange coins in my bag I would think I was home. (What's with the two pence?!) It was late that night when I realized the big differences. Getting home in New York is easy. Getting home in London is impossible! The boys and I finally found a cab around 4am, and I was able to sleep a couple of hours before shopping in Camden the next morning.
Camden is the St. Marks Place of London, with tons of punk shops and overpriced vintage stores. I had a mulled wine and wondered if everyone in Camden looked like a member of the Casualties. I also hit up Portobello Road for antiques before meeting back up with Pete and hitting Brick Lane in Shoreditch for the most amazing tikki masala I've ever eaten. I also popped into Rough Trade and picked up a beautiful new book of Joy Division photographs.
Sarah phones home
---
I was already in love with the food. I realize I was eating Special Occasion Food. I realize that Brits don't have fish and chips and Sunday roast everyday, but despite the odd number of KFCs, it seems they still eat real food - hearty meals around which a whole day is spent. Sunday belonged to the Adam & Eve pub in Oxford Circus, where we had the traditional roast, potatoes, Yorkshire pudding, and spiced cider, while Liverpool and Tottenham squared off. "You're in England now!" Pete told me.
But back to the Scream. Saturday was epic, the show I traveled across the ocean to see, the one I'll remember and talk about the rest of my life. I made my way to the very front row, squished against the barricade with some new friends I'd made. Justin had seen the first "Screamadelica" tour 19 years ago. His brother was there celebrating his birthday. Everyone I talked to had a story. Being there meant something to everyone. It was a special night before the music even started.
The build-up mirrored that of the record. Slow harmonies and a creeping bass line became the sound of splintered glass as the graphic onscreen shattered, bringing Bobby to the stage and the "Screamadelica" logo into focus. The crowd was in darkness as "Moving on Up" began, singing together as the lights came up and shifted onto the logo's familiar colors.
The first half followed the listing of the record, so everyone knew "Slip Inside this House" was next. The bass intro had barely downshifted before everyone just lost their minds. I planted my feet firmly in place and weathered the wave of dancing and shoving. Almost everyone's eyes were closed, no doubt seeing the same lasers and stars in the darkness behind them. Little puffs of smoke escaped in between bobbing heads, and everyone, I mean everyone, was singing back to Bobby onstage. "Don't Fight It, Feel It" turned the place into a rave, with that great refrain "gonna live the life I love, gonna love the life I live!" Bobby was in it, feeding off the crowd, dancing in time with the whistles, and leading us in chants of "gonna get high 'til the day I die!"
"Damaged" was just beautiful, the greatest song the Stones never wrote. Bobby's long fingers wrapped around the microphone, his eyes closed and voice soft, he sang alone until the bridge, when "stone in love with you" filled the room front to back. Listening to those voices travel was probably the highlight of my night, something you only hear at a revival or a Nick Cave show. The band left the stage during "Higher than the Sun", leaving Mani solo, swinging back and forth with his bass, lost in the fog and psychadelica projected behind him. "I'm Coming Down" was the last moment of quiet. That song always reminded me of waking from a great dream - a long descent from where you were, what you were on, or who you were with.
Confetti Drop
---
Then that question - "Just what is it you want to do?" rang out and all hell broke loose. The crowd pogoed, smashed into each other, jumped and bounced as "Loaded" took over. Green lasers shot out from the stage, illuminating every person in the room. Bobby did his backward dance, maracas in hand, mixing in "Sympathy for the Devil" with the intro. I rely on video to recall those ten or so minutes. There's flashes - Andrew starting the song back up with that classic riff, Barrie and Mani throwing their arms around each other, and green. So much green - from the lasers, the beer bottles, and the herb being smoked around me. It's only after the band left the stage for the encore did I start coming back. The organ kicked in and a hypnotic pattern swirled onscreen, signaling the beginning of "Come Together".
That was it. Thousands of people were in church, all best friends, as glittered confetti fell from the rafters. I want to say you had to be there, and I guess I just did, but take any grand moment and you'll get just a taste of it. We really were all together. We kicked plastic Carlsberg bottles around like soccer balls together, spilled out into the streets and onto the Tube together, and sang together all the way back to Earl's Court.
"Screamadelica" was a wonderful thing to be a part of, even more so when you have friends behind the scenes. I visited the venue Friday afternoon, shortly before sound check, while the cranes were still lifting lights and screens for that night's show. My heels echoed off the concrete, bouncing around the vast, empty space. Hours later there wasn't space to be found, just thousands of bodies against each other. The transformation was staggering, like turning up the color on a black-and-white television. It's hard to think of anything more beautiful right now.
Behind the Scenes
---
I don't know how I could've topped my first trip to London, but I know I'm going back to do it all over again. "Screamadelica" shows have just been announced for spring 2011, Richard Ashcroft has a new band, United Nations of Sound, and there's definitely more "Trash" to be found in the UK. I found my new home!
Until next time…
Links: