By Michael Lara
Tokyo, Japan
---
"And most amps go up to 10?…Does that mean it's any louder?...Well, it's one louder, isn't it?" The serious, yet silly chat between narrator/interviewer Marty DiBergi (Rob Reiner) and Nigel Tufnel (Christopher Guest) in Rob Reiner's epic comedic cult classic
This Is Spinal Tap
(1984) best reflects the most robust and diverse burgeoning fare caught and savored in 2010, as well as those to swallow whole in 2011.
No surprise in finding this truth as Japan steadily and comfortably bathes in its historical waters of contradictions that began post-World War II with a heavy influence of Americana. And while this new century bears witness to the emergence of an ever-dynamic new China, an ongoing stream of artists and events continue to tap into the consciousness of all those in Japan, whether residents or visitors, in helping to shape a rich environment to be farmed and fed to all.
While this seems "a given" to the younger generations, for decades Japan's populace had only a few promoters, such as UDO (www.udo.co.jp) to fill venues like Nippon Budokan, Yoyogi National Stadium, Tokyo Dome and others. Fortunately, from the mid-1980's and early 1990's, two dynamic Japanese promotion companies emerged to help bring about a markedly broader and vital international injection, namely the nationwide-Tokyo-based Smash Corporation Ltd. (www.smash-jpn.com) and Creativeman Productions (www.creativeman.co.jp).
With the door closing firmly shut on 2010, and 2011's opening up, here's a recap and preview of the top dishes of yesteryear and those to be readily prepared to gather in full flavor, whether alone or with company:
Top 10 for 2010
January 24
Rockstar TASTE OF CHAOS Japan
Zepp Tokyo, Tokyo
Taste of Chaos Festival Lineup
www.tasteofchaos.com
In its 5th and perhaps final year in existence, Kevin Lyman's and John Reese's offspring creation from their highly successful and respected VANS Warped Tour found itself unfurling a fitting finale that brought together European, American and Japanese metal and rock bands for a full roast blend to launch 2010 in full.
With both established Gothenberg vets IN FLAMES as well as those ever so hungry to make their indelible marks such as Japan's EACH OF THE DAY and LA's ENDLESS HALLWAY, TOC'10 resonated resolutely, ensuring close tabs on all acts performing.
And while TOC may have run its course, expect to see its offshoot UPROAR FESTIVAL (rockstaruproar.com) to be a fitting follow-up. However, the question remains, will it make it to Japan in 2011?
2010's line-up:
IN FLAMES
ATREYU
CKY
ENDLESS HALLWAY
EACH OF THE DAY
February 24
10th WHISKY LIVE!
Big Site, Odaiba, Tokyo
www.whiskymagjapan.com/live/2010/index_e.html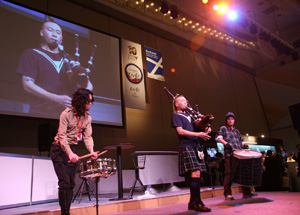 Whisky Live! - Tomohiro Inuki on the bagpipes
---
Upon taking the slow, yet scenic tram ride across Tokyo Bay to arrive at the space station-shaped Big Site complex, the 10th incarnation of WHISKY LIVE! delivered a huge spread that had both experts and novices alike delighting in the wide assortment of whiskeys from around the world, alongside representatives of each distillery.
With doors opening at 10:30am and sampling beginning at 11am and ending at 6:30pm, the necessary emphasis was on pacing as well as ensuring one had plenty of water and food. After all, how many events or festivals can you think of where the MC's (Mari Stone and Guy Perryman respectively) regularly reminded you to do so? None that I can think of, but regardless, with generous prizes, panels, entertainment, awards and master classes (18) to improve your adult education in whiskies on their own as well as their favorable pairings, networking opportunities galore came naturally.

MUSE on the Green Stage
---
July 30-August 1
FUJI ROCK FESTIVAL '10
Naeba Ski Resort, Niigata
www.fujirockfestival.com
First held near Mt. Fuji amid a ravaging festival-destroying typhoon in 1997, this ever-expanding annual Mecca, for those desiring a cleaner GLASTONBURY in the East, got all they ever wanted and more. With notoriously bad weather kept to a minimum over its 96-hour duration, FUJI ROCK again deliciously tested one's stamina on all levels over its vast expanse as two new stages were christened, high in the mountains of Niigata.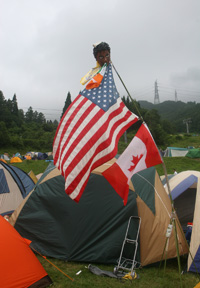 Michael Jackson and North American love at FUJI ROCK '10
---
Whether camping on the golf slopes of Naeba Ski Resort or piling into a Japanese-style inn or splurging to rest your mind, body and soul at Naeba Prince itself, new friendships were forged between natives and an ever-increasing amount of foreigners willing to part ways with sizable amounts of time and money to get back to nature and the tribal traditions of humanity.
Always held on the last weekend of July, the rich fare to be had from its 14th menu unfurled to satisfy most palates as a wide array of new plates, old favorites, rising favorites and fusion platters comfortably complimented each other daily, from late morning to early morning with again another super-sized spread including JOHN FOGERTY, ROXY MUSIC, MASSIVE ATTACK, MUSE, THEM CROOKED VULTURES, ATOMS FOR PEACE, !!! (CHK CHK CHK), One Day As A Lion, LOCAL NATIVES,BEARDYMAN, Broken Social Scene, toe, FLOGGING MOLLY, FISHBONE, VATO NEGRO and FOALS.
August 7-8
SUMMER SONIC '10
Makuhari Meese & Chiba Marine Stadium, Tokyo
Maishima Summer Sonic Osaka Site, Osaka
www.summersonic.com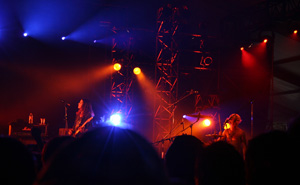 Blood Red Shoes
---
Unlike its past year 10th celebration, the urban alternative to FUJI ROCK, better known as SUMMER SONIC, effortlessly unfurled less than a week later to the delight over a different, more pop friendly multi-generational, multi-cultural populace and line-up.
Again having rotating line-ups between Osaka and Tokyo, Creativeman ensured there would be no mutiny on its well-earned and rounded bounty that equally tested one's stamina.
As the option of seaside camping next to Chiba Marine Stadium has gained ground in usage, other facilities and offshoot stages have as well as the twin towers of summer festivals see their fortunes forward.
SUMMER SONIC '10 delivered aplenty to satisfy whatever genre you felt flavor and favor for in the likes of RICHARD ASHCROFT, ATARI TEENAGE RIOT, PASSION PIT, JAY-Z, A-HA (in their final tour), PAVEMENT, A TRIBE CALLED QUEST, BIG BANG, BAND OF HORSES, JONSI, PIXIES, DREAM THEATER, THE OFFSPRING, BRMC, TAYLOR SWIFT and STEVIE WONDER.
September 4
10th METAMORPHOSE Festival
Cycle Sports Center, Shizuoka
www.metamo.info

Grandmaster Flash
---
This festival has come a long way from its humble 2000 launch at Machiya Drive-In near Mt. Fuji. With an attendance reaching 3,000 at its inception, this dance and trip haven has steadily seen gains with this year's impressive gathering near 25,000, over an unusually hot weekend.
Nestled in the mountains southwest of Tokyo, METAMORPHOSE's three stages provided sustainable sustenance in sound and vision with a boundless assortment of tasty treats to eat, drink, purchase, dance to in living simply. Mission accomplished in helping you forget about the dense city center you reside in as global go-go deck drivers GRANDMASTER FLASH, DERRICK MAY, LARRY HEARD, DARREN EMERSON, MAYURI, DON LETTS, EYE alongside atmospheric activators MOGWAI, OMAR RODRIGUEZ LOPEZ GROUP, TOMMY GUERRERO, 65 DAYS OF STATIC released themselves as their passions were duly reciprocated. In doing so, all assisted in the proper management of the unusual heat found in this effervescent nocturnal affair, which offered a sumptuous 24-hour feast for party people of all kinds.
Upon reflection on my inaugural visit to this still hidden secret, the increasing strength of the sun, amid old and new friends established overnight and spread about in the morning hours with temperatures reaching, hovering well over 30 C, made regular non-alcoholic refreshment a hearty necessity in staying hydrated. And while all have their own distinctive ways to fortify their festival stamina, I went the Red Bull way and perhaps set a record between cocktails and water.
October 9-10
ASAGIRI JAM FESTIVAL
Asagiri, Shizuoaka
smash-jpn.com/asagiri/timetable.html
Commencing back in the fall of 2003 with SKATALLITES, CHEMICAL BROTHERS as headliners, this intimate two-stage, misty mountain top overnighter is the perfect antidote for those opting to skip the hungry masses in humanity found at both FUJI ROCK and SUMMER SONIC.
Within view of Mt. Fuji and tickets limited to only 10,000 (less than a tenth of those either attending FUJI ROCK or SUMMER SONIC), this year found MANU CHAO, TODD RUNDGREN's JOHNSON, BLACK BOTTOM BRASS BAND, IRATION STEPPAS and others bringing all together via a diversity of genres, such as dub, reggae, rock, rock, funk, jam, experimental rock, techno, jazz, folk, ska, punk and salsa.
And as of no surprise with all mountain affairs, ponchos are a must as well as camping gear that can handle all elements.
October 16-17
LOUDPARK FESTIVAL
Super Saitama Arena, Saitama, Tokyo
Kobe World Memorial Hall, Kobe
www.loudpark.com
Five years into its two-day metal showcase that mirrors the twin-city approach of its SUMMER SONIC, Creativeman's collaboration between domestic and international heavies has been a steady study of success with artists, publications and promoters at home and abroad taking note.
Helping mutually fuel each other and absorbing critical lessons learned from those such as DOWNLOAD, WACHEN and others, 2010's artillery found in the cavernous confines of Saitama Super Arena did not disappoint.
While no camping is arranged for this metal fest, perhaps sharing a few hotel rooms in either Shinjuku, Shibuya or Roppongi would be a wise decision, not to mention providing a good chance to cross paths with heroes of past, present and future. While Tokyo is a behemoth of a city, the action to be had is surprisingly compact.
Who knows, you could have easily come across either KORN, OZZY OSBOURNE, MOTORHEAD, HALFORD, CTHONIC, AVENGED SEVENFOLD, STONE SOUR, ACCEPT, DIR EN GREY and others outside the venues at various hotspots. Look for dates and lineups to be announced late spring/ early summer for 2011.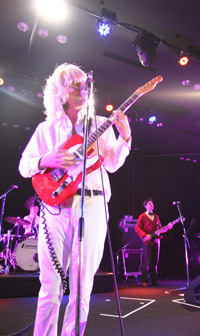 The Rapture
---
October 29
JAPAN FASHION FESTIVAL (10/25-31)
11th JAPAN FASHION WEEK
LeBaron de Paris X Colette-Halloween Eve
Bellesalle Shibuya First, Shibuya, Tokyo
www.lebaron.jp
www.jfw.jp/en/schedule/2010/10/29
Coinciding with JAPAN FASHION WEEK for Spring/Summer 2011 and helping to promote designers, both homegrown and from abroad, the 11th JFW was a resounding success in the international series with showcases including the usual suspects from Paris, London, New York, Milan as well as Toronto.
These bi-annual events are more than just food for thought for those in the industry, showcasing the hungriest of the hungry while supporting a collaborative platform for other creative arts.
Seizing the reality of such a naturally electric atmosphere, UNITED LEISURE & MUSIC produced the crown jewel party for JFW that brought together the strengths of LeBaron de Paris and Colette in its Vol. 1 Halloween Eve Party. Situated in the newly established Bellesalle Shibuya First venue, THE RAPTURE punctuated this night of marvelous macabre and more as they all opted to be fitted in CHEAP TRICK a la LIVE AT BUDOKAN wear minus Gabriel who couldn't resist being Godzilla. While VAMPIRE WEEKEND spun as a bonus, dynamic duo deck vets OFF THE ROCKER (Shinichi Osawa & Masatoshi Uemura) provided futuristic, pulsating patterns that happily surged back and worth.
November 8-14
JAPAN MUSIC WEEK
40 different venues throughout Tokyo
www.japanmusicweek.com
Proudly celebrating its 2nd birthday, Japan's much smaller, but developing, trans-Pacific answer to long-established international heavyweights of Austin's SXSW and NYC's CMJ Music Marathon, found itself showcasing over 300 artists from 20 countries, reaching out to over 10,000 attendees.
With much promise, a solid base of interest at home and a growing one abroad, this year's continued success comes as no surprise with many artists sure to be applying to SXSW2011 and CMJ2011. Pay close attention to the paths ahead for these following artist attendees at JMW2010, especially Canada's SLOWCOASTER: www.japanmusicweek.com/artists/
December 4
WOMB ADVENTURE '10
Makuhari Meese, Chiba, Tokyo
www.wombadventure.jp/english.html
That old adage goes, "third time's a charm." But there is no need for that with regard to the rampant success of Tokyo's famed den of dance and drink decadence known as WOMB. The production is a massive international series of techno, dub, minimal, drum and bass, electro house, electro clash, Detroit techno, house, acid jazz and more. One can only imagine what all-star team will take the field in December 2011. Pay very close attention to next year's spring and summer announcements for this sold out series.
2010's line up:
Dexpistols
Masatoshi Uemura
Aki
Paco Osuna
Robert Dietz
Carl Craig
Shinichi Osawa
Gaiser
Roni Size
Crookers
Plastikman (a.k.a. Richie Hawtin)
You must have Adobe Flash Player to use this function.
Top 11 for 2011
February 10
GAN-BAN 10th ANNIVERSARY
AGEHA @ Studio Coast, Shin-Kiba, Tokyo
SCISSOR SISTERS, TAKKYU ISHINO, SHINICHI OSAWA, SURKIN, LOVEFOXXX (CSS) and more!
www.smash-jpn.com/band/2011/02_ganban/index.php
In the ever-competitive Japanese market where ticket prices are always a premium - in general, a night out guarantees a minimum expense near 20,000 yen (USD$225/ EURO $170) or more - when Tokyoites go out, they make sure it's solid.
Ensuring such a condition for 8 hours plus, FUJI ROCK-affiliated GAN-BAN night's gathering guarantees plenty of calorie-burning mixmaster fun, whether spent indoors or outdoors by the pool and Tokyo Bay, with a hearty conglomeration of domestic and international cocktails to sample in complete unbridled freedom 'til first train or beyond.
February 18-20
Tokyo 2011 WHISKY LIVE!
Tokyo Midtown, Roppongi
www.whiskylive.com/japan/20/tokyo-2011
Ambitiously changing its format from a "day-only" event located off Tokyo Bay into a "multi-day" one located in the posh area known as Tokyo Midtown near the Ritz Carlton Midtown, expect nothing to be overlooked as Whisky Live Japan's David Croll assured attendees at a pre-launch party. Any questions, comments, suggestions, he's the point man to reach.
The expanded format promises to be full of master classes, panels, entertainment, awards and, of course delicious, foods to compliment an ever-wide assortment of the finest scotches to be found in this world.
March 18
FAC51-THE HACIENDA
JOY DIVISION Celebration With Peter Hook
BASEMENT JAXX, FELIX DE HOUSECAT,
SUGIURUMN, Bryan Burton-Lewis
ZEPP TOKYO
www.fac51thehacienda.jp
Nearly 32 years after its April 1979 release, JOY DIVISION's delectable debut still haunts, shimmers and shines on its own as well as on the countless artists who were naturally imprinted by its raw power, many not even born when Peel promoted it.
Rather than lament on it being a past article, this night with the ever-clever and witty Peter Hook shall focus on its eternal vitality in something powerfully intimate, honest and immediate. JOY DIVISION's arsenal will be wholly brought to life and fully fortified by the likes of BASEMENT JAXX, FELIX DA HOUSECAT and others, so much so that you might have to take a boat out on Tokyo Bay and inhale and absorb all that's alive in your presence instead of taking that first train home.
March 22-25
12th JAPAN FASHION WEEK
Tokyo Midtown Hall A, Roppongi, Tokyo
And other venues to be announced
www.jfw.jp/
Bringing matters forward a half-generation since its first launch, JFW'11 showcases a young, hungry international conglomerate of designers in their desire to highlight creations for the fall/winter season of 2011-12. The event promises to be chock full of opportunities and insights into what lies ahead in film, TV, music, art and on the streets from every corner of the globe.
As with past editions, expect both the unexpected as well as international and domestic collaborations of those well-established, those finding their feet and those not holding back. While industry regulars mill about in this marvelous mix in humanity, this shall naturally produce some amazing parties, too. What artists will be incorporated into this festive week this time? As an added bonus, this all shall transpire as hanami (Japan's famed nationwide cherry blossom season) comes into full bloom in the greater Tokyo area, giving more reason to attend. Get ready and in full.
April 1-3
PUNKSPRING
Zepp Osaka, Osaka
Zepp Nagoya, Nagoya
Makuhari Meese, Chiba, Tokyo
www.punkspring.com
Hitting the top three epicenters of Japanese culture in productivity, PUNKSPRING is Japan's mini-VANS WARPED TOUR, so to speak, with countless punk-thrash-rock luminaries gracing its stages.
Some of 2011's menu announced thus far to be savored come April:
GOOD CHARLOTTE
HOOBASTANK
SUICIDAL TENDENCIES
ANDREW W.K.
PENNYWISE
TOTALFAT
July 29-31
FUJI ROCK FESTIVAL '11
Naeba Ski Resort, Niigata
www.fujirockfestival.com
Incredibly reaching another milestone, the 15th ensemble of this storied festival where you'll regularly witness both unpredictable weather come together with equally unpredictable appearances and behaviors from artists as another long midsummer's weekend awaits you. And while far too early to tell who shall grace its vast number of stages, a safe and wise bet is to closely watch who is both booked for SXSW '11 (sxsw.com/), COACHELLA (www.coachella.com) as well as FUJI ROCK's proud papa and catalyst GLASTONBURY (www.glastonburyfestivals.co.uk/).
Do remember that early bird specials do annually become available come springtime, but are limited in numbers. Be sure to pay close attention to the following sites and if you have friends or family in Japan, have them remind you: www.smash-jpn.com and www.smash-uk.com.
August 13-14
SUMMER SONIC '11
Makuhari Meese & Chiba Marine Stadium, Tokyo
Maishima Summer Sonic Osaka Site, Osaka
www.summersonic.com
Following two weeks after its misty mountain hop brother FUJI ROCK, prepare for another full-on urban sound and vision landscape that delightfully sees no limitations in either artist or genre to ensure a robust roast.
Again, a wise move is to keep close tabs on its development from spring forward by perusing its home site as well as Creativeman's first and second quarter gigs: www.creativeman.co.jp Furthermore, as someone who has seen this festival grow exponentially since its 2000 launch, another surefire indicator of probable artist inclusions will come from the bills for SXSW (www.sxsw.com/), READING & LEEDS (en.wikipedia.org/wiki/Carling_Festival), COACHELLA (www.coachella.com) and to a lesser extent at GLASTONBURY (www.glastonburyfestivals.co.uk/) as you can see from past bills opposed to those at SUMMER SONIC.
September 4
METAMORPHOSE Festival'11
Cycle Sports Center, Shizuoka
www.metamo.info
Turning 11 in '11 promises both a formidable as well as fun task to organizers in keeping such a rich convergence of artists assembling in this gentle giant of a festival.
Hints for those to make the cut for this dense, deep international talent pool are hard to predict, but perhaps you best just imagine your best fantasy lineup between SXSW, COACHELLA, FUJI ROCK and BIG DAY OUT (www.bigdayout.com/home.php)
October TBA
ASAGIRI JAM FESTIVAL
12th JAPAN FASHION WEEK
Tokyo
Spring/Summer 2012 collections
November TBA
JAPAN MUSIC WEEK'11
40 different venues throughout Tokyo
www.japanmusicweek.com
Besides the above-noted events, always know that in the land of the rising sun, late spring (end of March-April) means time for hanami (cherry blossom season). This, of course, results in two weeks of drunken tomfoolery and tasty eats in parks nationwide. As you enjoy the robust scenery, in foliage and humanity, from dawn to dusk, with Tokyo's Yoyogi Park, Sumida River and Inokashira Park being the top spots to put your tarp down to appreciate the simple universal pleasures of life.
Months later, during late summer (end of July-August), it's time once again to celebrate communally, and to dress minimally, in savoring hanabi (fireworks season) nationwide, whether in the city, country or seaside.
Personal recommendations place the seaside city spreads of Kamakura and Enoshima as musts whilst in Japan at this time.
For more on the above 2011 pilgrimages to and within Japan and beyond, collaborate closely with these:
Famed venues to find your favored fare:
http://en.wikipedia.org/wiki/Nippon_Budokan
http://en.wikipedia.org/wiki/Zepp
http://en.wikipedia.org/wiki/Yoyogi_National_Gymnasium
http://en.wikipedia.org/wiki/Makuhari_Messe
http://en.wikipedia.org/wiki/Saitama_Super_Arena
http://en.wikipedia.org/wiki/Tokyo_Dome
http://ja.wikipedia.org/wiki/CLUB_QUATTRO
http://en.wikipedia.org/wiki/Akasaka_BLITZ
http://en.wikipedia.org/wiki/Shibuya-AX
http://en.wikipedia.org/wiki/Tokyo_International_Forum
http://www.liquidroom.net/
http://www.loft-prj.co.jp/
http://shibuya-o.com/
http://clubasia.co.jp/
http://en.wikipedia.org/wiki/Womb
http://www.lebaron.jp
Essential Japanese publications:
http://metropolis.co.jp (all genres)
http://www.grindhouse.jp/ (rock)
http://www.clubberia.com/ (dance)