By Sarah L. Myers
New York, NY, USA
---
THIRSTY: Tell me about this new live record!
Slim Cessna: Well, actually that was a record that was released several years ago but we just did it on our own. We were selling it at shows. And then it went to this little label in San Francisco called Smooch. But then Smooch wasn't going to do records anymore and Jello Biafra and Alternative Tentacles (AT) - he always wanted it anyway. It was something that he was always aggravated about, that we didn't do that with him. So when...basically it just transferred over to AT just recently. But it never was released on vinyl. So, yeah, we just re-released it and gave it an official release years later. Jello wanted it on vinyl because he only listens to records on vinyl.

Slim Cessna
---
THIRSTY: What's your history with Jello?
Slim Cessna: I don't know when we first met, but he was a fan of the band and then became friends with us some time in the 1990s. Then we just decided to just start working together on the Always Say Please and Thank You album that came out in 2000.
THIRSTY: How is it touring with this live record as opposed to a record of new material?
Slim Cessna: We would be here anyway. We really only put out a new record every three or four years. It takes us a long time to get one, so we tend to tour without having anything to do with the albums. It just happens to be that we have this live record and so AT did promote as if we are touring with the record, but I think we already had this tour scheduled before that officially came out.
THIRSTY: You're one of those bands - you just have to be experienced live. The first time I saw you - people just go crazy and lose their minds. Is NYC really one of those places where you get that reaction? Or more so, when you go home to Denver?
Slim Cessna: New York, you know, there's a lot of highs and lows here. Sometimes it'll be packed and very enthusiastic and other times not quite so. But we're expecting a good crowd tonight. It should be a high energy, good show. I mean we would do that anyway. If there are 40 people or 200 people it's the same to us. Our job is to entertain whoever paid money to see it.
THIRSTY: What's your recording process? You get together with Jay (Munly) and write lyrics first?
Slim Cessna: He's actually been writing most of the lyrics for the last couple albums, and as a band, we create the music and it kind of works different for each song in a way. I mean sometimes there [will] already be a foundation and other times, we're just messing around and it happens.
THIRSTY: What's been the song that's paid off the most? The one you love to perform, that came together very easily, and is the most fulfilling?
Slim Cessna: That's a hard one because there's a few of those and we play some older songs that work that way for us. One would be "Hold My Head". That seems to be the obvious [favorite]. So we do that one. That's the only one I can think of!
THIRSTY: How's the tour been going?
Slim Cessna: It's been going well except our window got busted and our suitcase is [gone]. But it has been going well. The shows have been great. Last night in Boston was great. We're someplace we've never been [next], some place in New Jersey. Long Beach. Long Branch? No, Long Beach? (laughs) It's close to here. I feel terrible that I don't remember what it is.
THIRSTY: I think you're influences are pretty obvious in some ways, but I did want to ask you about some of your favorite hymns.

Slim Cessna
---
You must have Adobe Flash Player to use this function.
Slim Cessna: Favorite hymns...there's "How Great Thou Art", which is pretty awesome. What's it called, is it called "He Walks With Me"? That's a good one. There's a lot of good hymns. I also love Mahalia Jackson and everything she does is absolutely beautiful.
THIRSTY: Talk to me a little about your punk rock roots and how you came to fuse everything together?
You must have Adobe Flash Player to use this function.
Slim Cessna: At the time, we didn't really call it, in the 80s, it was just - I don't know what we called it. I guess it was punk rock, you know. I listened to, I was a fan, of the Dead Kennedys when I was a teenager and a number of other bands, and so it was pretty awesome when we got on Alternative Tentacles for personal reasons cause it was really flattering that Jello became a fan first and kind of amazing to me that something like that can happen. We played shows with Kid Congo Powers who is one of my personal favorites and heroes, and everything that he's done has been something that's been really important to me when I was younger. With [the Bad Seeds] and Gun Club and some of the Cramps records and whatever else he did. Oh yeah, we played a show with him here in this room and it was amazing because he opened for us! Holy cow! It was really weird! So you know, I was kind of star struck personally. I couldn't speak. I probably said really stupid things and we played another show with him in Belgium where he opened for us and that was pretty awesome and amazing.
THIRSTY: I've spoken to the Legendary Shack Shakers and Scott Biram about this. Can you tell me about how American roots music and southern gospel are so much more magnified and appreciated overseas? When you go to Europe, do you get a larger reaction or is it kind of the same?
Slim Cessna: You know, we expect it to…because we had heard that there was! (laughs) But it's, you know, we…some places…we did real well right away without having to do work. Like when we played in Brussels the first time ever, we had 150 people that showed up to see us. And so some places there work out. We still have to go there and continue to work, that's what it comes down to, just like we do there. We have cities that we do better than others, so we're looking at it more like it's very similar to how we approach things here. But I think that, in general, there is, I don't know, a curiosity factor is the right word, but there's a certain enthusiasm that people have for American music, but not the larger part of the population, but people who go out to see rock shows. I mean, there's only a certain percentage of people in the world that will ever hear of us. And we try to grow that but it happens really slowly. After 15 years, you know, but that's fine because that's just how it is. We have our people and there just happens to be small pockets of them all over the world. So yeah it is great.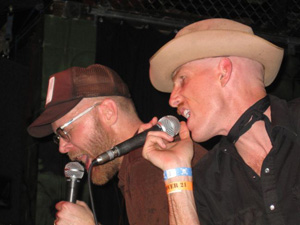 Slim Cessna and Munly
---
THIRSTY: I love you guys' appearance in Seven Signs, the documentary by Shack Shakers front man JD Wilkes, especially the acoustic piece you do with Munly, "Children of the Lord". Do you think you'll do another film?
Slim Cessna: We're always interested in things like that, yeah. You know, we always joke about making something, you know, but it always gets really crazy and weird. Ultimately, I don't think we would be really good at making something like that, but if anybody ever wanted to include us, [we'd do it]. It was really flattering when JD asked us to be in the movie. For one, we're not actually Southern and that was the whole concept of the movie. I mean, even that's interesting. It's an answer to that Searching For the Wrong Eyed Jesus movie that Jim White did, and I guess JD's take was that all the music from that wasn't from the South. But for whatever reason, he chose us to be in his movie and it worked. I mean, the concept of it was beautiful. I really liked the movie. So yeah, that was nice that he chose us to be a part of that. We [actually] consider ourselves more Western.
THIRSTY: How would you describe your sound?
Slim Cessna: It's American, you know. It's folk music. We tell stories. It's gospel music. I don't know! (laughs)
THIRSTY: How do you spend your time on the road? Do you have favorite places you like to stop?
Slim Cessna: We usually don't get to do things like that. We try to not have any days off because we can't afford that. We try to get as much money as we can and we have to go home and pay the mortgage and do all of those things, so usually we're just at work! But New York is fun because it's always just kind of like that. You just pull in and you get to just be here and it's a nicer place to have to come into work than other cities.
THIRSTY: Are you listening to any new music on tour?
Slim Cessna: I've been listening to Munly's new record. I also love the new Blood Exes. And they're all friends of mine. I actually only listen to my friends music! (laughs) So it's not really genre dependant. I get a connection from having my friends play it.
THIRSTY: Do you have any pre-show rituals?
Slim Cessna: We try to find everybody! (laughs) Someone's in the bathroom, someone's out having a smoke. There's no ritual.

Slim Cessna and Munly
---
THIRSTY: These are the things people want to know!
Slim Cessna: We never really...we don't really party! We sit around and are very quiet.
THIRSTY: What's been your favorite song to play on tour so far?
Slim Cessna: You know, they're all fun. It's hard to pick one. Usually toward the end, when things get crazier and it's not necessarily the song, it's just how you know whatever is going with us and the audience. On this trip, it's been "Fierce Cat". It gets out of control.
Link: