By Jarrod Dicker
New Brunswick, NJ, USA
---
THIRSTY:
Order of the Black
is Black Label Society's first album in nearly four years. As the group previously averaged an album a year prior to the latest release, what was the exact reason behind the lengthened hiatus?
Nick Catanese: Honestly, we were out for so long during the
Shot to Hell
tour; we were just touring and touring and touring. Then we went out for the
Pedal to the Metal
tour and that's when Zakk Wylde got his blood clots. So the focus detoured for us to make sure he got better. I was also battling some demons as everyone does. But now everybody is back to where they're supposed to be and I think it came at a perfect time. We never debuted #4 on the Billboard before, so for us to even crack top ten was cool.
Order of the Black
was very well received and it really made all of us feel great.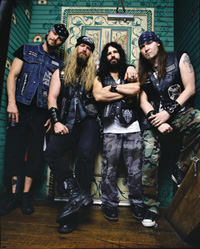 Black Label Society
---
THIRSTY: What was the culture like in the studio this time around? Does everyone in the band contribute creatively to the album or is it mostly guided by Zakk?
Nick Catanese: Well, Black Label Society is Zakk's mission in the end and it's been that way the past 14 years I've been with him. So it's almost like everybody does it differently and everyone could say what's right or wrong, but in the end, this is HIS vision. Picture this: If you had four painters looking at the Mona Lisa all discussing what they thought her eyes should look like—green, blue, brown, etc.—in the end, only one guy could paint the picture and he's going to do what he wants to do. As Zakk says, a CD is like a picture in that it captures a time in the band. It shows what the band is feeling or what they're into at a specific moment in time. It never takes a long time for one of our CDs to get done because we go in, do it, capture that moment in time, master it, and get on the road. That's it. It comes down to music, it's not rocket science. Don't go in and play your instrument like you're developing a space shuttle, go in and play like you're creating a rock record. Don't over think it. Just go in and play what's on your mind.
THIRSTY: As you said before, Zakk and you have known one another for a very long time. Considering your tenure with Zakk, how have you seen Black Label Society mature both emotionally and stylistically throughout the years?
Nick Catanese: I joined him back in '96-'97 and back then, people still didn't know who Zakk and the Black Label Society really were. And even when Black Label Society started getting bigger, it was still known as the group with Zakk Wylde from the Ozzy Osbourne Band. Years later, people now know who we are. And it still blows me away because people throw the term "rock star" around and I hate being labeled that.
THIRSTY: You dislike being labeled a rock star?
Nick Catanese: I'm just a guitar player, man [laughs]. I'm a guitar player and I play in a band, that's it. I'm normal, I'll hang out with you in the parking lot, I'm still and will always be a fan of music. I get excited meeting certain bands that I listen to. But back to the question in terms of growth, we've had some lineup changes and the band is always sonically changing. Every time the group changes, it sort of acts as a rebirth. Being here this long, I've seen it grow from when Zakk had the idea of the skull and crossbones patch on the back of the vest to now where we actually sell these jackets to our fans. People are wearing them and tailgating in the parking lot. So everything in Zakk's vision came true.

THIRSTY: The group had charted on the Billboard Top 100 before, however, the #4 position for Order of the Black is the highest ranking the band has ever received. With the decaying popularity of the record industry, where some bands now give their albums away for free, did this high position change the way you look at the future of the record industry? And did you know, while recording this album, that this record was going to be "the one"?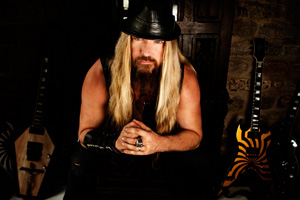 Zakk Wylde
(credit: Clay Patrick McBride)
---
Nick Catanese: Well, there's never a thought of where you're going to land or be placed. Just the other day we were talking about the way it was when albums were released primarily on vinyl; when you went to buy an album back in the day, it was an event. I remember opening up Kiss Live II and seeing pictures of the stage set with flames. It looked like super heroes, man. Then you would get the gum and the tattoos; it was truly an event. And now, if I want the new Sevendust album, I'll just download it [laughs]. You know it's great, but at the same time, the magic of getting the vinyl and certain aspects of the experience are gone. That's why Zakk had the idea of releasing Order of the Black on vinyl just to have that "experience" for our fans again.
THIRSTY: Black Label Society's fan base has grown immensely over the years. Personally, how does the fans' deepened loyalty affect you as a musician?
Nick Catanese: I just feel blessed. I can't speak for everyone in the band, but it all comes down to our fans. Our fans are awesome. We have a guy named Doug, we call him Bizzurker, and this is the fourth show in a row where he's traveled to see us. He came from Orlando to see our shows in Texas and it's like, who does that other than the Grateful Dead [laughs]? He even said at the meet and greet before a show, "They have the Deadheads, but we're calling ourselves the Blackheads." [laughs] I never see this with a lot of other bands; people really know and believe that they can relate to us. As I said before, I'm a fan first and foremost.
THIRSTY: How has Black Label Society adjusted to the age of social media? I noticed that both Zakk and yourself have a Twitter and Facebook; are these pages actually run by you or are they maintained by managers and publicists?
Nick Catanese: With the Twitter thing, it is actually Zakk and I tweeting. We have our hands in everything we do. Here in Canada, Zakk and I have been tweeting like mad men. We look like two old ladies tweeting. It's important for us to stay connected to our fans and communicate with our fans. (@EvilTwinBLS)
THIRSTY: How exactly did your relationship with Zakk Wylde materialize?
Nick Catanese: It was through email actually, honest to god. I was with a local band in Pittsburgh that I decided to quit. I planned on going to computer school and planned on giving up music all together. But then I saw Zakk's email address in Metals Edge magazine and, being one of my heroes, I emailed him and mentioned that if he ever needed a guitar player to let me know. So I'm in Pittsburgh and ironically he was talking about how he needed a guitar player for the Book of Shadows tour the same exact day. Call it fate, call it whatever. He emailed me back that day asking for a tape and a picture and a couple weeks later he called me and flew to Pittsburgh. We hung out and jammed, ate chicken, all the while I'm thinking "what just happened" [laughs]? I was just supposed to go to computer school and now Zakk Wylde's in my house eating chicken and playing on my guitars. It was insane.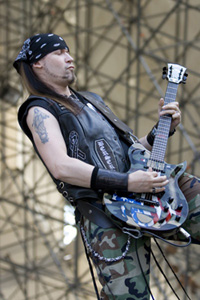 Nick Catanese
---
THIRSTY: When you started playing with Zakk, did you ever imagine that this collaboration would be a relationship that could span over the course of fourteen years?
Nick Catanese: No, I thought it was going to be a month or whatever, but fourteen years later, I'm still here. And honestly, I wouldn't have it any other way. On stage he says that if Black Label Society was the Rolling Stones, he'd be Keith and I'd be Ronnie. That's huge, it meant a lot. Being a guitar player and standing on stage with him is big, man. You know what I mean? Were sitting there doubling solos and it's just fun.
THIRSTY: Your side project Speed X came out with the album Flat Black last December. Since it's been a year since the release, are their plans of reconnecting with the members of this project?

Nick Catanese: No, right now I've been strictly touring with Black Label Society since September. These past couple months, I've shut down the Speed X project for a little bit. Of course, we're gonna jam again.. The CD came out a while back and we have had some good shows. But as busy as Black Label is right now, it has to be the number one priority. So when we have some downtime, I'd love to do more Speed X shows and sell more of the CD we already put out [laughs]. We have to sell more of those before we think about going in to do another one. It just comes down to time and money. Not that I ever take Black Label for granted, it's just turned into a machine. We go on stage and we don't have to worry about anything; it just works. Everyone knows the job they have to do. When it's your project, it's like wow, this is so different playing with a different group of guys. It's a lot different than being in a band you've been in for 14 years. If we ever did something, we'll post it up and let people know.
THIRSTY: Besides touring Order of the Black, what further can you predict the future holds in store for Black Label Society? Is this a band that will keep on making music and touring together?
Nick Catanese: It's never going to stop. That's why it's cool that we have all the hangover stuff from previous albums; piano stuff and everything else because we have alternative takes that we can always strip down acoustically. There's really no way to tell what the future holds. It could be something completely different from what I've predicted. I can't wait 'til we're playing the Book of Shadows stuff again. That music, after you're done playing a heavy show, is great when you can break it down acoustically and make it chiller.
THIRSTY: 14 years later, is there ever a fear of becoming too old to compose the music you enjoy playing?
Nick Catanese: You can always play when you're older; it's the circle of life, man. Everyone gets older and changes their style. People say James Hetfield sold out but c'mon, he has a wife and kids. He's still gonna write some kick ass albums, they'll just be different. This is life. It's hard to predict what's going to happen. But I know that if Zakk ever needs me, I'm there. This is a lifelong bond.
Links: