By Kent Brown
Los Angeles, CA, USA
---
Let me start by admitting that the
Talking Heads
is one of my favorite bands. Ever. In my humble view, the band revolutionized rock music in a way that few musicians have. And they did it without sacrificing their artistic vision or compromising to record executives. Each member of the
Talking Heads
has a unique and fascinating story, and I was fortunate enough to interview one of the charter members, Chris Frantz. Chris is a rock n' roll hall of famer and generally regarded as one of the greatest drummers to ever live. It was quite the honor for me to conduct this interview. I hope you enjoy it as much as I did.
Chris Frantz
---
THIRSTY: I would like to start by asking you about your early childhood in Kentucky. Many don't know that you were born and raised in Fort Campbell, Kentucky before moving to Pittsburgh. Did anything about the South influence your musical tastes or culture when you began playing drums for the Beans and later the Artistics and
Talking Heads
?
Chris Frantz: My mother's side of the family are all from Kentucky. My father was an Army officer and was stationed at Fort Campbell, Kentucky when I was born. Shortly after I was born, the Army sent him to Harvard Law School, so we lived nearby in Arlington, Massachusetts. My earliest memories are from there. After graduating, my father was sent to Korea and we lived with my grandparents in Indianapolis for eighteen months or so. Then my father was stationed at the Pentagon and we lived nearby in Alexandria, Virginia. Then we moved to Charlottesville, Virginia, where my father taught at the JAG School. This is where I first heard about Elvis Presley and rock and roll. After several more years, we moved to Pittsburgh where my father was from and this is where, after a false start on trumpet, I began playing drums in the school band. It was around this time that The Beatles hit the American airwaves and The Ed Sullivan Show. I had been listening to rock and roll, Chuck Berry, Little Richard, Roy Orbison, Buddy Holly, The Four Seasons and The Ventures and loving it, but like a lot of other people, The Beatles really galvanized me. With some school friends, I formed a band called The Lost Chords. We mostly just played in our parents' basements, but we had a ball and got our rocks off.
In the ninth grade, I went to boarding school in Virginia where I was turned on to soul music in a big way. James Brown, The Temptations, Smokey Robinson & The Miracles, Otis Redding and Sam and Dave were what were considered to be the most hip. I also discovered Bob Dylan at this time, which was a revelation to me.
All the while, I would spend summers in rural Kentucky with my grandparents where they had returned in their retirement. You would hear the most amazing Bluegrass and hillbilly music on the AM radio, especially on Sunday mornings. Although I enjoyed the music I heard in Kentucky very much, I didn't have a full appreciation of it until I became older and less judgmental. Now, I love that stuff!

TALKING HEADS: 77
(1977, Sire Records)
---
THIRSTY: You first met Tina Weymouth and David Byrne at the Rhode Island School of Design. Did any of you have any notion of the ride that you were about to embark on and the overwhelming popularity that you would soon garner?
Chris Frantz: I had a strong feeling that together we could do great things, yes. We were all bursting with ideas and the desire to make our mark in the world of art and music. We moved to New York in the fall of '74 with a five-year plan and worked really hard. But thanks to Hilly Kristal and CBGB, things went much better than we had expected. In three years, we had our first album on Sire Records.
THIRSTY: Is it true that you once served Robitussin cough syrup at a dinner party?
Chris Frantz: Absolutely not! Who told you that? My dinner parties are world famous for delicious food and plentiful fine wines.
THIRSTY: You and Tina got married in 1977. It must have been an interesting situation for David when you two officially tied the knot. How would you say he dealt with your relationship?
Chris Frantz: I think it's fair to say that, in retrospect, David has had great difficulty dealing with interpersonal relationships…period. We now know that's just the way he is.
THIRSTY: Obviously, you and Tina continue to work and play together. How is your current relationship with David and Jerry Harrison?
Chris Frantz: We're able to take care of
Talking Heads
business together. We're on good terms with Jerry and we would be with David, too, if he cared about that.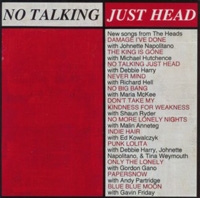 No Talking, Just Head
(1996, MCA)
---
THIRSTY: In 1996, you and Tina reunited with Jerry and produced "No Talking, Just Head". Did it seem strange to be together again without David?
Chris Frantz: It was wonderful to work with Jerry. I think we will always miss the fantastic chemistry we had with
Talking Heads
. Bands like that do not come along every day.
THIRSTY: How exciting was it for the
Talking Heads
to reunite and perform at the Rock N' Roll Hall Of Fame induction ceremony in 2002?
Chris Frantz: It was totally exciting. Even in the uptight circumstances of the Waldorf Astoria, we turned the mutha out!
THIRSTY: 2002 was a tremendous year for the Rock n' Roll Hall Of Fame. You were inducted alongside your friends, the Ramones. How special was it for both of you to be inducted in the same year?
Chris Frantz: It really was a remarkable night. Our first show at CBGBs was opening for the Ramones. Our first tour ever was a tour of Europe opening for the Ramones. There we were being inducted into the Hall Of Fame together. Dee Dee Ramone sat at our table. It seems our bands will forever be intertwined and that's alright with me.
THIRSTY: Ramones historian Jim Bessman claims that you were the "Talking Head" that got along best with the Ramones. Would you agree?
Chris Frantz: I think that's probably true, but you should know that all the
Talking Heads
have the utmost respect for the Ramones. We miss them, too.
THIRSTY: CBGBs was a special place. I'm sure it affected you more than most when they closed the doors. What was that like for you when you heard the news?
Chris Frantz: CBGBs was the birthplace of a completely exciting era of downtown "New York City" music. We were very fortunate to have been a part of it. We rubbed shoulders with some of the greatest bands ever. The news of the closing was dismal and disheartening. I still wish something could have been worked out. This happens to a lot of jazz and rock clubs, though. It was a bitter pill to swallow, especially for Hilly.
Remain in Light
(1980, Sire Records)
---
THIRSTY: Credit was certainly an issue for the
Talking Heads
. Would you say that "Remain in Light" was the beginning of the end for the band, and is it still a lingering point of contention between the members?
Chris Frantz: Look, I think the end would come at some point anyway, but David and Brian should have showed the rest of us more respect. There has been a lot of shit talked about the episode, but what it really boils down to is a case of very bad manners. I would never dream of behaving so badly. It's a great record and we were all an important part of its creation.
THIRSTY: You and Tina branched off in 1981 and formed the
Tom Tom Club
. The sound is profoundly different from that of the
Talking Heads
. Can you talk about what was going on aesthetically for you at that time and how you developed such rhythm in songs like "Genius of Love" and "Wordy Rappinghood"?
Chris Frantz : We saw
Tom Tom Club
as an opportunity to have fun and make a style of music different from the one we had already created with
Talking Heads
. We loved our band
Talking Heads,
but we didn't want to be in competition with it. So, we dug deep and we drew from funk, soul, reggae, dub and our own European roots and we came up with something that still has enormous appeal to a great deal of people - but not everyone, thank God.
THIRSTY: Was it sort of a breath of fresh air to create the
Tom Tom Club
and produce something so completely different from the
Talking Heads
?
Chris Frantz : Yes, and you could say it was the success of
Tom Tom Club
that drove
Talking Heads
to stay together even longer.
THIRSTY: How different was it for you working with Steven Stanley with the
Tom Tom Club
and Brian Eno with the
Talking Heads
?
Chris Frantz: Well, Steven and Brian are both wizards of production. One big difference is the Brian has to filter his ideas through an engineer, but Steven actually is an engineer so that things happen that much more quickly. Also, Brian has a British scholarly sensibility and Steven has a very spiritual Jamaican sensibility. They are two very different cats. I would work with either one again in a heartbeat.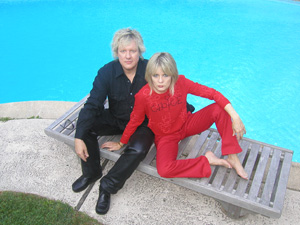 Tom Tom Club (Chris Frantz and Tina Weymouth)
---
THIRSTY: The
Talking Heads
obviously has cemented its legacy as rock n' roll pioneers as you are all cited consistently as major influences for hundreds of rock, punk, and alternative bands - not to mention your role in creating a new wave of rock music entirely. What's just as fascinating to me is the influence that the
Tom Tom Club
had on hip-hop. The list of artists that have covered your work is exhausting with names like Grandmaster Flash, 2PAC & the Outlaws, the Black Eyed Peas, Busta Rhymes, Mariah Carey, Redman, and many, many more. How fulfilling is it for you as an artist to see your work influence so many different kinds of artists from different genres?
Chris Frantz: I'm happy to hear you say that, but guess what? We are all the children of James Brown.

THIRSTY: You also played bongos for the Gorillaz. What was that experience like for you?

Chris Frantz: It was a pleasure to do that for Damon. Maybe someday he will return the favor.

THIRSTY: Stylus Magazine ranked you the twelfth greatest drummer of all time. How do feel about ranking musicians in magazines? (I'm not much for ranking musicians in general; however, I don't really understand how Neil Peart is ranked #22…)

Chris Frantz: I was a bit surprised by that list myself. I just play as well as I can and try to serve the song. I've never been interested in flashy technique. I'm a groove guy.
Tom Tom Club
(1981, Sire/Warner Bros.)
---
THIRSTY: You and Tina seem to constantly be branching out artistically. What new, fun projects can we look forward to in the near future?

Chris Frantz: We're in the process of rebuilding our studio and then we'll be making more new music. We'd like to get into film music. We have a couple of interesting production offers. We plan to celebrate the 30th anniversary of Tom Tom Club in a really big way in 2011. Also, we've been thinking about starting a new band. Who knows? We're just happy to still be here!

Links:

en.wikipedia.org/wiki/Chris_Frantz
www.talking-heads.nl/index.php/chris-frantz
en.wikipedia.org/wiki/Tom_Tom_Club