You must have Adobe Flash Player to use this function.
#21 - NOVEMBER 2010
By Sarah L. Myers - Editor-In-Chief
New York, USA
---
It's my favorite New York City bar, my favorite New York Dolls song, and now it's my favorite way to get trashed.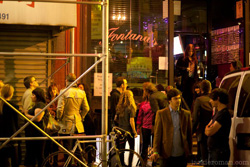 Outside Fontana's (credit: Jackie Roman)
---

"CMJ is coming!" It's the exclamation from anyone in the business come October, and usually the reason most of us laid low all through September. CMJ grips New York City all through the week, transforming the whole place into one giant rock n' roll venue. There are shows everywhere. So many shows you can't decide which to see, which makes scheduling out every day of the week a necessity. I had been waiting all month for the Fleck PR showcase at Fontana's, featuring our good friends Doppelganger, and the always riotus Stalkers. It was a huge bill, beginning at 8:30pm with Nightmare and the Cat, and ending at 1am with Doppelganger. The seasoned vets came early to load in, then made the rounds to other bars until their set times ("I know what will happen if I stay!" Ryan said outside).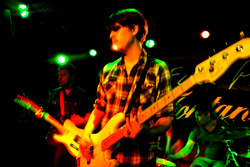 Doppelganger (credit: Lisa-Thi Beskar)
---
The rest of us hung in there, enjoying the open vodka bar and taking in other Fleck acts like The Howlies. The Atlanta-based rockers won me over with a great little du-wop number about an aluminum baseball bat. Fleck PR's Benni Leigh and I held down the front row with a slow dance - holding our beers over our shoulders like true ladies! Stalkers blew up the joint as usual, closing with "In Your Street Today", and making everyone hop around with singer Andy "The Animal" like a bunch of cretins. Doppelganger hit the stage at last. We crowded up front and danced our asses off. Des Roar jumped up and sang along for "Locations", and Seymore and I screamed for "Red-Eyed Love" as a second encore. I know it's a good night when I see Jackie and LT snapping pictures and my legs ache the next day from bouncing around. Just another night in the Lower East Side with good friends and great rock n' roll.

As much as I adore New York City, there are things I still miss about Chicago. Bigger apartments, cleaner streets, backyards, the wind off of the lake, and my best friend Jennie. Jen's birthday is all the reason I needed to head back for a week, (our other best friend Erin also happened to be running the Chicago Marathon!) and I quickly fell into old habits. Breakfast at Earwax Café in Wicker Park, beers at the Twisted Spoke, and my old stomping ground - Liar's Club and Exit. We had so many parties at Liar's, including my going-away party last year, and I couldn't wait to hit that dance floor again. Liar's is truly perfect because upstairs hits my pinball-and-metal craving, while downstairs satisfies a girl's need for 1980s music and cushy booths when you need to rest your platforms. After dancing to "Danger! High Voltage!" at Liar's (my signature song there), we piled into a cab and headed over to Exit. We'd just walked in the door when I got a kick in the ass from an old friend. Home sweet home! We ran upstairs for what used to be a dance floor for industrial music, but now is just a chain-linked fence and tiny tables. We stayed until the usual 4am call, but not before Jason kept us entertained with his slight-of-hand magic tricks. Some people fist pump, Jason does magic! We hit other spots in Chicago of course, like Neo, which is always entertaining. You can dance to Joy Division and Depeche Mode until your black heart is less broken, and that guy in the white shirt is still praying to something, or someone, under that yellow spotlight. It was a great week, and very hard to say goodbye. The last time I left Chicago it was with a suitcase and my cat, onto a new life in New York City. It was great to visit, but my smaller apartment is worth the misery I'll save in the winter!
Sarah and Jordi
---
I am obsessed with horror - horror films, horror makeup, horror rock n' roll. I wait 364 days out of the year for that one special night when I can slather myself with stage blood (Ben Nye is the best, it coagulates and is even flavored!), and finally don that costume I've been constructing for weeks. No city does Halloween like New York. This year's festivities fell on a Sunday, so everyone partied the night before. I'd found my costume back home in Indiana. A vintage 1940s trapeze uniform made of peach satin and candy-colored tulle, corseted and holding me in within an inch of my life! I added some giant marabou feathers, heavy cord, broken glass (smash some plastic cups!), and a healthy dose of metallic glitter for that "antique zombie" look. Jordi made her costume from trash bags and electrical tape, making evil look glamorous as usual. The "Bloody Mary" party at the Hudson Hotel was a bust - the fire department shut it down around 12:30am - but it was worth the attitude just to see the latex-bound line-jumper murmur to the bouncer, "but I know someone at the hotel." Bargaining won't get you anywhere if you can't move your lips! So downtown we headed, where Marco and the Killing Floor boys helped DJ at Niagra. It was everything I wanted - the impossible trip home included. (Tip: just wave down an off-duty cab and offer cash at a double rate). Happy Halloween!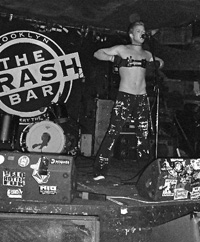 Lolito
---
Trash Bar. That's really all the introduction my beloved bar needs. I've been neglecting my old love, so when our friend Garrett performed, I jumped at the chance. "Lolito" is the Marilyn Manson/Lady Gaga hybrid you never knew you needed in your life. A raw mash-up of sex and danger, Lolito is seconds away from breaking a bone onstage but he just looks too good doing it to care… Also this month, I hit Santo's Party House for Tom Tom Club! More about this show to come, but let's just say my night ended doing a little dance with Chris Frantz… Next month brings major events in our Thirsty lives, and for those of you in New York City, come out to The Skinny in the Lower East Side for a "Thirsty Thirsty" cocktail and a night of great rock' roll, courtesy of Marco in the booth! Otherwise, I'll see you all when I get back from London. Now THAT is a story for next month's "Trash"!
Until next time…

Links: