You must have Adobe Flash Player to use this function.
By Matthew Swanson
Chicago, IL, USA
---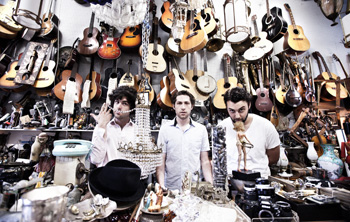 Mini Mansions (credit: Dustin Rabin)
---
Mini Mansions' full-length self-titled debut is psychedelic, catchy, ambitious, and wonderfully strange and eerie. You will hear elements of 1960's bands such as
The Zombies
, and you are sure to love the harmonies that are not unlike
The Beatles
, and what is truly great about these guys is that the music is textured, layered, and varied in styles and tempos (often within the same song) through out the entire piece, making it an always intriguing listen.
One of the singles off the record, "Monk," is certainly good, sounding a lot like something by
Supergrass
, but the Mansions really could have picked any one of these for singles because they're all great and catchy in their own ways. What is impressive is that this song, like the rest of the album, while sounding fairly conventional at times, certainly take wonderfully bizarre turns along the way that long time fans of "good" rock music will certainly love. In other words, this is one of the more "listenable" songs for the radio, and it's still very complex and fun for those who can appreciate that sort of thing.
The piano playing, harmonies, quirky vocal melodies, and song crafting are the elements that really make these songs pop - think the
Shins
if they took more chances and were darker. And probably better. You could also hear some
Mercury Rev
in here, but then the Mansions will throw in some Stanley Kubrick soundtrack creepy/awesome type stuff in there, such as on "Kiddie Hypnogogia".
It's hard to describe exactly what this record sounds like, but it's about like you're sitting down at a scary lounge in the future, a very cool future, maybe a post-apocalyptic one, and there is a band up there sweating their asses off, jamming on some heartfelt yet very weird, yet still engaging material, and maybe there is an alien next to you with multiple arms, maybe heads, drinking a glowing blue liquid.  It's about like that.
Mini Mansions
---
Just when the music starts to get too slow for you, they have a heavy, stoner-rock breakdown like Mansion member Shuman's other band, Queens of the Stone Age.  If there is a weakness to this record, it's that they don't give the songs more of those bigger balls moments that they only hit you with every so often. Mike Shuman from Queens of the Stone Age has made a great record here, and it's not a stretch to say this is better, if not, certainly more interesting and cohesive, than anything QOTSA has put out since they had their first bass player, Nick Oliveri.

Link:

www.minimansionsmusic.com