You must have Adobe Flash Player to use this function.
By Jarrod Dicker
New Brunswick, NJ, USA
Images courtesy of Fort Knox Five
---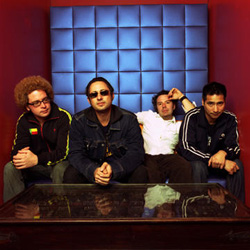 Fort Knox Five (credit: John Falls)
---
Meet Steve Raskin and Jon Horvath, two founding members of the D.C. electro/funk collective Fort Knox Five. Releasing music on their own independent label (Fort Knox Recordings), Fort Knox Five has taken the music scene by storm, tickling taste buds across all flavors from hip-hop to soul to rock and roll. Enjoying their biggest year to date, the quartet has only begun to release their heavy arsenal of remixes, special guest work, side projects and more.
Jarrod Dicker talks to Steve and Jon about the creation of Fort Knox Five, working with Afrika Bambaataa, clubs vs. festivals, Go-go, the D.C. music scene, the evolution of "rave" and more.
THIRSTY: I was able to catch Fort Knox Five's set at this year's All Good Music Festival in West Virginia. Was that the biggest crowd you guys have ever played in front of?
Jon Horvath: For live shows, that's the biggest one we've done yet I believe.
THIRSTY: For the readers who are unfamiliar with the Fort Knox Five, can you briefly describe the band's sound, style and artistic mission?
Steve Raskin: We've always prided ourselves in blending all sorts of music genres. I think the root of it all is funk. We've been DJing for a long time and have been playing live music for a long time. So we really try to blend the two as much as possible. Fort Knox Five in a nutshell is about the blending of genres and vibing of electronic music; a little bit of hip hop, a little bit of reggae, some soul, break beats, a little bit of everything.
Jon Horvath: The reason why we started the Fort Knox label was so that we didn't have to pigeonhole ourselves into a certain style of music. We had all these different projects we were doing like Steve's project, Thunderball, as well as projects from the two other guys from Fort Knox Five (Sid Barcelona and Rob Myers). Basically, there's a certain style of music that Rob and Sid do and there's a certain style of music that Steve and I do. We wanted Fort Knox Five to be a project that incorporated all of these styles we were interested in.
Fort Knox Five (credit: John Falls)
---
THIRSTY: How did the existing lineup of Fort Knox Five come together?
Steve Raskin: Well, we've all been working with each other for a long time. All these different branches really came together once we were able to create Fort Knox Five and Fort Knox Recordings. Like Jon was saying, we basically started the label and group with the idea of not having to limit ourselves creatively.
THIRSTY: We often hear of bands and major events coming out of major cities like New York, Los Angeles, Chicago, San Francisco, New Orleans, etc. Being from Washington D.C., can you describe the musical heritage and current music scene in America's most political city?
Jon Horvath: Throughout history there's been a rich musical heritage coming out of D.C.
Steve Raskin: And a lot of artists you wouldn't expect to come out of D.C. like Duke Ellington, Roberta Flack, Marvin Gaye are all D.C. natives. It's also the birthplace of Go-go which is ultimately a D.C. sound. A lot of other people around the world don't even know about Go-go. And then you have the D.C. hardcore scene like Bad Brains. We've always said for years that someone needs to do an article about the D.C. music scene.
Jon Horvath: You also have this amazing underground music scene that has really done wonders by influencing music from all around the world. Look at Thievery Corporation; they basically put lounge music and trip-hop on the map. These are people that we've known for years that we work with and look up to as a model for how to run our label and establish ourselves on the scene.
Steve Raskin: In terms of musicians, they're tons of talented musicians in the current D.C. scene as well. Fort Knox Recordings try to utilize as many local musicians as possible. Everyone we use is usually a D.C. artist. It's all a matter of sticking together.
THIRSTY: As you said before, D.C. is a very political city. After listening to the Fort Knox Five catalog it seems a lot of tracks include plenty political content and social messages. Is this assumption accurate?
Steve Raskin: D.C. music always has been historically in the shadow of the government. Asheru said it on one of our songs; "We make music with a meaning, party with a purpose." That's really what it is. Point being, it's never really an overtly political thing. The subtext maybe, but we aren't making protest songs; we make party music--dance music that makes you think.
Jon Horvath: We have a song called "Funk 4 Peace", and being wrapped up in the 2008 election the message that we were getting across was that people had to vote for peace. Whoever is going to support peace, we're interested in supporting. The song isn't political; it's a world thing, it's about humanity being peaceful. We've got other songs like "Shift" featuring Afrika Bambaataa which was made during Obama's inauguration. Whenever 'Bam comes down for a party, we always try and get him into the studio and kill two birds with one stone. It represented a power shift, a shift in lifestyle.
Steve Raskin: We're not writing overtly, it's always about having some subtext in it. You can take it in on many levels whether you want to see it musically or lyrically. I think political is the wrong word for it; it's more music with a message. The message isn't political, it's more about trying to do the right thing, treating people the right way.
THIRSTY: On the topic of "Shift" how did your relationship with Afrika Bambaataa materialize?
Steve Raskin: We actually met him years ago. Our friend has a record store in D.C. called DJ Hut and he called us up one day saying that Bambaataa was down there and we should come down. So Jon went down there and gave him a bunch of our tunes…
Jon Horvath: I have met him a bunch of times in the past. He's one of those people that you look at as a musical god. For me, I'm star struck in that situation. So what happened was we got a bunch of tunes together and went in there and said, "How are you doing, we're really influenced by you, here's a whole bunch of records." He's a huge vinyl music collector. It's funny because I gave him a CD as well and my friend who owned the store laughed at me and said that Bambaataa doesn't listen to CDs, he only listens to vinyl [laughs]. But as soon as he went to his car, he popped the CD into the player and while he was driving down to North Carolina for a gig, I received a phone call from a private number. It was Bambataa. He loved what he was listening to and thought it was the new "Planet Rock". I'm sitting there freaking out. So I hang up and call Steve, Rob and Sid to tell them whatsup. As I'm talking to them, Bambaataa calls back and said he's emailing his manager right now and that he wanted us to produce his next album. And we've been working for him since.
THIRSTY: Being that Fort Knox Five roots back to electronic/DJ work, how would you compare playing in front of a club audience against, say, a festival audience like All Good? Is there a preference?
Jon Horvath: Well a couple months back, we played the Collegiate Peaks Music Festival in Buena Vista, Colorado. It was a family festival and was really awesome, great response, very similar to All Good Festival where people were really enjoying it and dancing. Then afterwards we went to do an after party at a 200-person club that was packed to the gills [laughs]. We did a DJ set. Both are totally apples and oranges. There's a different type of gratification from doing each.
THIRSTY: What separates Fort Knox Five from other electronic groups on the music scene?
Jon Horvath: I think the things that set us apart from most electronic bands are the different influences in our music and instrumentation. We always have guitar, sitar, bass…
Steve Raskin: Keyboards too, all live.
Jon Horvath: And then at the same time we're using modern day electronic techniques to sequence and program the music.
Steve Raskin: I think there are other people who are doing live music and electronic hybrids well, but the combination of the dance music approach with live musicianship is key.
THIRSTY: I read that you two met in the rave scene, is that correct?
Jon Horvath: Yes, Steve and I did actually meet in the rave scene. He was in the indie/punk rock scene and then happened to get into the rave scene and I had been in the rave scene coming from the hip hop/reggae scene. From there we learned how to DJ in the rave scene together. It's a totally different day now, you can't compare it to the vibes and stuff you had back in those days. You had these crazy outlaw raves happening and DJs from around the world were coming and spinning…
Steve Raskin: It's spinning both worlds that make it unique. We've seen it from multiple perspectives, we've been doing it for a while and stay persistent by always trying to move our music and sound forward.
THIRSTY: Fort Knox Recordings has many different artists under its umbrella. Since Fort Knox Recordings is a creation by Fort Knox Five, do you guys have absolute say and control which artists are signed to the label? Also, do you have creative control over their material?
Jon Horvath: The four of us have a say of who's going to release music on Fort Knox Recording's. But the people that we were with, like SEE-I, are all collaborators
Steve Raskin: We really just take in the D.C. talent. We never started the label to sign anyone in particular, it was used more as a vehicle where we could be self-supportive in D.C. At this point, right now, we're really concentrating on the homegrown talent in our backyard. It's enough to keep us busy and have a steady release schedule.
THIRSTY: Any upcoming material from Fort Knox Recordings fans should keep a lookout for?
Jon Horvath: This is a great piece of news that we want to start pushing, Thunderball, which is Steve, Sid and Robs project is releasing an album on Thievery Corporation's label in November. After a long time on sabbatical working on Fort Knox Five stuff, they got together and completed an album that's going to come out in November called 12 Mile High. I'm talking from a different perspective because I'm not on the music making side of it, but it's probably the best piece of stuff that's come out of this camp thus far. It's something that fans of the Fort Knox Five sound or Thievery Corp. sound should definitely check out. This is the year of Fort Knox Five as well, we really got the direction we needed this year and have the confidence to move forward and know confidently that we can do this.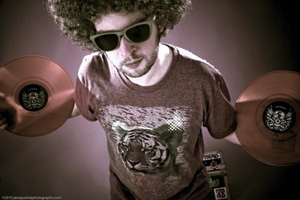 Steve Raskin: We can incorporate the live instrumentation with the electronic music and the electronic beats as well as having a live drummer and live video, making a full audio/visual experience. It's definitely the year.
THIRSTY: And finally, Fort Knox Five only have four "core" members. Why Fort Knox Five then? Who is the fifth member?
Steve Raskin: People are always asking us how come there are four guys in Fort Knox Five and it's for many reasons. One is that we like to consider that the music is complete when we collaborate with other people. That kind of completes the sound and makes the five. The fifth member is mostly always reserved for our collaborators.
Links:
www.fortknoxrecordings.com
www.facebook.com/FortKnoxFive
www.myspace.com/fortknoxfive