You must have Adobe Flash Player to use this function.
#20 - OCTOBER 2010
By Sarah L. Myers - Editor-In-Chief
New York, USA
---
It's my favorite New York City bar, my favorite New York Dolls song, and now it's my favorite way to get trashed.

Betsey Johnson and Jordi Scott
(credit: Mindy Tucker)
---
Fashion Week in New York City is equivalent only to SXSW when it comes to party-jumping and not sleeping. The most notorious event of the week is Fashion's Night Out, that one evening where the city shuts down and becomes a pavement playground for one and all. The pretension of the fashion elite falls away, leaving block parties and open bars. There's a party on every corner, each one crazier than the last. The gang and I headed out to the Bowery for a coveted spot inside the Patricia Field store, where Amanda Lepore manned the DJ booth and glitter-covered partiers tried not to spill their cocktails on the Keith Haring couture. Over at Paul Smith, the Bowery Riots played to a crowd that stretched around the corner and down the street. Our night included stops at regular haunts like 200 Orchard and The Skinny, and ended with the impossible task of getting a cab home. The week was capped off with the Jordi Scott/ Starr Rinaldi "Infamous" party on the rooftop of the Empire Hotel. I arrived with Justin Dean from the Riots, and Marco Argiro from the Killing Floor, just in time to catch Betsey Johnson stepping off the elevator. Upstairs, under the eponymous sign, models mingled with photographers, and our entire gang danced under the night sky until it was time to move over to the Stanton Social. It was infamous, to say the least.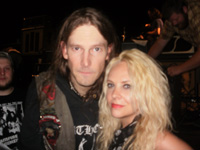 Hank III and Sarah
---
I don't quite know how to describe a Hank III show, you just have to see it for yourself. I've seen several, starting back in 2006 when I met him at a party for painter Joe Coleman. The striking resemblance to his grandfather, both physical and in voice, is stunning. The first half of a III show is all Shelton, and songs like "The Grand Ole Opry Ain't so Grand", "Pills I Took", and "Dick in Dixie" showcase the type of hellbilly attitude that's made him a legend in the genre, even without the last name of Williams. Having seen him before, I knew the best way to watch from above, and I immediately headed up sidestage to hang with Joe and his wife, Whitney. I was in good company that night with my friend David, a West Virginia native who whoops and hollers with the best of them, and the Music Hall's Happy Hour special, which had our boots keeping triple-time within an hour. All hell breaks loose with the Assjack portion of the set, when Shelton goes metal and circle pits completely take over the floor. They did the usual tribute to GG Allin, "Raw, Brutal, Rough, and Bloody", bringing up GG's drummer Dino, who still sports the lime-Gatorade-colored beard (but didn't play naked, thank god). I was sore all over the next day, always the sign of a great show!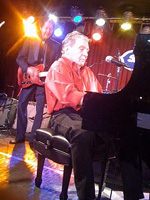 Jerry Lee Lewis
(credit: Marco Argiro)
---
"I may still be the Killer, but this here piano's a real piece of junk!" Jerry Lee Lewis is still orneriest rock n' roller alive today, and I had the honor of seeing him September 13th at BB Kings. Justin Dean and I took our guest list status literally, and sat on the floor right in front of Jerry's piano. We were like two kids listening to records after school, in complete awe of what was happening onstage. (Never mind the manager of the joint, who kept scolding us back to our seats). Jerry kept up his trademark winking and sly smiling throughout the night, throwing in little jokes and keeping the crowd dancing and laughing all night. Most of the set was newer songs from his brand new record, "Mean Old Man", but "Whole Lottta Shakin" and "Great Balls of Fire" were, of course, highlights of the night. The first time he slid his fingers down the keys, the place just erupted. There were moments of gospel and a couple of great ballads, but the hellfire is what people came for, and hellfire is what he gave them. He's 75 years old and still living rock n' roll. What a memory!
Grinderman 2 (2010)
---
Nick Cave and Grinderman are so filthy dirty it makes me want to take a bath, and that's precisely the problem. Whereas their debut brought images of rabid monkeys and Nick's sexual frustrations, Grinderman 2 has the Wolfman coming to a thumb-sucking nymphette in the tub. First single "Heathen Child" is one of those you see onstage, with the intro notes revving up the crowd and the guitar's first wail sending everyone into a frenzy. It has that quiet-loud-quiet pacing of a lot of Nick's songs, but instead of just referring to evil, "Heathen Child" gives it a face - a couple of faces, actually. The Abominable Snowman is mentioned more than once on this record, as is the Big Bad Wolf, and all under the pull of a blood moon and a wicked sense of humor. Women and children beware, Nick and the boys are coming for you and "you think your husband will protect you, you are wrong!" If they would just stop all this teasing and make a horror movie already, I would really appreciate it. Until then, I'll make do with what is sure to be another out-of-body rock n' roll experience when Grinderman play New York City in November.
Slash came to Terminal 5 on September 14th, selling out the entire venue and kicking everyone's ass up to the balconies and beyond. Jordi and I were hanging out upstairs, lounging on the couch and watching the crowd, when I heard a very familiar laugh. It could've only come from Trash and Vaudeville's Jimmy Webb, and I ran over to jump on him. Jimmy was one of the first friends I made in New York, and it was so great to reunite, especially at a Slash show. Slash and Jimmy are great friends, and he practically jumped off the balcony when the band dedicated a song to him, (Iggy's "We're All Gonna Die"). There were so many amazing moments in the night, but seeing Slash stand center stage, leaned back, belting "Sweet Child of Mine" under a spotlight, turned me right back into that 12-year-old fan with his poster on my wall. I screamed like a little girl. Other highlights were "Rocket Queen", "Nightrain" (I really wanted to be that girl who takes her credit card to the liquor store), and hearing the whole room sing "Civil War". Hoping to get out to LA soon, and see Slash on the Strip…
Joe Coleman self-portrait
---
Other things on my radar this month: Brandon Flowers' new solo record, the upcoming Dandy Warhols tour, the Zadig & Voltaire campaign featuring The Kills, and Joe Coleman's exhibit at the Simon Dickinson Gallery in NYC (opening October 28th). Titled "Self Portrait", I saw the debuting piece of work while it was being created - in Joe's work room in Brooklyn. At the time it was a few detailed square inches of paint, it's borders still being defined by the artist in the jewelers lenses - all under the watchful eyes of HR Giger on the wall. Now it's the subject of an exhibition. How time flies in New York.

Thirsty is gearing up for one hell of a November. We have a lot of surprises in store, including a magazine party at our beloved Skinny in the Lower East Side (details coming soon!) and a trip abroad for one of the biggest events in Britpop history. I'm not giving away anything just yet, so stay tuned for the December issue! As always, Stay Thirsty, and we'll see you all backstage!
Until next time…
Links: