By Michael Lara
Tokyo, Japan
---

FUIJI ROCK 2010 (click to enlarge)
---
"Your brain is an ever-changing kaleidoscope of moods and colors. We walk to the park, but it's melting in the dark. All of a sudden your mood changes and your face looks like a cake left out in the rain. Is your name MacArthur Parker? Or is it Reba?" Well, no matter your name, race, religion or nationality, Fred Schneider's opening vocals from The B-52s final quiche alongside founding member Ricky Wilson in 1986's Bouncing Off The Satellites best explains the infinite galaxies relished once again at both SMASH's FUJI ROCK and its urban cousin, CREATIVEMAN'S SUMMER SONIC.
Both FUJI ROCK and SUMMER SONIC kitchens provided a genre and generational cavalcade of conviction to commit oneself to, which over the days, set one free to move ahead in an unhurried and natural course while sampling all in full as most did no matter their condition.
Despite inclement weather from Thursday through Saturday, FUJI ROCK patrons were determined to savor their wealth of diverse dishes to eat. And with each day, this smorgasbord gave all the satisfying toppings of MUSE, ROXY MUSIC and MASSIVE ATTACK, with an additional whipped cream of SCISSOR SISTERS for Sunday's sundae.
Commenced robustly in full on Friday morning after an opening night launch of fireworks on Thursday, an unhindered freedom, for the many punching the clock far too much all over Japan, was underway. Whether sampling the playful banter of an enhanced ASH, the three-part crunch of THEM CROOKED VULTURES, the funk, bump and grind of !!!, the organic instrumentals of TOE or the collective Canadian brotherhood of BROKEN SOCIAL SCENE, Friday's fun brought about a luscious launch of what was to unfurl over the weekend. FUJI All-Night hosted on the Orange Court Stage peaked with the colorful cosmic collage released by FISHCERSPOONER. Meanwhile closer to home base on the Red Marquee Stage, the ever clever beat box innovator BEARDYMAN relentlessly fueled the faithful into a frolicking frenzy, allowing all to eventually leave back to their tents, hotel rooms or Palace Of Wonder wholly satisfied, yet still thirsting for more.
---
(click to enlarge photos)
FUJI ROCK 2010
---
Awaking only some hours later, Saturday unleashed another sortie of tasty treats that kept a marvelous momentum in intercultural communications. JOHN FOGERTY, FLOGGING MOLLY, FISHBONE and KULA SHAKER provided long-standing injections of stamina to the masses in preparation for ROXY MUSIC's catapulting all into the wee hours for the twin towers on any floor with Hamburg's BOYS NOIZE and Tokyo's own DEX PISTOLS & ROC TRAX CREW.
No matter whatever fatigue had set in by now, a minimal sleep was all that was needed as I pushed further on and in full for the final day. And it is and was easy to do with a full platter of sumptuous sweets in the final 18 hours. From this bountiful mountain kitchen came VAMPIRE WEEKEND, LCD SOUNDSYSTEM, BOOM BOOM SATELLITES, HOT CHIP, IAN BROWN to savor and swallow in full into an ever-liberating 1-2-3 rum punch of Thom Yorke's alter ego release from his ATOMS FOR PEACE consortium. Desserts were served twice, first from Bristol's MASSIVE ATTACK then seconds from New York's resurgent SCISSOR SISTERS. Each helped usher all into the ultimate headspace to carry on until dawn, as those last standing ended up in the famed Crystal Palace Tent and Palace of Wonder area to greet Monday morning's sunrise.
With only a few days of rest, both Osakans and Tokyoites then prepared for the next feast, the 11th installment of CREATIVEMAN's mammoth two-fold extravaganza SUMMER SONIC with it's top entree choices of JAY-Z and Motown legend STEVIE WONDER helming its Kansai to Kanto buffet bonanza.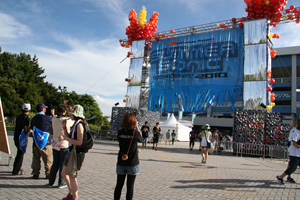 SUMMER SONIC 2010 (click to enlarge)
---
As their campsite capacity has gained an increasing awareness and populace, the Tokyo edition delivered ideal weather conditions to ensure a whole gratitude for all present dispersed across seven stages, with most being within the massive Makuhari Meese Convention Complex, just minutes from both the ever-popular Tokyo Disneyland and Tokyo Disney Sea.
Saturday saw GENERAL FIASCO, FACT lead the charge as BEAT CRUSADERS, PASSION PIT, NAS, RICHARD ASHCROFT & The United Nations Of Sound and NADA SURF primed all for the all-night affair to deliciously swill about and swallow in whole before the Midnight Sonic Stage ignited. There, ATARI TEENAGE RIOT and PAVEMENT served in full from their collective, yet dimensionally different artistic kitchens.
While many had returned to their homes, others headed back to their hotel rooms or tents just off the Marine Stage and Tokyo Bay to gather their necessary strength for Sunday's sundae with STEVIE WONDER being the clear choice of whipped cream for most.
As BLOOD RED SHOES and label mates BAND OF SKULLS and EVERYTHING EVERYTHING created a hungry atmosphere on the Island Stage off Marine Stadium, BAND OF HORSES, BLACK REBEL MOTORCYLE CLUB and JONSI injected all with their highly oxygenated blood so that you could possibly do whatever need or desire.
And while the long transit between the Sonic and Marine Stage kitchens had many conflicted, just as with FUJI ROCK, the answer which to hit and savor was always tasty. Whether sampling long-time SS favorites SUM 41 early on or hip-hop pioneers A TRIBE CALLED QUEST who pulled in a surprising committed house despite their long absence from this land, palates were awakened. Meanwhile latest pop darling TAYLOR SWIFT retained the people as standing room only gathered for STEVIE, whose finale of "Happy Birthday" sent about a wave of jubilation as fireworks soared high into the sky, although there was more to be had elsewhere.
---
(click images to enlarge)
SUMMER SONIC 2010
---
Far from over, the final culinary race was on the minds of many to reach the Sonic Stage to capture the final servings from PIXIES or to the Mountain Stage for DREAM THEATER. Choosing the prior, as I first saw them in 1989 at Dodger Stadium in LA, "Where Is My Mind?" and "Gigantic" rang long and strong as their close was one replete with wide smiles all the way around despite everyone's knowledge it was time to sadly go after the good to the last drop finish.
And as sadness and depression has hit hard for many post these kitchens closings, fear not, these past sumptuous spreads are only in temporary remissions: In keeping momentum of offering nourishing hearty fare, both SMASH and CREATIVEMAN are now in the final preparations for their respective fall banquets for those longing to camp for a vastly more intimate FUJI ROCK helping or for those urban dwellers in dire need to bang their head alongside OZZY, KORN, HALFORD, MOTORHEAD and others to 11.
Through the ever-camp friendly ASAGIRI JAM near the base of Mt. Fuji established in 1993 or the heavy-hitting LOUD PARK festivals found in Tokyo and Osaka given birth in 2006, each contain all those necessary delicious ingredients to provide that mindscape elixir that we all need and desire to imbibe over and over with friends new and old.
For past, current and future detours to your mind:
More photos from SUMMER SONIC 2010:
(click to enlarge)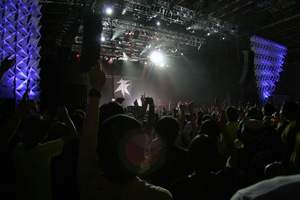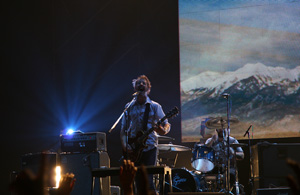 FUJI ROCK:
www.fujirockfestival.com
www.smash-jpn.com
SUMMER SONIC:
www.summersonic.com
www.creativeman.co.jp
Some key ingredients for these diverse kitchens:
www.myspace.com/muse
www.myspace.com/roxymusic
www.myspace.com/massiveattack
www.myspace.com/scissorsisters
www.myspace.com/ash
www.myspace.com/themcrookedvultures
www.myspace.com/chkchkchk
www.myspace.com/toemusic
www.myspace.com/brokensocialscene
www.myspace.com/fischerspooner
www.myspace.com/beardyman
www.myspace.com/johnfogerty
www.myspace.com/floggingmolly
www.myspace.com/kulashaker
www.myspace.com/boysnoise
www.myspace.com/vampireweekend
www.myspace.com/lcdsoundsystem
www.myspace.com/boomboomsatellites
www.myspace.com/hotchip
www.myspace.com/ianbrown
www.myspace.com/atomsforpeace
www.myspace.com/jayz
www.myspace.com/generalfiasco
www.myspace.com/passionpit
www.myspace.com/nas
www.myspace.com/richardashcroftmyspace
www.myspace.com/nadasurf
www.myspace.com/pavement
www.myspace.com/bandofskulls
www.myspace.com/bandofhorses
www.myspace.com/blackrebelmotorcycleclub
www.myspace.com/jonsiandalex
www.myspace.com/sum41
www.myspace.com/atribecalledquest
www.myspace.com/taylorswift
www.myspace.com/pixies
www.myspace.com/dreamtheater
Seasonal October-Only Kitchens Of Distinction:
ASAGIRI JAM FESTIVAL 10/09-10,2010:
www.smash-jpn.com/asagiri
LOUD PARK Festival 10/16-17,2010
www.loudpark.com
www.myspace.com/korn
www.myspace.com/ozzyosbourne
www.myspace.com/robhalford
www.myspace.com/motorhead