You must have Adobe Flash Player to use this function.
#19 - SEPTEMBER 2010
By Sarah L. Myers - Editor-In-Chief
New York, USA
---
It's my favorite New York City bar, my favorite New York Dolls song, and now it's my favorite way to get trashed.
"Here's a toast to an exploding manhole of life in all its myriad facets...To Sarah and to Ryan and to all whose thirst will never be quenched except with the grave which waits at the bottom of each glass." - Joe Coleman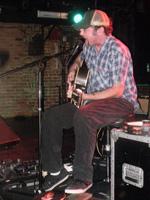 Scott Biram
---
Scott Biram has been a Thirsty friend for years. I met him back in Chicago when he was touring with Bob Log III and Left Lane Cruiser, and our first interview ran in our August 2008 issue. Two years later, Scott's back with a new record: "Something's Wrong/ Lost Forever". A little trivia - Scott picked up the title from bits overheard on his CB radio! I was thrilled when I saw he was going back on the road, and headed out to Mercury Lounge on August 2nd to catch the dirty old one-man-band from Texas in action. Picking a spot right up front I had the best view in the house - every Biram fan knows you need to see his feet. His feet control everything, from the bounce-back of the praying hands tambourine, to the switch from acoustic to fuzzed-out metal. I had forgotten, however, how rowdy his shows can be. Scott himself may have calmed a bit but his crowds haven't. Three songs in I felt beer spill on me, and the whole place had that air of the sky before a storm. I felt a fight brewing at any given moment. But everyone really waited for the new songs. It's clear "Sinkin' Down" is the favorite here, as everyone lifts their plastic cups and sings along, falling back into silence when Scott downshifts into the closing melody. It's a beautiful song, and it was definitely one of the best nights at Mercury. Check out the interview!

The Rosen Association
(credit: Rory O'Connor)
---
A little piece of Chicago rolled into New York City this month! Actually, four pieces known as The Rosen Association. Thirsty's master of design, Jason Mathews, and band mates Spencer, Matt, and singer Erin, all rolled into town to play their first shows in the Big Apple. A blend of ambient shoegaze, their songs are the perfect backdrop to hazy, languid nights in New York. Hipster haven Piano's hosted the guys the first night, after which I took them around to the usual haunts - The Skinny and 200 Orchard. Big thank you to Drew for keeping us in good spirits, as always! It's hard to remember just what all took place, but I know we rolled in somewhere around 5am. When the birds are chirping, you know you've had a good night. I wanted to show them some of my favorites places in the city, so naturally we headed to Yaffa for the outdoor patio and red sangria. We took in a little walk down St. Marks, then back into the van for their show in Park Slope. Union Hall is the type of place I could spend every night - it's like an aficionado's den with a rehearsal studio in the basement - not to mention the bocce ball tournament going on upstairs, and the "Benji" soundtrack on the jukebox! This show was a little more relaxed, and we turned in pretty early. Not to be outdone, their last night consisted of Saturday madness at Lit. It was a great visit, and I can't wait to get to Chicago next month to see them again!
Jack White and Alison Mosshart
(credit: BP Fallon)
---

Brooklyn also hosted my absolute favorite band of the summer - the Dead Weather! Prospect Park was transformed into a backlit spook house of rock n' roll, with amp-mounted taxidermy ram heads casting eerie shadows on the crowd. The anticipation was electric, the anxiety most definitely fueled by plumes of acrid smoke wafting between huddled groups in the crowd. I couldn't wait for "Blue Blood Blues". I love Jack in preacher mode, when his voice becomes more of a yelp, and I can't think of a better lyric than "all the white girls trip when I sing in Sunday service." But the rest of the crowd particularly waited for the creep of "Die By the Drop". The first notes of that hit like water on a brush fire. I smiled during "I Cut Like a Buffalo", knowing my friend BP Fallon (who stars in the video) was onstage snapping away. "Sea of Cowards" is full of magic moments, each one of them made even greater by the setting. The Weather are meant to be seen outside under the stars. I've seen a lot, but I saw everything when Jack, bathed in blue light, cut a shrieking solo under that shell.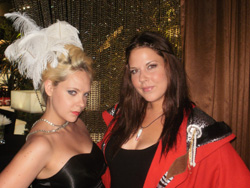 Sarah, Jordi Scott
---
It was a birthday extravaganza as the entire gang took over a beautiful Madison Avenue showroom for Johnny's "Diamonds and Pearls" bash! We arrived in full regalia to an open bar tended by our friend Ricky, in a bowtie, shorts, and vest no less, and a beautiful tiered cake made by Johnny's boyfriend, Andrew. The shenanigans continued well into the night, but the most memorable include a monocle, a vat of hummus, and handbags made of collagen-injected python skin. I love my friends for so many reasons, one being they can throw one hell of a party! The flotsam and jetsam of our motley crew out on the sidewalks at 2am, surrounded by the pristine, quiet elegance of Chloe and Chanel storefronts, must have been hilarious to those around us. Always in our own world, always the most sparkling people in the room. I love you, Johnny! Also big birthday wishes this month to the wonderful BP Fallon!

With all the craziness of August, I definitely needed a little R&R. Jordi and I boarded the LimoLiner to Massachusetts and headed off for a four-day vacation in Plymouth! The beach house lay at the end of the road - a little oasis tucked into the quaint neighborhood where we spent our days lounging on the beach and looking for hermit crabs. The water was like glass, so clear I could make out sand formations five feet below. I curled up on the back deck every chance I got, engrossed in my summer novel ("Water for Elephants") and listening to nothing but the sound of the waves. I had my first deep sea fishing adventure, where Jordi caught a small shark. Alas, something just ate my bait and swam away. I knew I'd have to come back to the city eventually, but damn if that fresh lobster didn't almost convince me to stay…


Sarah in the electric chair
---
This has been an epic month in the history of Thirsty! This month is what living in New York City is all about. In addition to all the parties, events, and shows I went to this month, I managed to get onstage with the Coney Island Circus Sideshow for some light electrocution! Serpentina pulled me up and sat me in the electric chair, lighting a torch off my fingers and tongue, leaving a numb, tingling sensation on my extremities for the next hour or so. Also ran into the Lizard Man at the Freak Bar, who was performing at the revamped Luna Park. Oh, how I love Coney Island… Also on my radar this month: my beloved Des Roar play a badass show with The Greenhornes back at Mercury Lounge on September 3rd… Jerry Lee Lewis's new record "Mean Old Man" and NYC show (I can't believe I'm finally going to see The Killer!)… Hank III comes back to Brooklyn… and last, but never least, Slash is going to kick our asses in at Terminal 5 on September 14th. Yet another amazing month is just around the corner! How Thirsty Are You?
"And all day I knew there was an incredible love somewhere in my world.... and I felt sad, needing to explain it but I can't because it belonged to me. To anyone else it was just wet images." Jim Carroll
Until next time…
Links: