You must have Adobe Flash Player to use this function.
#18 - AUGUST 2010
By Sarah L. Myers - Editor-In-Chief
New York, USA
---
It's my favorite New York City bar, my favorite New York Dolls song, and now it's my favorite way to get trashed.
It's the hottest week on record in NYC, we're finding relief any way we can - from the fire hydrants on Pleasant Avenue to the massively crowded beaches of Coney Island. It's been a busy month for Thirsty. The brilliant Jim Jones Revue blew through the city with four deafening, frenetic shows, and all the festivals kept me occupied during the weekends. The biggest night of the summer was, of course, Starr and Jordi's Birthday Bash at our beloved Skinny in the Lower East Side. If you didn't make it this year, let's just say you have some time to start planning your next outfit…

Jordi Scott and Sarah
---
It was that time of year again as myself and the crew headed out to Coney Island for Siren Festival! This year's main stage was headlined by Ted Leo and Matt and Kim, and not even the 100-degree weather kept revelers off the boardwalk. We checked out the new Luna Park between bands, stopping for rides on the Spinning Dragon and legendary Wonder Wheel along the way. The best part of the day was definitely the sideshow. I spent opening day with the performers back in 2007, and the show just keeps getting better. Mat 'Sealboy' Fraser has joined the troupe, welcoming the crowds when he's not headlining his new "Criptease" revue. I recommend a stop at the adjoining Freak Bar before the show. Pick up an ice cold Human Blockhead before Donny Vomit shows you how it's done. We also met up with friends Erin O and 101.9 DJ Steve Craig, who was hosting an Atomic Wings eating contest on Surf. Despite the (always) too-long subway ride back to the city, it was a blast the whole time. Nothing says New York like thousands of indie music fans hopped up on 40-ounce beers and Nathan's hot dogs!

Justin Dean of Bowery Riots
---
It was a kickass month for rock n' roll at the Mercury Lounge! Everyone from Bob Log to the aforementioned Jim Jones headlined this month, but I really shook it down to the front row for the Bowery Riots. I mentioned these guys a few Trashes back, and finally saw them live on my favorite LES stage this month. "She's So Rock n' Roll" has the perfect summer swing of the British Invasion, with just a touch of the Dandy Warhols thrown in. I always wonder what Phil Spector would have done with the Riots if he had the chance. I want to see these guys on a rooftop. They're the type to make you throw your heels over the edge and worry about it later. Get out there and see them while you can still get in! If the line outside Mercury was any indication, it won't be for much longer. Also checked out Scott H. Biram, and old Thirsty friend Dan Sartain, who did a pretty version of my favorite Dee Dee song, "Questioningly". Be sure to read my exclusive interview with Dan in this issue!
Jim Jones and Sarah
---
The Jim Jones Revue are a band I could watch every day for the rest of my life. They're an avalanche of rock n' roll. They're a rocket launch, a hurricane, a big hunk o' soul that turns a crowd into a seizing mass of lunatics. I love Jim Jones for these reasons, but what it comes down to is an unparalleled greatness. "This must have been what Jerry Lee was like," I think to myself, my knees starting to go and my boot heels hitting the floor. They hit Knitting Factory on the 24th with great Thirsty friends Des Roar, and the unnervingly awesome Stalkers, for the best show I've seen all year. I'd met Jim and Rupert in Austin, and it's always a great reunion at their shows. The whole gang was there - Jo Murray, my darling Benni Leigh, and rock photographers Jackie Roman and Lisa-Thi Beskar, all of whom seemed to make it into the dancing pit at some point. (Jordi and I held it down with Des Roar front man Ben Wolcott and drummer Lyla Vander). The set's highlight was crowd favorite "Rock n' Roll Psychosis", but I was patiently waiting to hear "Elemental". If you've ever seen that leopard print-wearing, fringe-shaking rock chick in "Great Balls of Fire", that's who I turn into when I hear that song! We kept it up all night too, moving the dance party inside after the show before heading back to 200 Orchard in the city, our home away from home. Word on the street is the Revue shot a revolutionary music video the next day…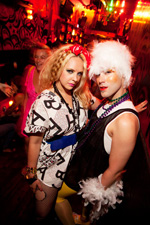 Sarah and Johnny
---
It was nothing but the best of the worst at Starr and Jordi's annual Birthday Bash! Two years ago was "Party like a Porn Star," and last year was "Heroes and Villians," so it was only natural to keep up the cinematic theme. I had a lot of bad characters in mind, but when I teamed up with Johnny only one thing could happen - Howard the Duck and his girlfriend Beverly! We celebrated at the Skinny this year, with Johnny leaving white feathers all over the joint, and photographer friend Mindy Tucker capturing all the debauchery. Starr donned a black coat and hat for her Fight Club "Marla" costume, and Jordi shimmied around with a flip fan as Phyllis Nefler in "Troop Beverly Hills." The evening ended somewhere around 5am for the troops, and we can only imagine what next year will bring. Happy birthday, cretins!
It was one hell of a month, and one hell of a summer. My heart always gets a little heavy this time of year. It'll get cooler and the days will get shorter, and before I know it we're up to our ankles in grey sludge again. But for now I'm going to spend as much time as possible in the beer gardens and on the boardwalks. Bigger and better things to come for Thirsty, which turns four years old in September. The memories are alive and that Chicago sidewalk still speaks all over the world!
Until next time…

Links: