You must have Adobe Flash Player to use this function.
#17 - JULY 2010
By Sarah L. Myers - Editor-In-Chief
New York, USA
---
It's my favorite New York City bar, my favorite New York Dolls song, and now it's my favorite way to get trashed.
'Twas a short vacation in the Midwest! I'd barely gotten settled in Indiana when the checkerboard squares of featureless earth traded places with blazing concrete again. Such is the time in New York - even when you're away it ticks along twice as fast as anywhere else. And was it ever waiting for me when I came back. A mere four hours after landing, I was right back in it. Des Roar played John Varvatos, and Erin O hosted the Joey Ramone Auction right down the street at Local 269. Mix those in with a little Skinny and 200 Orchard and it was like I never missed a beat!

Sean Lennon, Irina Lazarneau
---
"The show that night… is the biggest thing to hit New York since Andy Warhol and Max's Kansas City ruled.
Exaggeration? No."
Biggest thing - literally. Milk Gallery was the scene of total rock n' roll chaos June 10th, when 10,000 people tried to fill a space meant for 500. The rumblings began around 8pm, when it was still believed Pete Doherty would perform alongside Irina Lazarneau, Sean Lennon, Charlotte Kemp, and BP Fallon. In actuality, Pete made it as far as JFK that afternoon before he was turned around and sent right back to the UK. Your Humble Narrator spent the night front and center, positioned 45 degrees south of Irina's cigarette, completely oblivious to a mob out front that forced the NYPD to shut down 15th Street. BP fired the first shot of the night, backed by Lenny Kaye and Aaron Lee Tasjan, as Sean Lennon jumped right up and started in on drums. Irina's performance was explosive. Charlotte Kemp's gentle keyboard nicely padded Irina's almost violent execution of poetry. The entire place blew up with a jangly cover of "Twist and Shout", then quieted back down for the sing-a-long of "Mercedes Benz". I spotted Bruce Willis and Pixie Geldof among the revelers and it appeared some of the mob made it to the after party at Kenmare, where BP and Irina continued to spin until about 5am. Speaking to BP a few days later, we agreed it was one of our favorite NYC memories…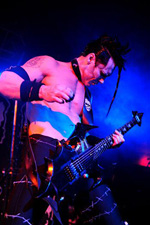 Gorgeous Frankenstein
(credit: Devilman 138)
---
Nokia Theatre houses many of my New York memories, from Blondie to Reel Big Fish. I added another on the 18th when Danzig pulled into town. We started Lauren's (Junkyard Arts) birthday celebration a few blocks away at Rudy's in Hell's Kitchen. If you've never had the pleasure, Rudy's is the city's finest dive bar, complete with free hot dogs and $7 Blonde pitchers. Now if only they'd finally open the patio… We kept Lauren in suspense the whole night, so she practically seized when she read the marquee. Openers Gorgeous Frankenstein were a kick-ass hybrid of White Zombie and the Misfits, with guitarist Doyle Wolfgang von Frankenstein rocking the Jerry Only forehead spike. (Fitting, since they're brothers). The circle pits started right away, like the early formations of a hurricane, which we enjoyed from the VIP balcony (thanks to Amy from The End). By the time Glenn took the stage after a long intermission, the crowd was beyond restless, chanting "Danzig! Danzig!" and we'd already seen the bouncers escort a couple of guys out. The entire place darkened and it was Halloween again - Glenn's voice is stronger than ever. That heavy metal baritone shook the soles of my platforms. A mixture of skunk weed, leather, and sweat filled the air as Danzig tore through the set, a perfect blend of classics like "How the Gods Kill" and new material from "Deth Red Sabaoth". Glenn is particularly interactive with his fans. A few crowd surfed to the front just to touch him, and he constantly reached out for everyone in the front row. He managed to miss the girl who got completely body-checked by security after she made it onstage! By the time "Mother" closed out the set, followed by "She Rides" as the encore, we were exhausted. Get out and see this tour! With Rob Zombie coming back to NYC later this summer, it's going to be a good season for metal.
In what has become another yearly tradition, the gang piled onto the F train and headed down to Coney Island for the Mermaid Parade on the 19th. Sporting our finest oceanic garb (or, rather, junk we transformed from the dollar store), we walked with the procession before making our first stop at the Freak Bar next to the Coney Island Circus Sideshow. There we saw Serpentina on her stilts, and ran into Bambi the Mermaid. Insectavora prowled the boardwalk in a gas mask. If Lou Reed wasn't crowned King Neptune, Johnny could have taken the title himself with his 9-inch lucite platforms and feather boa. Next stop was Cha Cha's for more drinks, where I wailed on the guitar of the cover band's front man when he jumped on our table! A brawl also broke out between two drunk girls, and the joint exploded into five minutes of mayhem while security handled the mess. That's why I love Coney Island. It's like the razor blade in the apple. Sweet on the outside, but dangerous just below the surface.
Karen Nelson
---
"The Ghost Who Walks", the new record from Karen Elson, has been on my radar for months. I saw her perform it live at the intimate Studio at Webster Hall, and I've never heard a venue so hushed in my life. You could really hear a pin drop at times, completely forgetting you were in the noisiest city in the world on the noisiest night of the week. Karen has that effect. She's obviously stunning, with an elegance like the fringe that danced from her microphone stand. She wore a peach silk dress and a netted hat. An orange spotlight seemed to set her red hair on fire. Her voice bellowed like Patsy Cline's. The entire room swayed back and forth like it was drunk. We hung out side stage, while BP shot photos to my right. If you can get in, I suggest running to see her. This is the type of music you need on hot, sweltering summer days!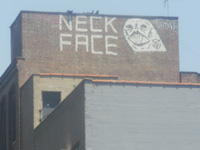 I'm already gearing up for the Other Party of the Year - Siren Fest! Falling just a few days after the Jim Jones Revue record release (my measuring stick for all things rock n' roll), it'll be more freaks and Nathan's hot dogs with the gang, just like last year. The Rob Zombie show is on the way, as well as the Dead Weather as Prospect Park. I'm also digging the buzz around the Merc Group (info coming soon), and Jordi's column for Junkyard Arts. Check out this latest installment from the Museum of Sex: www.junkyardarts.com
Also, Thirsty South Americans can now fulfill all their Joey Ramone wishes at the newly opened Joey Ramone Place in Rio! www.joeyramone.com/images/rioplace
And if you haven't picked up your copy of Medium Raw, my beloved Anthony Bourdain's latest, I suggest you get on it. His crass humor and wry musings make for perfect summer reading.
Until next time…
Links: