You must have Adobe Flash Player to use this function.
By Sarah L. Myers
New York, NY, USA
Images courtesy of BP Fallon
---
I met BP Fallon at a Motorhead show in Austin, Texas for SXSW. One month later, we sat across from each other in the lobby of the Chelsea Hotel and talked for more than two hours. He is a legend of a man, as the list of titles he doesn't hold is much shorter. Writer, DJ, promoter, photographer, manager, historian, and personality are only the first that come to mind. His work with Johnny Thunders, T. Rex, Thin Lizzy and Led Zeppelin certified him as a legend more than two decades ago, and he continues to inspire. A true ambassador of rock n' roll, his Wang Dang Doodle radio show spotlights buzz bands like Naked Heroes and Fuck Buttons with classic punk mash-ups in between. He's electric. He's Thirsty. He's BP Fallon. And Part 2 of my interview with him starts right now…
THIRSTY: Can you tell me about your first DJ gig?
BP Fallon: Yeah, it would have been on the radio. It was hard to sort of start off playing the music I liked because people didn't really know what I was trying to do. What I was like trying to do was play rock n' roll records on the radio. Rock n' roll could be anything. It could be Country Joe, it could be anything. My nature is if I like something I like to tell other people about it, which is really what I spend a lot of my life doing. Through playing records of DJ-ing live or on the radio or television and stuff, or through working with bands. But I can only do that if I really like them.

(credit: BP Fallon)
---
You must have Adobe Flash Player to use this function.
I mean a couple of times I found myself working with a band I didn't like. Stopped it. Emerson, Lake, and Palmer. It was horrendous. I couldn't do it. I mean, there's nothing there for me to tell anyone about. It was all subjective. It's the other people who thought they were good. But I didn't. It wasn't for me. I don't like bombast. I don't like pompousness.
THIRSTY: How old were you for your first DJ gig?
BP Fallon: Sixteen or seventeen I suppose.
THIRSTY: What was the name of your show?
BP Fallon: The name of the show was 'Sounds Like BP Fallon'. And then I had live guests, and on the telephone. Jimi Hendrix and people. And John Peel, who of course was very important to me, the DJ. For those who may not know John Peel is an English gentleman who was very popular and played music that he liked and at one point his older, his more stick-in-the-mud fans thought that he was abandoning his track record by suddenly leading with this new thing called punk rock, you know. And he alienated a lot of his audience. But he was honest insofar as he played what he liked. Very unusual. I didn't like everything he played. Everything he got, essentially he would try and listen to a little bit of it. Brilliant. Lovely man. But I always thought, and still do, I feel it's a privilege to be on the radio. I think it's a privilege to be in the media. John Lennon taught me this thing, he used to call it 'steal this space.' It's better to be in the papers or on the television or on the Web now, than some smarmy, oily politician. You being there rather than this other person. Infiltrate. And you know, we're in the industry of human happiness. There's lot to be had and we're fucking lucky. We don't have to work down a coal mine. Or worse still, wish we could work down a coal mine. Or worse still, wish we could work down a coal mine but rather you're in Afghanistan now being shot at. Right? So we're blessed.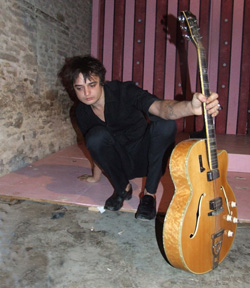 Pete Doherty (credit: BP Fallon)
---
THIRSTY: When are you doing Death Disco again?
BP Fallon: I'm not sure. I used to do it (in New York) every week, and I always said I'd do it until I got bored with doing it. And I got bored with doing it every week. So what we're going to do is do one here, do one there. We do it all the time but not in New York. And I'm quite happy to go work on an airplane, I'm used to it. It's what I've been doing for fucking years. It's kind of weird you know, you going to Japan or something and you have you CDs and they're paying all this money for opening these round things and you press a button. That's what you do.
THIRSTY: When was the last one in New York?
BP Fallon: I can't remember. I think it was with Alan McGee. It's been awhile. And people increasingly ask me, you know. So we'll see. We'll see. There isn't one huge mega party now. There's nothing like it at the moment. There is no one amazing venue or anything I don't think.
THIRSTY: Do you write everyday? What is your daily routine?
BP Fallon: It varies. I'm writing songs at the moment.
THIRSTY: Tell me about 'I Believe in Elvis Presley', your single you did with Jack White.
BP Fallon: Well, Jack White. All his idea. Not my idea at all. Actually, by extension now I have a band, you know. Couldn't plan it. Sort of happened. Well, it did happen. And if he hadn't come up to me and said, 'Do you want to come make a record' then I don't think I would have made a record and I don't think I'd have a band. The mad thing is he didn't know me really that well. But that's the kind of him, you know. And we had no idea what we were going to do. Writing in the studio, you know, what are we going to do now?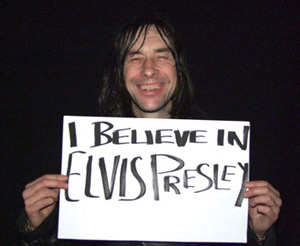 Bobby Gillespie (credit: BP Fallon)
---
THIRSTY: How long did it take you to record the single?
BP Fallon: A day. Half a day or something. Very quick, which I like, you know. I love that. Just going and doing it and then doing something else. And very good to work with, wonderful. In Nashville. Third Man Records.
THIRSTY: Did you like Nashville?
BP Fallon: I worked in Nashville some years ago and I absolutely hated it. I really detested it. This time it was fantastic. Cause it was a completely and utterly different environment. With some really great people. Talented. Jack's the main guy in rock' roll, you know. So I'm honored, you know. And I'm proud of the record actually. The pictures, the artwork and all of that. That was all great, very exciting. But when I actually got the record and pulled out the thing, and held the round thing with a hole in the middle of it, and my name on it, I just went, 'fuck.' That was amazing. The round thing, you know. Again because I didn't imagine it. You know maybe in my subconscious it was lurking but I wasn't aware of it, you know. I mean, they make a record now in joking.
THIRSTY: And you love to perform it live, that's obvious.
BP Fallon: I love it, yeah. Love it. In a way, if you hear that record you know what I'm about more or less. What I'm interested in just from one song, you know. I do believe in Elvis Presley.
THIRSTY: It's just a list of everything you love.
BP Fallon: Yeah but lists are opinions. You can't have a list without. That's why people like lists, you see. They like, 'What's your favorite film'? It's actually not a list because it's completely subjective, you know. But it can tell you a bit about the person.

Irina Lazaneau (credit: BP Fallon)
---
THIRSTY: How did you first meet Jack White?
BP Fallon: I met him in Dublin when the White Stripes were playing there. And they were supported by the Dolls. First time I met Steve Conte. And Peaches was on as well. And we were doing the after party Death Disco, with Shane McGowan DJ-ing. Peaches DJ-ing. So I think I met him then, very quickly. I'd bumped into him and had been introduced to him vaguely. We didn't sit down and have a heart to heart with him. (laughs) Patrick (Keeler, from the Raconteurs) is the drummer on my record. I'm very honored, you know. Lucky to have these people, such talent.
THIRSTY: Are you planning on doing another book?
BP Fallon: I'm doing a book. It's the nearest you're going to get (to an autobiography) anyway.
THIRSTY: Tell me about your time with Led Zeppelin.
BP Fallon: Yes. Great fun. Incredible music. Some magic people. Another world. I wouldn't take an inch of it back. It was an incredible film to be in. But that's the footprint. It's not the essence, you know. It's how you got here. The Zeppelin thing was, yes, out of this world. I mean, pretty literally. You couldn't do that now. Locked up. You would. At that point in time all bands are pretty crazy, more or less. If you just turned the volume up fifty times that's Led Zeppelin, you know. That was the chord. That was the kingdom. Very, very, very good fun.
THIRSTY: Are you still in touch with Robert Plant and Jimmy Page?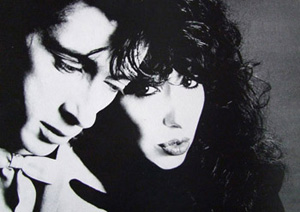 Johnny Thunders, Patti Palladin (credit: BP Fallon)
---
BP Fallon: (Nods) Yeah, because when you go through experiences that other people - there are very few other people who have gone through the same experiences and that's a bond forever. You can't really explain it to other people. People looking in can think this is a completely awful behavior, some things. And some of those things were, but in terms of the moment the wonderful happened to come at that point in time. Different days. Different consciousnesses.
THIRSTY: What are your favorite things to do in New York?
BP Fallon: I don't really have a museum I go to every Friday or something like that. I'm not like that. I should be though. In New York there are many things of which to avail, but one doesn't. Because I haven't got time. And I'd like to do that. But I don't have favorite clubs. I have a favorite restaurant. It's called Rockin Raw. It's on North 8th in Williamsburg. It's one block off from the Bedford subway. And it's raw food and it's delicious and the music is brilliant. And there's a little garden there as well. Perfect. And it's not far away even though people go, 'God, Brooklyn!' But it's not far. I love that place. I actually like the little park by St. Marks. It's a scuffy little park. I forgot the name of it. You know the one I mean?
THIRSTY: Thompkins. I like it, too.
BP Fallon: And I like walking around New York. You can do that here. You can't do that in Los Angeles. You can look at the buildings, look at the people. Cause I'm watching everything all the time, it's my nature. And I'm looking up. People in new York don't look up. I look up. Sometimes other people will stop and look up because I'm looking up. And there's great things to see and there's great things to meet just walking down the road. You meet people here you wouldn't meet otherwise. I think if I hadn't have been in New York then I wouldn't be in that place and Jack White wouldn't have wanted to make a record. So that's timing and stuff. Timing is very important. That literally changed my life. Which is unusual when you're (my age) to have something jolt you into another fettered railway lines. You know. Like the train was lifted up and put over here.

T.Rex (credit: BP Fallon)
---
You must have Adobe Flash Player to use this function.
Someone said to me, they said, did I wish I had done all of this 35 years ago? And I said no. I said this is perfect timing because I'm doing it backwards. I am. You're not meant to make records at 50. And if I'd done that 35 years ago I couldn't have done all the other stuff. Or enjoyed all that other stuff. And I'm enjoying this. So it's perfect isn't it? It is perfect.
Links:
Thirsty : June 2010 : Interview with BP Fallon - Part 1
www.bpfallon.com