You must have Adobe Flash Player to use this function.
#15 - MAY 2010
By: Sarah L. Myers - Editor-In-Chief
New York, USA
---
It's my favorite New York City bar, my favorite New York Dolls song, and now it's my favorite way to get trashed.
It's finally here! Spring in New York, May in particular, has an airy electricity to it. The buds spring open in the park and the streets come alive with music blaring from open windows. That hill from January, buried knee-deep in packed snow, is now almost entirely yellow from the dandelions. I wait the entire year for this one month, which brings the biggest party in the city - the Joey Ramone Birthday Bash! We're doing this one up huge, so stayed tuned to Thirsty for all the latest coverage of this very special 10th anniversary celebration!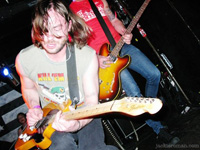 Des Roar (credit: Jackie Roman)
---
The kick-ass triple bill of Des Roar, Dead Sparrows, and Doppelganger hit the Studio at Webster Hall early this month, packing the house and bringing out the usual crew of photographers Jackie Roman and Lisa-Thi Beskar, my darling Seymore, and partners-in-crime Starr and Johnny. We kicked it up front row as always, fueled by sangria pitchers at Riveria in the Village, and took in the new and improved Doppelganger. Dead Sparrows guitarist Joey Hamm joined the band, filling in missing pieces we didn't even know were there. They rock harder than ever, as does Joey's Sparrows - who sounded so much like "Definitely"-era Oasis it was the only thing I could manage to shout over the beat. The guys also served up a motor-city helping of Iggy covers at Otto's Shruken Head on the 28th.
Legendary Shack Shakers
---

It was total mayhem during th' Legendary Shack Shakers Mercury Lounge show April 11th. I was super excited to introduce Jordi to the band, who just released "Agridustrial", their most densely layered and amazing album to date. "God Fearing People" is the standout on this one. It was a particularly rowdy crowd that night, ending with the guy who kept talking to me about Satanism getting his assk kicked by a girl and her handbag. Funny that the guy in the GG Allin sweatshirt was the most docile of the night...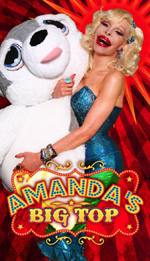 Step right up! If every night of Amanda Lepore's new weekly party is like the opening, there won't be a platformed-and-wigged soul left at Greenhouse. Amanda's Big Top, at Carnival in Union Square, is a multi-room throwdown featuring sideshow acts, carnival games, popcorn vendors, and strongman competition. Throngs of glittered revelers pulsated with the beat, surrounded by costumed creatures and many scary characters - one dressed like an evil Day of the Dead skeleton or a member of Specimen, another like an icicle or dollop of whipped cream. (Whose dress was so constricting, s/he hopped and scooted like a Barbie doll). Amanda herself flitted about in a crystal pasties-and-g-string ensemble, driving everyone crazy with her cutesy performance up on the balcony. The gang danced throughout the rooms and in front of the funhouse mirrors, and Jordi and Starr ran into their friend Dan, who sported a Jordi Scott original. This is definitely my new Wednesday night spot! Now what to wear...
The scene at Jayne County's Chelsea show is what I imagine the inside of a disco ball to look like - beautiful garbage. Part concert, part exhibit and installation, Jayne's "Mad Tea Party" brought the punk legend out amoungst some very colorful people. Starr and I walked in during "Max's Kansas City", and were drawn immediately to a (man?) called Gazelle, who wore a face mask adorned with tomato soup can. The inside of the joint was decorated like the 1990s club partied with Lisa Frank, and Jayne's wigs and stage props were on display. Headed over to 200 Orchard afterward, (of course!), but not before seeing a man with a double septum piercing and a shirt that read "fuck you you fucking fuck" outside the chelsea. I love New york!

We started off the season with a bang! There have already been so many amazing nights, and still so many to look forward to. Chicago friend DJ Scary Lady Sarah spun at the Vault for a classic goth party, and we bid adieu to Sabrina, who's trading NYC for Atlanta. (Can't wait to broadcast from the South!) My conversation with BP Fallon at the Chelsea Hotel was a major highlight. If anyone influenced me as a music journalist, it's this brilliant, poetic, gentle man. We also caught back up with painter Joe Coleman. During our last visit, Joe had showed me a massive self-portrait that was still in progress. I just found out the painting is done and he is working on a series of hand painted miniatures! I can't wait to see what he'll create next. The summer is on it's way and I am ready to rock n' roll! Stay Thirsty!
Links: