You must have Adobe Flash Player to use this function.
By Jarrod Dicker
New Brunswick, NJ, USA
---
If you ask New Orleans drummer Stanton Moore how many genres of music exist in the current industry, he'll claim they're only two; there's "good" music and then there's" bad" music. Rather ambiguous in his statement, Moore's classification seems right on in today's day and age where we've seen the integrity of musicians fluctuate more haphazardly than the Dow Jones. As I can't come out and say with unbiased certainty which artists are "bad," I can definitely argue which artists are good by referencing their career accomplishments, overall expertise and other complimentary attributes. Stanton Moore, I can affirm, is a "good" musician. Wait, "x" that; Stanton Moore is a fucking great musician.

Stanton Moore (credit: Allison Murphy)
---
Why?
Moore is music's modern day Renaissance man. His influence on the scene exceeds far beyond his status as a world renowned drummer. Besides his lasting involvement in successful musical projects (Galactic, Garage A Trois, Street Sweeper Social Club, Stanton Moore Trio), Moore also writes instructional drumming guides, columns for repute drum magazines, films instructional drumming DVDs, participates in charities and NOLA restoration projects, and offers clinics teaching New Orleans' drumming around the world.
I would be hesitant to simply label him as a drummer if he wasn't just so damn good at it.
Now with the New Orleans Jazz & Heritage Festival just a stone throw away, Moore kindly takes some time out of his week to speak with staythirsty.com in an exclusive interview. The discussion covers the story behind the new Stanton Moore Trio album, Groove Alchemy (Telarc International), Moore's musical and charitable involvement in the New Orleans community, the difference between playing in a large group verses a small group, the business behind the various musical projects, collaborating with Marco Benevento, why music is like food, and what still lies ahead for the hardest working musician in the industry.
THIRSTY: What was your strategy behind the recently released solo project Groove Alchemy, which includes an album, a book, and an instructional DVD under the same moniker?

Stanton Moore: What I wanted to do was present an approach to drumming by going through what the masters have already done. I wanted to show how a person can take what [the masters] have done and twist it into their own unique approach; see how these techniques can fit their own musical situation. So there's a book that I've been working on for the past five years as well as a DVD. I check out masters' Clyde Stubblefield, Jabo Starks and Zigaboo Modeliste to go through the innovations they've already done. Then I take those things and show how people can combine them with other things and formulate their own approach and grooves. Once I develop a new groove, I put it to music with the Trio (Stanton Moore on drums, Robert Walter on Hammond B3 organ and piano, Will Bernard on Guitar). The album is a culmination of the whole process, to play alongside the book and DVD.

Galactic
---
THIRSTY: Along with the Stanton Moore Trio, you're also an active member in Galactic and Garage A Trois; Garage A Trois released Power Patriot (Royal Potato Family) in October, 2009 and Galactic released Ya-Ka-MayI (Anti/Epitaph) in February, 2010. With the release of Groove Alchemy you have now, technically, released three albums within a six month span. How did you find the time to do this record?

Stanton Moore: Well, I've had the idea to do this project for a while. I thought it would be cool to release a book, DVD, and record all at the same time. I felt that the record could shine some attention on both the book and DVD in channels that books and DVDs aren't normally presented in. Normally you don't tour and play clubs with a full band when you release a book and DVD [laughs]. So I figured if I put them all together, it hopefully would cover more ground that way. I'm always making music, so the three albums in a six month span is a clear result of that.

THIRSTY: You're style of drumming displays a heavy emphasis on improvisation. Since this album was produced for the purpose of parlaying a book and DVD, is it safe to assume that this album was more scripted and premeditated than your usual recordings?
Stanton Moore: Not so much. I think there is still a lot of improvisation in what I do on this record. Basically, the book and DVD take an incredibly in depth look at the process that I go through when I'm coming up with new styles and grooves for a song. I tie in a little bit of funk, soul, and develop classic grooves that we all know. Then I take those and turn them into something new. I still improvise with it and react/interact to situations musically. The book and DVD are showing the foundation of the masters and where I draw my influence from. It shows how I create new things out of that to come up with the main groove of a tune. Once I come up with that main groove, I definitely vary it and improvise within that structure.
THIRSTY: The tracks on Groove Alchemy skim various genre lines; "Keep on Gwine" has a ragtime feel, "He Stopped Loving Her Today" is country/rock and "Knocker" is porn-esque funk. In this day and age it seems the term genre doesn't exist in regards to music. Do you put any weight on genre?

Stanton Moore
(credit: Allison Murphy)
---
Stanton Moore: I don't really put a lot of weight on genres at all. I love all types of music. I might listen to some jazz when I fall asleep and then wake up, start cooking something, and be in the mood for Black Sabbath [laughs], Desmond Dekker or John Coltrane. There are only two genres of music to me; good music and bad music. I really just don't worry about it too much. I like to pick tunes for the record that are going to demonstrate certain vibes and different aspects of my drumming. I like to play different things stylistically, but I don't get really hung up on it because I love all different kinds of music as long as it's GOOD.

THIRSTY: Since your first solo release in 1998 (All Kooked Out!), how has your style, direction and approach to drumming changed? Can the maturation be heard on the latest album?

Stanton Moore: Hopefully I've just gotten better [laughs]. I'm still drawing inspiration from a lot of the things I used to, and there really hasn't been I much of a dramatic shift except for me just trying to develop my craft and refine my art form. My goal is to refine what I'm doing, and approach the music in a way that makes what I'm already doing even better.
THIRSTY: The Stanton Moore Trio is a three piece project, whereas Garage A Trois is a four person group and Galactic is an 'at least five member' band. What is your ideal preference in regards to band structure? What are the benefits/disadvantages of having say, five members in the band as opposed to three?

Stanton Moore: With a larger band it's a lot like driving a big Cadillac. It's fun and cool and you're cruising along, but you don't want to make a lot of swerves and tight turns necessarily. You do love that cruising feeling in the large vehicle though. Playing with a trio is more like driving a sports car. It's faster, a little zippier, you can make those tighter turns, but both of them are a ton of fun to "drive." I like it all. To me, music is like food. You wouldn't want to eat the same thing every day, and with music it's good to be able to do a lot of different things. I'm really fortunate to be able to do that.
THIRSTY: How do you schedule your various projects? Is there a business hierarchy, such that Galactic projects come first, then solo work, then Garage A Trois?
Stanton Moore: It's really a constant juggling act. Galactic is where I focus a lot of my time. We try and make sure that [Galactic] gigs get scheduled first and then we fill our independent schedules around that. But if there is something really important that I need time for, I'll say that I need a certain amount of time away to go do that project. I'm touring with my trio right now, so I had to block out time in order to do that. It all depends on album cycles as well. When there's a new record out for any of the said groups, we have to prioritize that group in order to promote the record.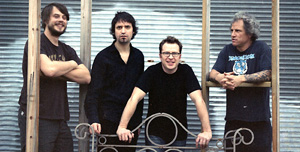 Garage A Trois: Marco Benevento, Skerik,
Stanton Moore, Mike Dillon
---
THIRSTY: This next question is probably redundant, but since Galactic was recently featured on an episode of HBO's new series Treme I will sneak it in; post hurricane Katrina, what New Orleans city projects/charities are you involved in?

Stanton Moore: I've been involved in numerous foundations and workshops with young musicians. On top of that, I also am a participant of the Gulf Restoration Network and Voice of the Wetlands. The Gulf Restoration Network and Voice of the Wetlands both involve raising awareness to help restore coastal damage. When New Orleans was first built, it was located 90 miles inland from the Gulf, but we've lost 45 miles of coast since then. Now we really need to start to rebuild the coast as security against these storms, in order to protect ourselves. There's 45 miles of land missing that used to protect us. So now we need to get serious about that. It's the first time the Federal Government has allocated funds for gulf restoration. It's not as much as we need, but at least they're not denying it and helping aid the problem. They're at least acknowledging that there is a problem.

THIRSTY: Garage A Trois' recent lineup change substitutes founding guitarist Charlie Hunter with experimental pianist Marco Benevento. In your opinion, how does the new lineup weigh up against the old? What unique dexterity does Benevento bring to the table?

Stanton Moore: This new lineup has been a ton of fun. The four of us (Skerik, Marco Benevento, Mike Dillon, Stanton Moore) went into the studio one day and just started playing together. Once we decided that Marco was going to come on board as a regular member, the music began to build. We worked on each other's tunes, whether it'd be me or say Marco who had been working on a steady tune; before you knew it, we had a whole body of work that was ready to go on a record. So we just embraced and fought with what we were creating and the music became a lot heavier, darker and more aggressive. We dug it and it's been a lot of fun for us since. We are watching it develop and grow. It's definitely been a lot of fun being part of that project.

The Stanton Moore Trio
(credit: Allison Murphy)
---
THIRSTY: Another amusing and interesting project you were involved with was the self-titled Street Sweeper Social Club record with Boots Riley and RATM guitarist Tom Morello. How did this relationship materialize?
Stanton Moore: Well, basically he heard me play drums at a benefit show in New Orleans one day and simply liked the way I played. He got my phone number and called me for a session, and that's how it turned out [laughs]. Then we made a record.

THIRSTY: What's the first thing you eat in New Orleans when returning from tour?

Stanton Moore: Man, there's so much [laughs]. If I'm flying in on a Sunday, my wife and I will go eat Oysters. That's something I like to do.

THIRSTY: For an already accomplished musician, what other goals would you like to achieve as an artist in the future?

Stanton Moore: Lot's man. There are a lot of other musicians that I would love to play with. I recently got to play with Maceo Parker on Jam Cruise. If he called me and asked me to do a record, that would just be incredible. I would like to win Grammy's for my own projects; that would be nice. Of course selling more records would be great, but honestly, I'm just blessed to be able to play music that I had a hand in creating. Most of the time, I am playing music that I have co-written and have developed the drumming on. A lot of drummers are hired to come in and replicate what was done on a record recorded by another musician. I'm usually the one making the record and then replicating what I've already done, so I'm in a good position and feel very fortunate. Of course there is always more. I'm not complacent in any way, I'm just enjoying where I'm at, and that's all.
Links: