You must have Adobe Flash Player to use this function.
By Jarrod Dicker
New Brunswick, NJ, USA
Photos by Chad Smith
---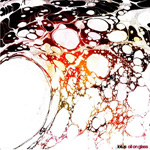 Oil on Glass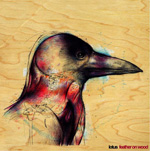 Feaher on Wood
---
Combining funk, rock, jazz, dance, this, that, and everything else, Lotus is an innovative instrumental rock project that holds no creative boundaries. Arguably the most elastic group on the jam scene, Lotus delivers a musical experience that satisfies the pallets of listeners throughout the entire musical spectrum. This, as evidenced by their ever growing popularity, has formulated a diverse following of hippies, hipsters, hip-hoppers, club goers and every other "er's" that hunger for the flavors of unique and homegrown electro-rock music.
In attempt to unearth everything and anything about Lotus, Jarrod Dicker spoke with founding member Jesse Miller about the history behind the group, the release of Oil on Glass/Feather on Wood, instrumental albums vs. lyrical albums, improvisation in the studio, lights and visuals, record labels, a new album and more.
THIRSTY: How would you describe the music and overall mission of Lotus in your own words?

Jesse Miller: I would simply say that we make dance-rock music. We cover a large range of music that doesn't simply fall into just one category. I try to be as banal as possible when it comes to genre descriptions. When we're out there playing, the foremost thing is to help everyone in the audience have a great time. It's a really dance friendly show; however, I think we also do some introspective stuff. It's not dumbed down. Sometimes it's epic in a way, but not in a bad way. I think the music we make takes people on a journey and makes the listeners think as well.

THIRSTY: In October of 2009, Lotus released an album that combined dual EPs, Oil on Glass/Feather on Wood. The material from those EPs was taken from tapes recorded during the studio sessions of the 2008 LP Hammerstrike. What deciding factor led to the decision of rehashing the Hammerstrike surplus and creating a whole new album?

Jesse Miller: We had a bunch of material that we thought was really good, but weren't exactly sure what to do with it. So eventually we decided to go back and redo some of the sections and arrangements on songs leftover from the Hammerstrike sessions until we got the material to a place where we thought it sounded good. It began to really break down into two different categories, so it just made sense to separate the music into two different EPs. Even though they are combined on one CD, they felt separated enough where we wanted it listed as two EPs.

THIRSTY: That segues into my next question: Feather on Wood explores the jam-rock essence of the group while Oil on Glass reveals the darker, electro influence of Lotus. If the songs were split into two EP's during the editing process, is it safe to say that these songs weren't intentionally written to reveal the resonant polarization of Lotus?
Jesse Miller: Well, as I said, we were recording those tracks at the same time as the Hammerstrike tracks, so they were all recorded simultaneously. Basically we laid down 20 or 25 different compositions and picked the ones that we thought would make Hammerstrike a complete album. While editing the leftover material is when we started to notice that the music can be broken down into two EPs. From the beginning we didn't set out to make these two separate EPs, but that emerged during the editing process, and everything ironically fell into place.

THIRSTY: As Lotus is predominantly a live band, what is the culture of the group when you take it to the studio? Is there a lot of "in studio" improvisation or are these sessions more directed and mapped out?

Jesse Miller: We really don't bring improvisation into the studio; it's more just the spirit of the compositions. We do a lot of work with dance beats, which was something that came out of improvisation, but there will always be a strong melodic hook that's going to move in a dynamic way that will not be improvised. It's different than if a house DJ was putting on a track. That's pretty much one dynamic throughout; there's an intro and a breakdown so it's very formulaic. For a Lotus song, the composition doesn't work in that simple of a manner. I think that is something that came out of improvising a lot and getting to know what works well in the live setting. The studio is definitely a whole different beast. Things have to be pared down quite a bit and while improvisation is awesome when you're playing live, it isn't necessarily suited for the studio setting.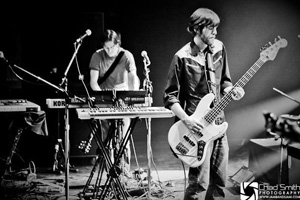 THIRSTY: Since Lotus' inception, the group has released an average of one album per year. Are you guys constantly recording new material? Is there anything currently in the works?

Jesse Miller: Yea pretty much [laughs]. Luke [Miller] and I do pretty much all the writing and we each have our own small home Rigs where we do a lot of work when we're off the road. So yes, we're constantly writing, but it's different because Lotus is not singer/songwriter based; it's not something that we've been able to do on the road. With us it's a lot of experimentation with different sounds and different grooves that we really could only do when we're at home or in a studio somewhere. Since the last album came out, we probably have played 10-15 new songs live and have quite a few others that have already been written. At some point--we have a long range idea-- we want to get an album together, but it really happens in bits and pieces. It's not like, "Let's go into the studio for a month and a half and make this album." We have so many tour dates going on that we don't really have the luxury of taking that much time off from the road and scheduling an exact time to start a new album.

THIRSTY: Does Lotus prepare set lists before each show? If so, does the band ever derail from the written criterion?

Jesse Miller: We usually stick to it pretty closely unless there is some kind of time restraint. Luke writes the set list and spends a lot of time working on the flow of the show. We have an entire database of our set lists, so he goes through that and arranges different set lists for each show. We have a large catalog and like to mix it up over the course of the tour. I think he's gotten good enough at it where it's going to work a lot better for us to stick to a set list rather than go and try to call out a tune in the middle of a set. Especially since we're dealing with a lot of electronics as well--patch changing and things--so you kind of need the set list. We can just call out songs and switch into them, but it's usually better for everyone involved if we know what songs are coming next so we can set up properly.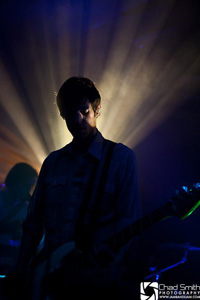 THIRSTY: The Grateful Dead began the trend of permitting fan taping at live shows as a business maneuver to spread their fan base and "hopefully" increase sales potential of future albums. How has taping affected the maturation of the business side of Lotus, both positively and/or negatively?

Jesse Miller: I think five years ago it was more effective simply because the nature of the internet was a lot different. Bands didn't have quick means to make their own recordings and put them out there. Back then it felt like recording was a standard thing at most shows, and that definitely helped get the word out. But there has been a change in the past two years where sites like LIVEDOWNLOADS.com--where bands can make really good recordings—are now able to use soundboard feeds, mixing lines, and achieve incredible recordings that sound much better than if some dude with his setup in the back produced it. That seems to have really died off. I don't see young kids doing this taping thing anymore. Now they could just pay 10 bucks and get an amazing recording of a live show rather than investing time and money into taping and having to sit there and guard mics from getting bumped into and all. There's definitely been a change.

THIRSTY: What city/state does Lotus consider home turf? I know the band was assembled at Gosthen College in Indiana, but is there a certain place where the band feels most welcome?

Jesse Miller: Well we're from all different places. We got together in Indiana and then moved out to Philadelphia for a while. Now the band is split between Philadelphia and Denver. I think there are a lot of places Lotus calls home. Denver's a home to us, Philly is home, and Chicago definitely feels like home. But there are a lot of different spots throughout the country that feel like home.

THIRSTY: Lotus played Jam Cruise 8 in the beginning of this year. What bands did you guys go to see while you weren't playing?

Jesse Miller: Jam Cruise wasn't really my style of music, but I have to give them credit, all the bands they have on there are top notch musicians. That's one thing that stands out on this jam scene. I love to see Indie bands and DJs--that's more of the stuff that I listen too--but on Jam Cruise you see Maceo Parker, Galactic and Adam Deitch to name of few; all these incredible musicians. JJ Grey was killing it. Even if I'm not really into a band's music, I can absolutely appreciate their musicianship.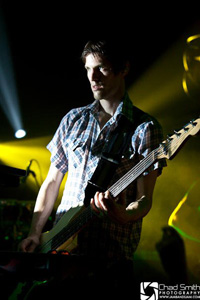 THIRSTY: How has Lotus' fan demographic changed since entering the scene ten years ago?

Jesse Miller: I think the main thing is it's either gotten younger or I've just gotten older [laughs]. It's a lot of college aged kids. Maybe that's just because that's what I can see from the stage, but I say that's where the major growth is happening. The whole thing is really interesting to me because 5 or 6 years ago, any band like Lotus that had some sort of electronic influence was kind of seen as a fringe act. People would talk about it as a trend and that it is going to go away. Now it seems to be the life blood of the live music scene.

THIRSTY: You've released albums independently as well as through a record label. Right now, Lotus is signed with SCI Fidelity. What are the benefits of being on a label?

Jesse Miller: I honestly don't know if we get all that much out of it. It's a crazy business selling albums. It's changing so much and sales are just plummeting. Bands on our scene that are known for live shows have never done that well selling albums anyway. We spend a ton of time working on them, but I think there has to be some kind of shift or change for significant sales to occur.

THIRSTY: What is the history behind Lotus' assimilation of complex light performances at live events?

Jesse Miller: We always wanted to do it, but it's expensive to get it going. So back in the day we would use whatever we could afford. One show years and years ago, I remember we didn't have a lot of time to set up and didn't have much equipment with us either. So we had a guy control a smoke machine in one hand and wave a light around with the other hand [laughs].
THIRSTY: That must have triggered some bar mitzvah flashbacks.
Jesse Miller: [laughs] obviously as the band grows we get into bigger and better things. We always approach the light display as trying to be as creative and unique with it as we can. One of the things that we've been doing for the past few years is using these custom made boxes that create glowing panels behind the band. It's something that no one else has since we design and build them ourselves. I think it's pretty cool. It's something that's not over the top flashy and doesn't take away from the music, and compliments the playing rather well.
THIRSTY: Lyrics can often be used as a cheat sheet to help musicians convey emotional substance to the audience. As a primarily instrumental group, do you sometimes find it hard to communicate your personal messages to the audience without the use of lyrics?
Jesse Miller: I don't think it's that hard to display emotion. For us, our instruments are our voice. I feel like we can be as expressive with what we're doing instrumentally and compositionally as any singer/songwriter. There's a different kind of emotional power to instrumental music since it can mean so many different things to so many different people.
THIRSTY: Would Lotus ever volte-face and compose an album that is predominantly lyrical?
Jesse Miller: I'm definitely open to using lyrics. I'm not a strong singer which is one reason I haven't written much music that would work lyrically. To me, the voice is like every other instrument. If I'm listening to something and I hear a synth part or a cello part, it's not that much different than hearing a singing part. Some of our tracks have random vocal parts, and we have brought in some other singers whose voices we thought would work well. We've done some stuff ourselves, so it's definitely not ruled out.
THIRSTY: Is there anything that you would like the readers to know about Lotus that we haven't covered?
Jesse Miller: Well, for as much transparency as there is in the music industry, people don't always understand the constant work that goes into being a musician. When people go see a band playing at a big festival stage on this big tour, they're thinking they've got the greatest life ever. I'm not going to deny that, I would never change careers because I love doing this. But, technically, it is definitely like any other job. We're out there busting our asses to bring this music to people. When people appreciate that and give back in terms of supporting the shows financially and coming out to shows, that forms a necessary beneficial relationship between artists and fans that really helps push the music along.
Links: