Cass Warner is the granddaughter of Harry Warner, the oldest of the four brothers who formed the Warner Bros. movie studio in 1923. In January 2003, Cass Warner founded her own company, Warner Sisters, in order to continue into the 21st century her family's credo to "educate, entertain and enlighten" through the production of motion pictures and related projects. With a clear understanding of the communication power inherent in the motion picture, her mission is to make a difference in how people perceive and understand the world, and to create and increase awareness of issues, viewpoints, and insights. Thirsty was fortunate to catch up with Cass at her home in Los Angeles to discover more about how she plans to carry-on the Warner family legacy.
THIRSTY: In the opening chapter of your book, The Brothers Warner, there is a moment that you shared with your grandfather Harry Warner while he lay dying:
"His eyes were open, and moved to take me in. He smiled. I watched his hand inch slowly across the sheet toward me. His hand found mine, and he tried to speak, but no words came. Instead, the look in his eyes transmitted his thoughts. His hand tightened around mine, sealing the message¾something special was being entrusted to me. I squeezed back. A promise was made."

Harry Warner and Cass
---
You were just a young girl of 10. How has that moment influenced your life as a woman and as a creative force?
Cass Warner: My grandfather was very much in my life as we would spend weekends with him at his ranch. He treated me with great kindness and respect and was, truly, one of my heroes. My wanting a family of my own early on in my life is due to the importance he taught me about family.
His example of caring for others and the world greatly influenced me in my choices of projects I wanted to produce or be a part of. Honoring him as an example of someone who understood the responsibility that comes with having the power to communicate to millions of people with film, is what set me on this wonderful journey to tell the family's story. The moment that happened between us was profound, and continues to inspire me in whatever I'm doing.
THIRSTY: Your family's filmmaking legacy now spans almost one hundred years, and your founding of Warner Sisters in 2003 has helped to preserve and reinvigorate the Warner Bros. credo to "educate, entertain and enlighten." As a fourth generation Warner and third generation filmmaker and producer, what was the spark that motivated you to found your company and begin to write, produce, and develop books and movies?
Cass Warner: Understanding what my family stood for really inspired me to want to share their life and business philosophy with others. Films should absolutely be entertaining. Their ability to influence audience's viewpoints is very subtle. It really can be an instrument of understanding our fellow man and global issues better.
THIRSTY: Your grandfather's motto is quoted at the top of your website:
"It is not the challenge of dollars, it is the challenge of ideals and ideas. If the producers of pictures see only the dollar, I believe, those production efforts will fail."
-- Harry Warner, Founder & President of Warner Bros. Studios
In modern day Hollywood is what your grandfather believed still true?
Cass Warner: Yes, I believe my grandfather would still stand behind these words. He knew he had a very powerful communication tool in his hands. At the same time he was a brilliant businessman and knew his films had to be something audiences wanted to see so money could be made. At times he would make a movie because he felt so strongly about the topic that was being addressed in the story, and know it wasn't going to make a killing at the box office.
THIRSTY: Your journey to carry-on your family's legacy began with your book, The Brothers Warner, and continued with a feature-length documentary of the same name that aired on PBS, and now is in development to be a major motion picture. If you had to boil the story of the Warner brothers into a sentence or two, what would it be?
Cass Warner: Four pioneering brothers built an empire on a dream and revolutionized Hollywood, and rose from immigrant poverty through personal tragedies preserving to create a major studio with a social conscience.
THIRSTY: Warner Sisters is both a production and entertainment development company with many projects at various stages of completion. Of all the hats that you wear – writer, screenwriter, producer, dealmaker, which one are you the most comfortable wearing? And which one are you the most passionate about?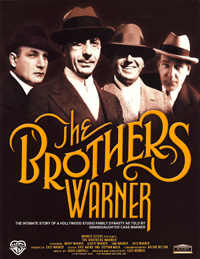 The Brothers Warner
---
Cass Warner: I love each one of them when I'm doing them, BUT the one I really fell in love with recently while doing the documentary is being the director.
THIRSTY: Howard Koch played an important role in writing many great scripts that Warner Bros. produced, for example, The Sea Hawk, Sergeant York, and Casablanca. How did you come to represent his body of work and what do you hope to accomplish with it?
Cass Warner: Howard and I became like family when I was interviewing him for my book. I used to visit him at his home, and found out that no one would represent him because of this age. Outraged by this, I asked if I could have the honor. I hope to share with as many people as possible this master's works, and get several turned into films. The list can be found on my website: warnersisters.com.
THIRSTY: You also produced a series entitled Conversations With Cass as part of your "The Dream Factory" project. In that series you ask your guests Dennis Hopper, Matthew McConaughey, Mike Medavoy, Angie Dickinson, Giovanni Ribisi and Haskell Wexler, to name a few, the following question: "How would you define success?" And, how would you define success?
Cass Warner: "The Dream Factory" really excites me as I realized we don't have a place where dreams are discovered, renewed, and rehabilitated nor assist someone in making them a reality. The interviews are designed to be a part of an inspirational library, so my questions are geared around those being interviewed explaining their journey to success, which includes what or who inspired them, obstacles they encountered along the way, how they got where they are, what worked and what didn't, and what they envision their expansion to be.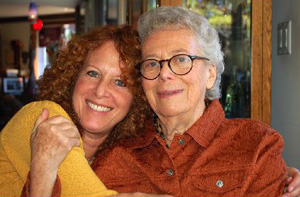 Cass Warner and Betty Warner Sheinbaum
---
My definition of success is "Doing what you love to do—waking up excited about what the next step is, and how to keep expanding your game so it reaches and inspires others."
THIRSTY: Is there another generation of young Warners who will be joining you to carry-on the legacy begun by your great-grandfather's willingness to pawn his heirloom watch and the family horse so that his four sons could purchase a broken-down movie projector in the hope of starting a movie theater exhibition business?
Cass Warner: My son, Cole Hauser, is a very fine actor and proud of his legacy. He's soon to direct a film he's co-written. And then there are the grandkids coming up the line. I must say, all my children have that "Warner" passion and persistence in the work they have chosen, so in that way they're carrying on their heritage.
Links: