You must have Adobe Flash Player to use this function.
#14 - APRIL 2010
By: Sarah L. Myers - Editor-In-Chief
New York, USA
---
It's my favorite New York City bar, my favorite New York Dolls song, and now it's my favorite way to get trashed.
Lemmy and Sarah
---
I told you last month there was a surprise! In this edition of Trash, I head down to Austin, Texas for two executive days of pure Motorhead. "Lemmy: The Movie" premiered at SXSW, and Motorhead's two shows were the buzz of the week. My entire goal in doing Trash is to show you my rock n' roll life, and SXSW is Spring Break for people in the music industry. If you've ever wanted to know what three straight days of pure rock n' roll is like, just head to Austin. To keep things as accurate as possible, I kept a diary. So here we go, and as Lemmy himself would say, "Are you ready for some rock n' roll?!"
Tuesday, March 17, 2010
5am: Wake up to The Fixx on the radio. Suspecting "One Thing Leads to Another" is a sign for what's to come, I take a vitamin pack and prepare myself.
5:45am: Arrive at LaGuardia. Have a Spinal Tap moment when I realize I'm at the wrong airport! Jump in cab to JFK with plenty of time to spare. Have first of many coffees and bounce quietly to Men Without Hats and Rick Springfield, who are playing on the airport radio.
7:30am: On the plane, sit next to a girl in the PR department of a music label. This is her first SXSW, too. We bond over being nervous flyers and joke about how the entire cabin looks like Williamsburg, Brooklyn. Watch in-flight Saved By The Bell and Strangers With Candy episodes.
9am: In the spirit of all things Lemmy, order a Jack and Coke with my breakfast. I don't drink it, but save it for later. I love those little bottles!
10:30am: Arrive in Austin! There's so much green around me, I'm briefly reminded of my hometown in Indiana. Listen to Motorhead all the way to the hotel, and realize I can't remember the last time I saw a gas station.
12pm: Get to the hotel and nap. Something I learn very quickly is that SXSWers don't sleep, they cat nap. They also don't eat, but subsist on drugstore snacks and street vendor meals. I watch a National Geographic documentary on LSD and fall asleep.
5pm: Head out for the night, and meet Fleck PR mavens Jo Murray and Benni Leigh at Stubbs BBQ on 8th Street. Interview Francisco Fernandez of The Ferocious Few, an old-time rock n' roll duo based out of San Francisco. He tells me the band drives a white hearse and we cash in our drink tickets.
Lemmy from sidestage
(credit: Jackie Roman)
---
7:30pm: Motorhead show! The Sword blow everyone away, making kids bang their heads all the way to the back row. Hang in VIP balcony with Jo and Benni, where we spot BP Fallon and Clem Burke. Lemmy, Phil, and Mikkey take the stage and shred for over an hour. Everyone loses their minds when they play "Overkill". The crowd evolves into one huge circle pit long before "Ace of Spades". One encore later, we say goodbye to BP and Clem, then take to the streets of Austin!
10pm: Watch Ferocious Few busk on the corner of 8th and Red River. They draw a pretty nice crowd, especially with songs like "Kathleen Was a Beauty Queen" and "Porcelain Doll".
12am: Meet back up at Stubbs with Motorhead and crew. After a quick stop at the hotel, my friend Steve and I take a black Escalade to meet Lemmy at a strip club downtown. Get to the club and hang with Lemmy, his son Paul, and Head Cat guitarist Danny B. Harvey. Drink Jack and Cokes until last call, and keep my eye on Lemmy when the girls dance to "Ace of Spades"!
4:30am: I've now been awake just under 24 hours. I've survived my first day of SXSW. Lulled to sleep around 6am, with the light from the hotel pool seeping in under the curtains.
Wednesday, March 18, 2010
1pm: Head over to Motorhead's hotel to interview Paul Inder, Lemmy's son. Spend over an hour listening to touching stories about his favorite memories with his dad, and get his reaction to the film premiere. Ask him about the biggest conceptions about Lemmy and what it was like growing up with him as a father. We get along so well we run over time and Paul rushes to the airport!
2:30pm: Head over to Jaime's, an outdoor Tex-Mex restaurant right across from Stubb's (which is proving to be home base in Austin). Meet up with Benni and some new friends, all in the industry. Jaime's is hosting an all-Beatles lineup, so we listen to SXSWers sing along to their favorites as bands switch out on the stage.
4pm: Hit the party circuit with Benni. Wander down 6th Street looking for what's good. Stop into The Hague Netherlands party at Maggie Mae's. Showcasing six bands from across the pond, the show features The Deaf - a young trio from Holland who traveled more than 36 hours for their first SXSW. They win the crowd with their jaunty, stop-start blend of punk, kind of like The Hives mixed with Jet.

Hanoi Rocks (credit: Jackie Roman)

Michael Monroe (credit: Jackie Roman)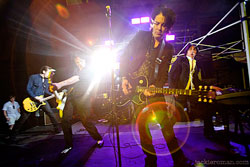 Jim Jones (credit: Jackie Roman)
---
7:30pm: Arrive at Jovita's for BP Fallon's party. Meet up with Jo, SPIN photographer Jackie Roman, and Jim Jones (of Jim Jones Revue). Fallon takes the stage armed with his notebook of lyrics, akin to a loaded weapon. He unleashes a torrent of words backed by Clem Burke providing the beat (which slowly becomes "Gloria", with the crowd singing along). Closes with the bluesy "I Believe in Elvis Presley", the new track produced by Jack White. Leaves the stage with a hearty, "may you come forever!"
9:30pm: Arrive at Austin Music Hall with Jackie to pick up our VIP passes to Motorhead. Both of us flip out when we see Michael Monroe of Hanoi Rocks onstage. We wiggle along to "Malibu Beach Nightmare" and "Dead, Jail, or Rock n' Roll", then head directly backstage. See Bob Gruen again, and Jackie snaps a photo of Michael as soon as he walks offstage. We go upstairs to the artist hospitality area and chat with Steve Conte, while a shirtless and shiny-with-sweat Michael packs up his saxophone.
10pm: Motorhead take the stage! Jackie and I hang upstairs for a bit, then stand side stage for a few shots. Explore the halls and take a couple of pictures posing next to Lemmy's dressing room. I go back upstairs and watch the rest of the show, sitting next to Michael and Sammi Yaffa.
12am: Leave Austin Music Hall and walk six blocks over to The Belmont for the Jim Jones Revue show. These are the guys to see - one of SXSW's most buzzed about bands. Mojo magazine is calling them "the hottest band in Britain right now". They assault the crowd with gutteral boogie woogie. It's one of the loudest shows I've ever seen, I think, noting that I'd just come from Motorhead! After their set, I do a short interview with Jim and guitarist Rupert Orton, who explain their "if it ain't broke, don't fix it" punk rock blues.
2am: Arrive back at hotel and turn in. This is an early night in Austin! Manage to fall asleep after about two hours. This time I make it to bed before the sunrise.
Thursday, March 19, 2010
1pm: It's my last day in Austin. I pack up everything and grab a cab over to Lemmy's hotel. I'm interviewing him in about an hour and need to get charged up. Have a seat at the bar and drink of a couple of Red Bulls while chatting with fellow SXSwers.
2:15pm: Get to Lemmy's room and knock on the door. He answers, wearing his trademark bolo tie, second-skin black jeans, western shirt, and worn cowboy hat. The room is huge - a giant suite with a beautiful view of downtown Austin. We get reacquainted - this is my third time interviewing him, but my first in such an intimate setting. He asks if I'd like a drink, saying he has everything, but adds "as long as it's Jack Daniel's" in his signature gruff. We launch into the interview, stopping to cheers first. I take note of things in the room. There are no fewer than three books around. He's a big reader of mystery and thriller novels. He shows me a couple of gifts he's received from fans. (A watercolor painting in a matte frame, and a voodoo doll, which he thinks is hilarious). He gets a call on his cell, which blasts the "Halloween" theme as it's ringtone. It seems Lemmy follows the same diet as the rest of us in Austin. Tortilla chips, salsa, and pretzels are spread on the bar.
Lemmy
---
For the next hour, we talk about everything from the new Runaways film, to Family Guy, to Motorhead's return to Russia after a decade. I learn more about him this time. With the premiere of the film, Lemmy is the biggest rock star not only in the world, but here at SXSW. He plans to go shopping today, but will be mobbed by fans when he leaves the hotel. We talk about his style and he shows me his different hats, which hang on a rack in the living room area. He switches from his cowboy hat to his WWII cap, which we see in the film. We take a seat on the couch and Lemmy queues up the new Head Cat record, playing air bass and tapping his socked feet along with the beat. We snap a photo out on the balcony, he signs a couple of autographs for friends back home, and we have a hug and kiss. I take the elevator back down, grab my bag, and jump in a cab.
6:30pm: Board my flight back to New York. Try to make up for lost sleep on the plane, but am still too amped from my trip to get much rest. Watch the greenery trade places with concrete and steel as we approach the twinkling electrical grid that is New York City from 10,000 feet. I set my bags down in my apartment just after 1am and congratulate myself on surviving my first SXSW.
Links: