You must have Adobe Flash Player to use this function.
By Sarah L. Myers
New York, USA
---
The Ferocious Few are one of those bands that make you sit up and take notice. With the ability to stop traffic (literally, I saw it on the streets of Austin), their blend of music is what I like to call 'sweetheart rock n' roll' - romantic lyrics with a hard rock edge. I can just see singer Francisco Fernandez penning his lyrics over a lost sweetheart, but then lighting up a smoke and throwing her clothes in the street afterward.
Fernandez and drummer Daniel Aquilar spent their third SXSW busking on street corners, just as they do in their native San Francisco. This time they also had an official showcase at Headhunters. I caught up with Fernandez outside Stubb's BBQ in Austin.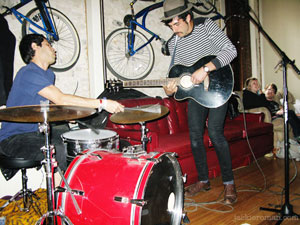 (credit: Jackie Roman)
---
THIRSTY: Who are the Ferocious Few?
Francisco Fernandez: We are a band out of San Francisco, California. We started in Oakland in late 2005. I had a four piece and I broke it down to a two piece. We started playing on Powell Street in San Francisco. We realized that we could make a couple bucks doing it, and we were just making up songs at that time. Then we kept playing on the streets until it just became the way I made my living. Now we are just currently nonstop everyday to get as many people listening to the music as possible in hopes that we will be an international touring entity.
THIRSTY: And this is your third SXSW?
FF: Yes, the first year I didn't have any shows. I just drove down here in my friends car, by myself, and played on the streets the whole way to pay for the trip. And realized that this is a good spot for furthering our music career and just kept doing it. Now it's like a staple in my calendar for me to do.
THIRSTY: What type of music do the Ferocious Few perform?
You must have Adobe Flash Player to use this function.
FF: We play stripped down rockabilly rock n' roll. A lot of songs about love and heartbreak and with lots of energy. I don't know it's a mixture between, people have said it's a mixture between Bob Dylan and Motorhead. Or all kinds of other bands, too.

Juices (2010)
---
THIRSTY: When did you start playing music?
FF: When I was about 20, 21 years old. When I picked up a guitar I realized that's what I was going to concentrate all my energy on, so I wanted to find something that I wanted to spend my time doing.
THIRSTY: Will the Ferocious Few stay in San Francisco or would you like to move to New York, or even Austin, and pursue music there?
FF: Well, I think when you're a professional musician your home is wherever you are. So it doesn't matter. My shit is stored in San Francisco right now.
THIRSTY: You talked about some of your older influences. What else are you listening to right now that influences your sound?
FF: I just listen to old music. Blues, soul, country. All different kinds and genres. I don't know, I listen to anything that... I spend most of my time writing songs and making songs, not so much collecting records and things like that. There's just so many bands (right now) and I'm more displeased than pleased by new music, more every day. I'm rarely moved by new music, any that I see. I sound like a dick saying that but I don't care.
Links: