By Jarrod Dicker
New Brunswick, NJ, USA
Images courtesy of Greg Ginn
---
"Black Flag had at least one ingredient they only made one of and that's Greg Ginn, that's the big deal with that band."
- Henry Rollins (November, 2009)
Greg Ginn is an originator. Single-handedly, although unintentionally, defining the "hardcore" genre with his creation of Black Flag, Ginn ranks with artists' Robert Johnson, Elvis Presley, Johnny Cash, the Beatles, the Grateful Dead, the Ramones & Run DMC (among many others) as a musician who broke down barriers to reveal something new-fangled and revolutionary in an already established music scene. Rolling Stone has listed Greg Ginn in their top 100 guitarists of all time…just so you know.

Greg Ginn
---
Black Flag was a group that believed in active improvisation. While consistently evolving their lineup and music production, spontaneity and inventiveness was their absolute credo. The creation of Black Flag led Ginn to construct SST Records in Los Angeles to exclusively produce the music of Black Flag. Over time, SST began recording and producing outside artists such as Sonic Youth, the Meat Puppets and Dinosaur Jr. to name a few.
Currently recording and touring with two new(er) groups, Jambang, and Greg Ginn and the Taylor Texas Corrugators, Ginn's career has successfully borne out his musical ambitions, playing live and recording in-studio improvisational music.
So how exactly does the father of "hardcore" rock and leader of Black Flag transform into a tie-dye wearing jam guitarist? Well, as he says, it's been this way all along…
THIRSTY: In 1976, you founded and led the group Black Flag. Most recently, you released the album "Connecting" with your group Jambang and "Goof Off Experts" with Greg Ginn and the Taylor Texas Corrugators. Being that the latter genres are completely opposite from "hardcore", how did this musical transition transpire, leading you to focus on a more improvisational "jam" scene?
GREG GINN: I've always done a lot of improvisation. That's essentially how I started playing guitar, seeing groups like the Grateful Dead and different improvisers. So it's always been my source of music. So it's actually not a recent transition for me. If you go back to a lot of the stuff Black Flag was doing, we actually released an instrumental record ("The Process of Weeding Out") in 1985 that was largely improvised. We did a lot of improvisation live as well. It's something that I've always liked to do. Black Flag was the first group I ever played in so it was a learning process on how to play with other people in the context of a band. I've released a lot of instrumental recordings as well, so it's not really new for me. It's just that people hold certain aspects or images of Black Flag and my recent projects could seem out of left field, but for me and my life it's very normal [laughs].
THIRSTY: Let's talk about the Jambang project for a moment. This group incorporates both audio and visual experiences, offering a hybrid of electronic and organic instrumentation. The members of this group are Bobby Bancalari, Steve Delollis, artist Joey Keeton and yourself. How did this recent project materialize?
GG: They are all from the LA area. LA's where I grew up and where I resided since I was a kid. Then I moved to Texas about 5 years ago, but I still spend a lot of time in Long Beach. I had the studio (SST) out there until a year ago. Steve had worked on some recordings with me and I had seen Bobby play locally and really enjoyed his playing. When it came time to put this band together, I got a hold of them. I figured it was kind of a temporary project or the band would eventually not last because I was moving to Texas and moving the studio there as well. The band has gone through some mutations because of the geographical situation, but that was understood from the start.

Poster: Greg Ginn and the Taylor Texas Corrugators
---


THIRSTY: Now that you are involved with a jam band type project, do you have any intentions on touring the circuit, possibly performing at one of the larger festivals?
GG: I would like to. Usually it takes a little bit of time to get into festivals because there are a lot more established groups. I would imagine that we'd play more festivals. We've played a few smaller ones and this year we'll continue to do a few. I like to go to a lot of festivals and see a lot of bands by myself. I enjoy that, so it would be nice to play at them as well. Right now we're playing mostly in clubs. We like to play a lot when we're on tour, and the schedule tends to be pretty densely booked. Instead of just playing a big show here or there, we like to get it going and play every day.
THIRSTY: Your other group, Greg Ginn and the Taylor Texas Corrugators, is this a band that you will continue to create albums and tour with?
GG: Yes, we have a new CD coming out. I'm recording all the time like I said, so I'm never exactly sure what we're going to put out next. Jambang is also going to release a DVD. We put it out that way because part of the routine with Jambang is that we use visuals at the live concerts. We have a visual artist that we work with, Joey Keaton, and he does video for all of our songs. Since we link up with the visuals live, for the next release we decided to do a DVD and put the video on it as well.
THIRSTY: How do you choose between either project at a given time?
GG: Most of the touring we've done so far has been with both groups. We've been playing quite a long time every night and I enjoy that. The Taylor Texas Corrugators is mainly all improvised music where we don't have songs; we just develop the song structures live. I really enjoy playing with the two bands because we could do some off the wall improvisation with the Corrugators and do more big song structures with Jambang.
THIRSTY: Is that the main difference you find between both groups - song structure and improvisation?
GG: Yes. The Taylor Texas Corrugators are all over the map. I've done recordings with a number of different people and just whatever comes out comes out. We are going to start touring in late March with just the Corrugators because we're going to wait a little while to continue Jambang. We're going to do a little more touring with one band or the other because that way we could hook up with more bands (Editor's Note: For the last tour, the Taylor Texas Corrugators opened for Jambang throughout. So Greg Ginn would both open and headline the concerts). When we do it the other way, it doesn't leave a lot of room to either open for other bands or have other bands on the bill. So that's one thing we're looking forward to. Sometimes it's better promotionally if you could hook up with other bands and do that. So this year, we'll do that, maybe one at a time and see what leads from there.

Greg Ginn
---
THIRSTY: Black Flag originated in 1976 in Hermosa Beach, California. This was your baby, your creation and musical mission. Did you know when you began the group that it would be the train leading to a new genre of punk music?
GG: Well, when we put the band together, it was first conceptualized by myself and our first singer Keith Morris. The first time I heard the word "hardcore" was in the early 80's, so I guess it was an innovative route. We didn't think of it in that kind of genre. We were influenced by the Stooges and then the Ramones; they inspired us. Keith and myself saw the Ramones when they first toured LA in 1976. After we saw them, I said if they could do it we could do it. I thought Keith would be a good singer and after seeing the Ramones, it made him think that he doesn't have to be some classical operatic singer [laughs], he could just do his own thing. So it wasn't really "hardcore" when we came up, punk rock was all kinds of different music in '75 and '76. Later on it was narrowly defined by a lot of people. People started putting their own tags on it and that kind of thing. I just thought that with what was going on with rock at that time, we had a lot to add to the spectrum. I felt the band would find an audience if we got it out there, but I didn't define it beyond that. I leave that to other people.
THIRSTY: Critics and reviewers have described your style of guitar playing as avant-garde. Henry Rollins had compared your playing style to a jazz saxophonist rather than other guitarists. Did you ever feel restricted in your playing while in Black Flag? Was your playing ever influenced by the audience present?
GG: No, as far as an audience, I don't really care. I didn't get into playing music to please people necessarily or to give them what they want. I got into music because I thought I had something to offer people. Sometimes what you think they need is not exactly what they think they want to hear at the time. Black Flag in its ten year history played "new" stuff. We were always challenging the audience in that kind of light. It was ten years where there were a lot of things done from the beginning to the end including a lot of changes in personnel. I think as Black Flag went on, I tried to hook up with musicians that were more into playing and improvising and doing that a lot more. I stayed away from people who had a fixed idea of how they wanted to market themselves and their image. A genre, after a while, tends to get kind of stiff and people think it should be this certain kind of music because it has this kind of tag on it kind of thing.

Black Flag: Henry Rollins, Greg Ginn,
Kira Roessler, and Bill Stevenson
---
THIRSTY: In 2003, Black Flag played three reunion shows to benefit cat rescue organizations, a charity of your choosing. Have there been any talks of another reunion with former members of the group?
GG: The idea to reunite in 2003 came from some of the ex-members bothering me for the band to hook up and do something [laughs]. I put it out there that I would do it as a benefit, but it was a lot of work particularly on my part, and there were about 20-25 people that played in Black Flag. Most people can't even name the original members. Everyone has their own idea of the lineup or whatever. It's a lot of different people, some people aren't playing music anymore, some are, some are playing different music, but I don't have any desire to recreate that. I did it for a benefit, but it turned out just to be a lot of work. We did raise a lot of money though, which was great.
THIRSTY: You found SST Records initially to release Black Flag's debut single. From there, you began signing and recording artists like Sonic Youth, Soundgarden, the Meat Puppets, Dinosaur Jr. and more. Do you still carry a relationship with the music you produced in the 80's and the musicians who were a part of the inaugural years of SST?
GG: My musical taste has veered throughout the years. I'm not very nostalgia-oriented; I never go to any band reunion shows. I notice that I don't like very many bands that are over, or about a dozen years old. I tend to like newer bands because, a lot of times, when a bands out for a while, they end up catering to an audience. "I want to see this band the way it was back in the day" is the mentality and that's not really my enjoyment of music. It doesn't come from there. I rather hear someone do something new. In all kinds of music it occurs where people get known for a trademark thing and that's what makes their career work and get easier and finally make money. People like that and I understand that, younger people want to see a band reformed because they weren't born when they were together or that type of thing, That's not something that I'm interested in though, I don't go to see bands like that, and I'm not into performing on an oldies circuit kind of thing.
THIRSTY: What is the current status of SST Records and how involved are you at the moment?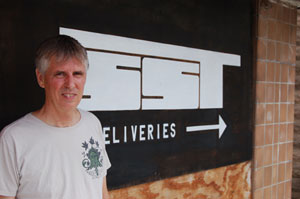 Greg Ginn
---
GG: I'm so busy touring and want to do a lot more touring, so it's difficult. I do a lot of recording and have been releasing quite a bit of music on my own. I'm just putting out my own music that I produce at the moment. At some point, I'm sure I'll want to take on other bands, but right now I pretty much have my hands full getting the touring going. The label started out strictly to release my music and to put out Black Flag records, so there was always an orientation with it. I have put out a lot of other music as well. It could be difficult to do now, all of that at the same time. I'm on tour half of the time, so it's hard to do a lot of other work while I'm busy recording and touring.
THIRSTY: You have, in your career, used a varied selection of guitars from Ampeg and Fender's to an Ibanez. What guitars are you currently using with Jambang and the Taylor Texas Corrugators?
GG: I have used exclusively the same guitar since the early 90's. It's a custom Strat-type I bought from a friend. I just started playing it, liked it a lot and now it's virtually the only thing I play. I play bass too, but probably more people know me as a guitar player. I always played bass as well. I probably spend the same amount of time on both. I've played the same precision bass since the early '90s, even mid '80s as well. I tend to like one instrument. I get used to it and don't have to think too much. I also tend to not change sounds a lot. Sometimes it's cleaner or more distorted, but I don't use any pedals. I try to keep a consistent voice with that, but I do change a going to a cleaner or distorted sound. But I've been using the same overall equipment since the early '90s.
THIRSTY: Even though you are a veteran in the music scene, your musical tastes and preferences lead towards a more modern movement. Where do you see music heading in the upcoming years?
GG: Rock music used to be one thing. There were only so many rock bands in the '60s. Now they're 1,000 times more bands than there were in the '50s and '60s. They're so many bands and there's so much variety too. Rock music has expanded to mean all kinds of things to all kinds of people. It has influences from all forms of music, so much cross-pollination going on. Sometimes it could be difficult to sort through because there is so much music coming out with home recording studios and digital stuff. It has become very inexpensive for people to make high quality recordings, and I think it has changed music a lot. For my own taste, I tend to consider myself post-post-modern [laughs]. In other words, I'm kind of tired of the whole post-modern thing of irony and cleverness. I haven't listened to many rock bands. I mainly like to see rock bands that have an element of improvisation to them.
THIRSTY: What music are you currently listening to?

Greg Ginn (left), Robo (right)
---
GG: Jazz is what I mostly go see live. The 2000's is when I started getting into some of the jam bands and integrating electronic music. Those are bands I've seen many times. I enjoy that a lot and I've been doing a lot of music myself in that area. A lot of it was obscure in the '90s, but now I see there is a lot of people doing that sort of crossover that really gets a lot of elements together. I like a whole lot of the electronic music influences with improvisation. So a lot of those bands I really enjoy right now. I still enjoy jazz, but I've gotten more into rock again in the last six or seven years now that the improvisational element have gotten back into a lot of bands.
Links: