You must have Adobe Flash Player to use this function.
By Michael Lara
Tokyo, Japan
---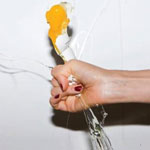 It's Blitz! (2009)
---
Shinagawa Stellar Ball, Tokyo - Saturday January 16th, 2010
"I'm late! I'm late for a very important date! No time to say hello, goodbye. I'm late! I'm late! I'm late!!!" Well over one hundred fifty years since Lewis Carroll penned this enormously influential tall tale and nearly 60 since Walt popularized it, the latest Tim Burton rendition is about to set sail next month (April in Japan) as this mind trip continues to expand within the Yeah Yeah Yeahs wonderland.
With their third voyage named It's Blitz (2009), Karen O. (vocals), Nick Zinner (guitar, keys) and Brian Chase (drums) sagely seize the strong, sustained winds behind their backs as evident this night.
Raising anchor and pulling out harbor at night, the reflective piano droplets of "Runaway" give way to a burgeoning momentum gained in finding welcoming open seas as Captain O. forges ahead with her crew to gather their boundless bounty with a full moon giving a sense of peace as well as confidence of what lies ahead.

(credit: Yuki Yuroyanagi)
---
Gaining speed, cutting through these seas with determination, the dirty slinking crunch of "Phenomena" deliciously details everything is on course with the endless possibilities to be found on the horizon. Meanwhile, with the Mad Hatter and the March Hare on hand in vigilant observance, they savor to the delight of the Queen Of Hearts surging, galloping grog of "Heads Will Roll" as it flows endlessly.
Some wind chops emerge, but the bouncy elastic adaptive "Pin" takes care of any worries in cutting through it all as the ghost of Lux Interior comes out of his locker to assist Brian, Karen and Nick. Sailing through all treachery, the empowering tribal fuzz of "Human Fly" duly puts a smile on his face before he departs back home.
After such a meeting, "Dull Life" slices about in its raucous realization of a rebirth in their cheating death while the chunky meal of "Gold Lion" feeds all crew fully whereas the rum-running "Miles Away" delivers a hearty chaser and more in replenishing all stores. Muscling ahead, the tasty pursuit for booty this night is given nourishment.
Happily moving ahead full-bellied and giddy, the echoing hypnotic "Skeletons" holds Stu Adamson's sweet soul present, gracefully gliding into the reflective swirl "Soft Shock" as conditions become so calm and inviting as confidence grows. The recurrent flexing rise of "Cheated Hearts" leaves all awash in its full ebb and flow whereas the salty wash hits your face and deck to awake you. The throbbing "Zero" keeps speed optimal into the aggressive drilling chime of "Y Control."
Amid the wide-open seas, the tribal "Maps" stretches and echoes your passion for your loot of choice into the bending tasty tug of war "Art War." The final frenzied flexing "Date With A Night" acknowledges land ho lie dead ahead and most certain debauchery in their port of call. Welcoming these three, bottles of choice to open await, ready to breath and to be imbibed at will for their own un-birthday party.
Clearly, if be cast, Alice would naturally be Karen O. for sure, but what about Nick and Brian? Subject to fierce debate here, but I'd go with Nick as the March Hare and Brian as the Mad Hatter. You'll have to ask them yourself if they differ on this call. Regardless, neither should surely be the White Rabbit as they both keep time just fine.
You must have Adobe Flash Player to use this function.
No matter your casting call, do join their continual international happy un-birthday tea party. Guaranteed you will surely see them set sail this way this summer for either FUJI ROCK or SUMMER SONIC.
Take them straight or with milk, but definitely do take them please: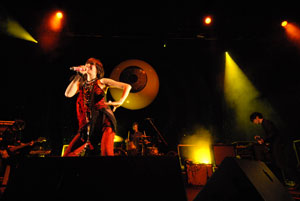 (credit: Yuki Yuroyanagi)
---
YEAH YEAH YEAHS:
yeahyeahyeahs.com
myspace.com/yeahyeahyeahs
universal-music.co.jp/u-pop/artist/yeah_yeah_yeahs/index.html
universal-music.co.jp/u-pop/artist/yeah_yeah_yeahs/news.html
Lewis Carroll:
wikipedia.org/wiki/Lewis_Carroll
FUJI ROCK:
fujirockfestival.com
SUMMER SONIC:
summersonic.com
THE CRAMPS:
wikipedia.org/wiki/The_Cramps