You must have Adobe Flash Player to use this function.
By Sarah L. Myers
New York, USA
---
It's gotten to the point when I don't remember my life before the Legendary Shack Shakers were part of it! Frontman JD Wilkes is a longtime Thirsty friend and supporter, and we've been covering the band since our very first issue in September 2006. Always a great story teller, JD has told us the tale of the Monkey Man on Bottom Road from his successful documentary "Seven Signs" - a profile of the American Southland. We've filmed show after show and been hit with more than a few shots of spit and chest hair from the stage and the crowds pushed against it. It'd been awhile since I'd seen them when I went out to Brooklyn for their show at the beautiful Bell House. I couldn't picture a more perfect setting than this hollow wooden room offset with crystal chandeliers and an elegant, curved bar in the back. One of the first big shows I'd seen with Duane Denison on guitar, I was blown away as usual. I took some time backstage before the show with JD and Duane, and JD's wife Jessica, with whom he formed The Dirt Daubers - a jugband trio straight out of the mountains.
THIRSTY: How long has this tour been going on? This is just a short outing before you finish up the new record, right?
JD: We've only done three or four shows. This is our fourth I guess. So, we're only doing ten altogether. Is that right? And, let's see, it's just a short last little bit of 2009 tour we're doing and then heading home and finishing up the record and tying up the ribbons on the year and we'll be out I think early next year with the new record. "Agridustrial". New management and label and all that. Just clean sweep.
THIRSTY: Since you're going on a new label, are there any other changes to the sound of the band? And you still have a somewhat newer lineup.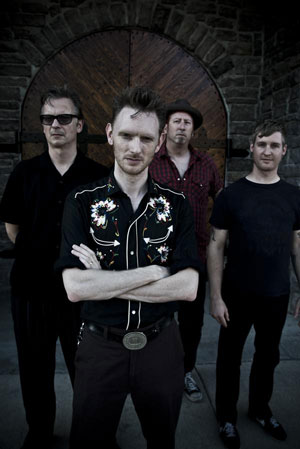 (credit: Joshua Black Wilkins)
---
JD: It's just... the only real new sound is Duane Denison's playing guitar. He's, of course, from the Jesus Lizard and he also plays in Tomahawk and so he's kind of, has his own style and I think it's the first time in a long time we've had a really accomplished musical classically trained guitar player playing with us.
THIRSTY: So most of 2009 you've just been putting the finishing touches on the record?
JD: Yeah, been recording and mixing slowly, tinkering with it and getting it honed in and when we get back from this tour we'll put the finishing touches on it, mix it, master it, do the artwork, have it all loaded and ready to go I think it'll probably come out around March of next year.
THIRSTY: So you'll take a break after then go back out for a longer tour right after the album comes out?
You must have Adobe Flash Player to use this function.
JD: Yeah, probably something like that in March. The end of the year, this is it, this run for us will be it for 2009. Me and Jessica have a side project, Dirt Daubers, and we'll be going out in November and a few dates after that, and we're on Billions too. So it's pretty cool and we get to explore that side of things and more mountain music and old time and jazzy stuff and play different instruments, acoustic stuff. So paddle a little bit on both sides, you know, the canoe theory of life. I enjoy it.
THIRSTY: How did the Dirt Daubers come together?
Jessica: Marriage, I guess!
JD: Marriage, yeah.
Jessica: We just started playing in our living room, and it kind of went from there. We never thought we'd actually do anything with it outside of our house, you know? But it kind of happened that way. JD had the Raindance Film Festival in London called him up about getting "Seven Signs" in the festival and they wanted to fly him over but they wanted him to perform. The Shack Shakers would have been way too much of a hassle so we just decided we were going to go and play the festival.
JD: And they liked the idea because the music kind of suits the theme of the movie.
Jessica: So that was our first gig, that was in London.
THIRSTY: Tell me a little about the subject matter on the upcoming record.
JD: Well, it's the same kind of subject matter as far as the lyrics go but the idea of it is more about the sounds of rural industry and agricultural industry. Kind of like, the original idea of industrial music was, you would take these sounds of implements of work and incorporating them in the music. It's kind of morphed into something else over the years, kind of a dancehall thing. And we wanted to get back to the roots of it with what is industrial music. And if you think about it, early train rhythms like Johnny Cash would play, and even bluegrass. There was the motorized, mechanized sounds of progress and Westward expansion and industry, like these rustic clanking patterns that even the train rhythm...
Duane: Like a combine.
JD: Yeah, like a combine. Those sorts of things. So get back to that idea because no one relaly explored that to my knowledge it was never really explored that much. Industrial music kind of quickly turned into this other sort of thing, this Nine Inch Nails thing...
Duane: This electronic dance thing, that had nothing to do with heavy industry or labor.
You must have Adobe Flash Player to use this function.
JD: Even heavy metal started out as sort of like kids from industrial parts of town where their dads were blue collar workers, you know. Hearing those pile drivers hammering across the town, that influenced the way people wrote music. It's just what happened to America. And since then it's gotten very affluent and kind of turned into sort of a fetish or a clique, and we want to get back to the rustic elements of that style of music and show how it relates to country music and mountain music and just American music.
THIRSTY: So this record will have you guys exploring new sounds as far as instruments? Sampling isn't the word I'm looking for, but you'd used toy pianos and engines and things like that before.
JD: Well, we'd used some of the gas engines and steam engines and trains and train crossings and bells and cowbells and things, we'd used that. It's nothing really new to us but we're just taking it a little further. Duane plays in a style that has, that sounds like that. We finally have a guitar player that can actually bring that about and make it a very engrossing, cinematic experience.
---
"That's the difference between the old punk or the old blues Shack Shakers. All those elements are still in there but we're just making it a little obvious - the cacophonous nature of those sorts of 'agridustrial' sounds."
---
THIRSTY: How can we expect the live show to change with these new sounds of this record?
JD: I think it's gotten tighter, it's gotten more engrossing. it's not so much about tattoos and swagger as much as it is about music and this whole scope of what we're talking about.
Duane: Yeah, you'll see more I think, we play a few of the new ones. And there's still a fair amount of blues and country to it I think. I mean, I play slide guitar on a few things which I don't think they've had in the band. That's a fairly bluesy, country element. But I think once the album comes out you'll see it more. You'll see more of that, where rock is driven more with, I don't want to say... like it's not going to be machine-like necessarily, but have an element of that kind of overtone of like the mechanized kind of thing. But not in an electronic way but in a, shall we say, analog... John Henry kind of way.
THIRSTY: Duane, how is it for you playing with both the Jesus Lizard and the Shack Shakers at the same time?
You must have Adobe Flash Player to use this function.
Duane: At first it was a little odd but I think I've settled in pretty quickly. They're both, you have to be up for it. You can't just, like I watch bands where they literally will sit around on the couch and stretch and go play a set. I can't do that with either band. and I don't think I'd want to be in a band that was like that. No, you're putting on a show, you're gonna play. The Jesus Lizard, the rhythms are a little more I guess stiff and angular and with this there's a little more grease to it because of the blues and country. But at the same time, both of it is very tight and fairly, there's a lot of percussive playing and I'm the only guitar player in both bands so I gotta bring it, you know? There's really no where to hide. There's a little more give, I think, in this band. With this band I play more traditional tones. Reverb, tremelo, slapback, which to me kind of gives you a little more body to the sound so whereas Jesus Lizard was just so distortion so any little glitch was just magnified.
THIRSTY: There's such anticipation with this Jesus Lizard reunion, and both shows in New York City have sold out. Do you feel more pressure playing with them than with the Shack Shakers?
Duane: Well, I felt pressure playing with these guys at first because they're all really good! I mean, it's really good. They've been doing it awhile. People would come to expect a certain thing. So it takes awhile to get into right. People say, 'you seem so much more comfortable now.' Well, I am. It's been over a year. And you know, no matter how good you are, or think you are, it takes awhile to catch up with what they've already been doing. And I've watched them for years and had heard their stuff for years so I felt pressure there, but maybe I don't so much now. Jesus Lizard we felt pressure right away because they were talking about us for ten years and now we're back, but even after a couple of practices we knew, frankly, that it sounded good. And we weren't worried about it. And we thought, we don't have to impress anyone other than ourselves. We're not coming back. We're not trying to ... 'ooh gosh, I hope we get points tonight and maybe the promoter will have us back next time!' No, we don't care. And people I think pick up on that and like that. We just get up there and do it and play our asses off. But yeah, there was definitely pressure to throw down.
THIRSTY: JD, do you have plans to work on other projects? Maybe do another film?
JD: I've already started on a new film. It's a short piece about a local kind of eccentric guy from Western Kentucky who turned his yard into a roadside attraction. Like a hillbilly garden. Lives with a bunch of goats and chickens and a huge family, and does gigantic murals and wants to be kind of a Rout 66 style roadside attraction in Western Kentucky even though he's sort of like, it's filtered though his eccentric way of seeing, of interpreting that. So you know, it's kind of cool. It's something to keep that side of my personality and my desire to be a filmmaker alive.
Links:
Thirsty : July 2008 : "Seven Signs" feature
Thirsty : December 2007 : Interview with Th' Legendary Shack Shakers
Thirsty : October 2006 : Interview with Col. JD Wilkes
myspace.com/legendaryshackshakers
Yep Roc Records - Artist Info