Thirsty continues its ongoing dialogue with Ashley C. Wheater, Artistic Director of Chicago's Joffrey Ballet, and explores the heart and soul of today's trends in ballet, the study of ballet and the future of the Joffrey.
THIRSTY: You were appointed Artistic Director of The Joffrey Ballet in September 2007 and this is your third season. How do you feel about the progress that has been made since you arrived in Chicago?
ASHLEY WHEATER: I feel very good about the progress we've made. I think many things have happened since I took over the company. One of the most significant was moving into our state-of-the-art facility where administration and artistic can function under the same roof. After twelve years of being in separate buildings, blocks apart, we now are better able to communicate with and access each other.
We've also been able to open the Official School of The Joffrey Ballet, something that is very important to me. We've expanded our Exelon Strobel Step Up Program to many more public schools and we've created the Boeing Bridge Program that nurtures talent from across Chicagoland for our pre-professional program.
And, these are just a few of the incredible things that have taken place in the last couple of years.

THIRSTY: The Joffrey's recently completed performance of Othello met with rave reviews. Were you concerned about presenting a full-length story ballet?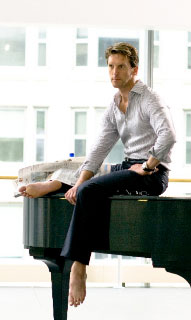 Ashley C. Wheater
Artistic Director, Joffrey Ballet
(credit: Jim Luning Photography)
---

Cinderella
Suzanne Lopez as Cinderella
(credit: Sasha Fornari)
---

Eclectica
(credit: Herbert Migdoll)
---
AW: No, I was not concerned. I would say the majority of people feel more comfortable coming to see a full-length story ballet opposed to a repertory program.
What was exciting for me was seeing the impact that Othello had on the audience as well as the company. It was an extraordinary step for the Joffrey on many levels. Choreography by Lar Lubovitch is extremely demanding and the score by Academy Award-winning Elliot Goldenthal is a challenge for the orchestra, but we succeeded in making Othello everything that I wanted it to be.
For many people in Chicago, it was their first time coming to see the company and I think they were amazed that ballet and dance has the ability to tell such a powerful story and leave them with such an emotional impact. The one thing I've tried to do here at the Joffrey since I took over is to bring a repertoire, be it Othello or any other work, and show people that when a company performs at the highest possible level, it validates the art form.

THIRSTY: After all of your years in San Francisco with the San Francisco Ballet, how would you characterize the audiences in Chicago?
AW: I find the audiences in Chicago extremely knowledgeable on every level. They're able to recognize excellent dancing from mediocrity and since Chicago has such a deep history of music and theater, they are very open to many different ideas.
What I have found amazing about Chicago audiences is that when you do something really well on a continuous level, they become very loyal followers in that they trust one's direction. I've found them incredibly supportive of my vision and the path I want to take the company.

THIRSTY: Your season includes upcoming performances of Robert Joffrey's production of The Nutcracker and Sir Frederick Ashton's Cinderella. Is there a trend in the ballet world to producing more full-length classics versus varied programs of shorter works?
AW: I am very excited to be able to bring our annual production of The Nutcracker back to the Auditorium Theatre in Chicago. Even for people that maybe do not come and see the company in our regular season, they still want to keep the Holiday tradition of seeing The Nutcracker.
I have brought Cinderella back this year for our Winter Program because it was so successful, like Othello has been, and there is a demand to see it again. I also think that in tough economic times people want to know that they are getting something very special when they buy their tickets.
I think in this company having a balance between story ballets and new created work is what our audiences are asking for. I think it would be a mistake to only do full-length story ballets.

THIRSTY: Your summer program for young dancers has received accolades from the students and their parents alike. Do you plan to continue it?
AW: Well, I know our first summer program at our new Academy was incredibly successful. I believe that we have a responsibility to give students that come to the school the best possible training whether it be in classical ballet, modern, character and all the other disciplines of the art form. I have an excellent teaching faculty and we will continue to offer summer intensive programs for different age groups as well as a teachers' seminar because I do believe that what we're offering is a very well-balanced program.

THIRSTY: Will you be taking the company on the road after the Chicago season is over?
AW: This year we have many touring opportunities and just to give you an idea, in August, we collaborated with the Cleveland Orchestra at their summer home, the Blossom Festival. We will also be taking The Nutcracker to St. Louis for a week before we open in Chicago. We have a week in Los Angeles the end of January of 2010 doing Cinderella and then we come to Chicago and perform nine performances in February. In March, we have a tour to West Palm Beach, Sarasota and Miami. Then later in June we tour to the Kennedy Center in Washington. We are fortunate that there is a demand to see the Joffrey.

THIRSTY: What is your biggest dream for the next five years?
AW: My biggest dream for the company is to be able to show that dance is a very beautiful, powerful, intoxicating art form and to have a company that understands the many levels of what it takes to be world-class. I want to have one of the most eclectic repertoires by a wide body of choreographers who understand the basis of their work is to take the language of ballet and use it to its maximum potential. I also would like to start an endowment to protect the company through its longevity so that it may continue to be one of the cultural jewels in the American arts.

Nutcracker - Soldiers
(credit: Herbert Migdoll)

---


Nutcracker - Thomas Nicholas & Megan Quiroz 3
(credit: Herbert Migdoll)

---
Links:
Thirsty : April 2009 : Interview with Ashley Wheater
Thirsty : November 2008 : Interview with Ashley Wheater