You must have Adobe Flash Player to use this function.
NOVEMBER 2009
By: Sarah L. Myers - Editor-In-Chief
New York, USA
---
It's my favorite New York City bar, my favorite New York Dolls song, and now it's my favorite way to get trashed.
If you're reading this column, you're already the type of person who loves the Chelsea Hotel. I wrote about my first visit in October 2006 and called it Down On The Street: A New York City Love Letter, but it was my second visit that spawned a Thirsty editorial Bring Back The Bards - Uproar at the Chelsea Hotel about this cultural landmark on West 23rd Street. My second visit was also a dramatic one, in true Chelsea Hotel style. Its longtime manager, Stanley Bard, has just been ousted, having been displaced by the higher ups with deeper pockets and corporate rules. The residents were outraged. Signs shouting "Bring Back the Bards!" hung from balconies and WANTED posters turned up in the halls - adorned with the faces of the new owners.
Now Bard's legacy is profiled in a new documentary by Chelsea Hotel resident Sam Bassett. I'd seen Bassett's studio before - he has that top floor surrounded by old mobiles, and I can't wait to see what magic he's captured within the walls and within Bard himself. When I met Bard, he walked me through the halls, sharing an anecdote about each room as we passed. The pride he has in his hotel is one of the most pure things I've had the pleasure of witnessing. I know this film will be another. Long live the Chelsea Hotel!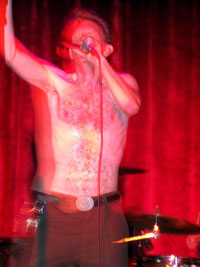 JD Wilkes
---

My good friends Th' Legendary Shack Shakers rolled into Brooklyn last month for a set at the beautiful Bell House. Their new record, "Agridustrial", is still a few months away but from what I hear it's their best yet. (I said that about the last one, too!) I sat down backstage with Colonel JD Wilkes and Duane Denison to discuss the new record and the tour, then headed front row for a serious swing dance session with JD's wife and my best friend Jessica. I've seen the Shack Shakers more times than I can count, and everytime is better than the last. With Duane on board, their sound has matured without losing momentum or changing direction. It's sharp, clean, and drives each song into the ground. Duane will be back in NYC for two sold out dates with another group of legends, The Jesus Lizard. Stay tuned that THAT coverage, as well! Until then, check out The Dirt Daubers - Colonel JD's new band with Jessica and Layne Hendrickson!
Sarah and Trauma Team 666
---
It wouldn't be Halloween without a performance by New York City's most disgusting punk outfit, Trauma Team 666. Kick ass and ridiculous, Trauma's songs have a GWAR/Dead Boys slant to them. It's blood mixed with hate and sharp sarcasm - everything I love! I headed out to Trash Bar with my best friend, fashion designer Jordi Scott to check out the band's set, but never quite made it to the headliners, Murphy's Law. That's the thing about Halloween. You check out early! Before I left I ran into Thirsty friends Joey Lanz and Walt Stack of The Bullys, and shared drinks with the Aqua Teen Hunger Force gang! Only in NYC, kids. Spent the rest of the night on the dancefloor at Lower East Side hotspot 200 Orchard, then scrambling for cabs with the masses on Houston Street. It was one for the record books. Now I'm wondering how we can top this next year. Until next time, Happy Halloween!

The Bowery Riots
---
Other things on my radar this month: "Who Shot Rock n' Roll: A Photographic History" runs at the Brooklyn Museum through January, and features iconic images from such Thirsty friends as Bob Gruen and Roberta Bayley. Divided into six sections, the photos range from backstage candids to some of the most famous shots of all time, like Ian Dickson's 1977 Ramones pic showing Johnny's famous stance before an ecstatic front row... the classic rock n' roll soul of The Bowery Riots. I've got these guys in my sights in a major way and can't wait to feature them in an upcoming issue - stay tuned... and though Halloween may be over, I'm extending the spirit by rocking out with Rob Zombie at Hammerstein Ballroom next month! The last time I saw Rob was when White Zombie opened for the Ramones. I met Joey Ramone that night, my first unforgettable rock n' roll moment. Until next time....

Links: