You must have Adobe Flash Player to use this function.
By Jarrod Dicker
New Brunswick, NJ, USA
---
"[He is] probably the most underestimated musician on the planet and also is probably one of the most advanced."
-Eric Clapton
Times changed since Slowhand made this highly complementary quote regarding the vastly skilled southern slide guitarist Sonny Landreth. He is STILL one of the most advanced guitarists in music today, but he is undoubtedly now trucking way beyond underestimation. Known for his innovative and inventive work with the slide guitar, Sonny fashioned his own method of playing known notoriously within the musician's community as the "right hand technique." He has performed live, and on albums, with John Hiatt, John Mayall, Eric Clapton, Warren Haynes and Buddy Guy among many others. In 2005, he was awarded Instrumentalist of the Year by the Americana Music Association, highlighting his extraordinary presence in classic and modern history. Jarrod Dicker had the chance to speak with the boy from the Bayou in an exclusive Stay Thirsty interview. Without further adieu, here's the boy in blue(s)…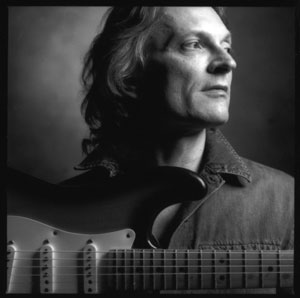 (credit: Sandro)
---
THIRSTY: You were born in Mississippi and ended up moving to Louisiana soon after. Did the environment you were brought up in strongly affect the type of music you eventually produced?
SL: Yes because there's such a strong culture here (Louisiana). The music is a big part of that. It had a great impact with the Cajun and Creole influence. Just a lot of music…lots of different kinds -- real rich backdrop for me to come up listening to.
THIRSTY: On the family side, did your parents have a major influence on you choosing to play the guitar?
SL: Not directly. It was more influenced by my older brother Steve. He was always bringing music into the house. He played trumpet in school and that influenced me to want to play trumpet which I eventually did. Guitar was always a first love though, so it was kind of, once I could get my hands on it that was pretty much it.
THIRSTY: How about major recording artists influence? Were there specific, already established, guitarists whom lit your will to want to play guitar professionally?
SL: I think everyone has them. You see somebody else and you want to do that. Coming from Mississippi, Scotty Moore was my hero early on. When we moved to Louisiana, it started spreading out to others. Eventually I would study as much as I could to try and figure out Chet Atkins finger style approach to guitar. But I had more heroes than I can count in jazz, blues, country and rock & roll.
THIRSTY: And now it's known that you're notorious for your mastery of the slide guitar. Did you form that style experimentally or was it taught to you through known slide artists like Robert Johnson and later, Duane Allman, who were also known for that?
SL: Duane later YES. Earlier one's for me, after getting into Chet, was Mississippi John Hurt's style once I discovered the Delta Blues. And really, Robert Johnson was a kingpin for me…just about all the Delta sliders. I didn't even know what it was at first, and I would read about it and listen to these records and the sound of it really caught on. I think looking back it was the vocal quality that really drew me in. The more I would dive into the vocals, the more one thing would lead to another. As the years went by sure Duane played in my hometown Lafayette, Louisiana, in 1970, and [chuckle] he made me basically go home and TURN IT UP, CRANK IT UP. But I never really had anyone to show me anything in regards to the slide guitar. I think that was probably a good thing. It pushed me to find my own direction.
THIRSTY: In your amateur years, was it a struggle to get into the music scene? Did you spend a lot of time in New Orleans to promote yourself?
SL: I've been in and out of New Orleans my entire life. Music is certainly a big part of that. We also had a lot of places to play around here in Lafayette, it's in the heart of Cajun and Creole country. New Orleans was even more eclectic and more of a melting pot because it goes way back…it was so influential in the very beginning. There is a lot of music in the area. The fact that you can hear all these different styles of music, it opened up my idea and notion about music and definitely broadened the horizons in that regard.
THIRSTY: The specific right hand technique that involves slapping, tapping and picking strings, using all the fingers on your right hand...Was that something that you brewed up by yourself?
SL: I actually came upon that out of frustration wanting to play in a minor key while tuned to a major chord. That's one of the things I learned from the Delta guys; to tune the guitar to open E or open G or open A and you would be in a major key. When I figured that out, that just opened the door. Once I opened up to that, I just started discovering new ideas and new techniques. Honestly I can't say otherwise where it came from. It's pretty strange and unorthodox but I think that's the marvel of it all, in regards to slide guitar per say; the seemingly balanced potential in creativity in terms of sounds and techniques.
THIRSTY: On your From the Reach album in 2008, I read something that you went from a Fender to a Les Paul and switched back and forth throughout. Is there one you prefer over the other? And a reason why you switched on the album?

(credit: Jack Spencer)
---
SL: Well actually they're apples and oranges I love them both. I actually grew up playing Gibson's and more or less switched to the Fender's back in the mid to late 80's when I was working with John Hiatt. When I came into the band working with him, it was on the heels of the Bring the Family album and it pushed me back into using slide guitar. It was a good push for me back then. As far as on the album, I used the Strat on everything pretty much except for on "Way Pass Along" in which I used a 1960 Les Paul that's really incredible and amazing. I always find a spot for it on the projects [chuckle].
THIRSTY: On that album as well, you were able to invite a bunch of very famous guitar friends (Eric Clapton, Robben Ford, Vince Gill, Eric Johnson, Dr John, Mark Knopfler, Jimmy Buffet & Nadirah Shakoor). Was it tough getting all of them into the studio and also agree to the album?
SL: Well I tell you the enthusiasm from everyone was an inspiration in itself. Vince Gill… I couldn't even get the question out of my mouth; he said he'd do it before I finished asking. And everyone was like that. They all had such great energy about wanting to do it. I heard from friends who had done guest albums, you're going to run into a lot of problems with management and all that, but I have to say the whole thing went off without a hitch and really in a timely fashion for everyone involved. I think part of it was the enthusiasm and the sincerity on their part for wanting to take part in this project and that certainly gave me the boost I needed.
THIRSTY: All the different guys that were on it Clapton, Gill, Knopfler all had different styles of playing. Was that done on purpose to try to diversify the album, making it more ambiguous to amplify an audience?
SL: The only thing I ever want...it's always about finding the soul of the song. To be honest, that's always an adventure for me. I'm never sure where that's going to take me in the terms of the song writing, but the one thing that was different this time around was to write these songs for the guests specifically, and I've never done anything like that. That definitely took me places I would have never gone otherwise. And the fact that I was so intimately aware of their styles and playing because I'm a huge fan of each and every one of them, and in the case of Eric Clapton, he's one of my original guitar heroes from way back in the '60s, so that gave me an edge to write these songs knowing at least in some extent what would make it a real comfortable shift for them. I think that helped them step into their space in a way that it was not just a gratuitous filler in the songs, but more of a chemistry and collaboration involved in that regard.
THIRSTY: Some artists prefer to do studio work and some prefer to do live. I actually have seen a bunch of footage with you live, but specifically in both Eric Clapton Crossroad festivals in Chicago. Is that something that you immediately jump on? Playing in front of huge stadium-size audiences?
SL: Well...yes ESPECIALLY for him. It's a really great cause and he's done an amazing job being so involved with it and helping so many people. We've done both of them. It's an honor to do it, and yea it's a real exciting thing to be able to get the chance work with your heroes. In some cases I play on their projects in the studio or sat in with them or played with them live then the next step is when you actually get to be friends, it takes it to another level. So I was really excited to have the opportunity to do Crossroads.
THIRSTY: Being from an area near New Orleans, you've produced two or three albums post hurricane Katrina. How did that tragedy affect you and the stylistic approach to your albums?
SL: I think anything that's that monumental affects everyone. For me it was a matter of taking that, and seeing what good you could do with it. The first time I went back into the city it was devastating. At the same time there was something really special happening with all of my friends who immediately began to rebuild and bond together. New Orleans is a community first, and that really moves me, how they all toughed it out together. A lot of the musicians and artists came up to stay with us in Lafayette for a time and it was a great give and take. An exchange with the artists from here and from there, we had some really unique and special things happen.
THIRSTY: Currently you've been touring with Jimmy Buffet. How did that relationship come about?
SL: I met Jimmy at the Jazz Fest years ago backstage. Probably the first time, one of the early times, was when we worked with John Hiatt. I bumped into him here and there. One year at Jazz Fest he came on stage and sat on the side of the stage and when we got done playing he invited me to play on his new album at the time. That started our relationship working together. It's great to go out and do shows with him. Didn't have much time this year because we were so booked up but I'm playing on a track on his new project.
THIRSTY: How did it feel to be the AMA Performer of the Year in 2005? Is that something you were surprised to receive?
SL: I would always be surprised [laughter]. It's great to get awards and to be acknowledged for your work but there are so many great musicians that you're humbled at the same time. When you think about it in terms of the Grammy's, the groups that get recognized, and there a lot that don't… It's great that it happens but if it doesn't you just rock on. Sure, you always like being acknowledged. I think it's pretty cool.
THIRSTY: Sonny's Krewe is a notorious group that follows you all around the world at your live events. Can you tell me something about that entourage?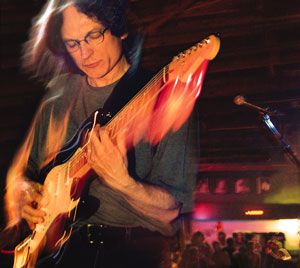 SL: Are they notorious?!? I didn't realize that! [Haha] The beautiful thing about that is it was all their idea. It started with a very small group of people that would come on out to our shows. We got to know them. After a show in New Orleans one year they got the idea to form, in true New Orleans style, a Mardi Gras Krewe version, and approached me on the idea of something to sell. More than merchandise, we take all the proceeds from the t-shirts, and the caps and all that kind of stuff and it all goes to a fund I've been involved with for over ten years now. And they network across the country. They're membership has grown and they have their affiliates all over, it's truly amazing. It's really cool and they do this on their own volition and their own time and expense. They help raise a lot of money for the Dr Tommy Comeaux Memorial Fund.
THIRSTY: Are there any exclusively specific memorable moments with people that you've performed with either live or in the studio?
SL: That's sort of a tough question to answer because there have been so many moments. Truthfully those moments are the real stuff, that's what really keeps me motivated, the unexpected twists and turns that come about. It really stands out. I used to work with Junior Wells on several of his last albums and we got to be friends. I love Junior Wells, him and Buddy Guy, they've been my heroes for many years. Junior is a real character. We'd be in the studio and the producer would say "Why don't you guys just go into the studio and play acoustic." So we just went out there and we commenced to playing with no preconceived notion. He didn't tell me what sort of songs to play. We just sort of launched into a rhythm and he would come into old songs he'd played and made up new lines and so forth. When we got through, he turned to me and said, "You made me feel something I haven't felt in a really long, LONG time." I said, whoa, that was worth it for me, just for that. I remember what he meant because he'd been making albums and it's really hard, even when you're a legend, they're no guarantees certainly. So for his roots, back with the Deltas and Chicago and the early days, there was a kind of soul to that music that we're still so much a part of and we made some of that resonate in the studio for a small time.
THIRSTY: Is there anyone out there now that you would love to collaborate on stage with?
SL: Yea. I would love to work with Jeff Beck…Me and everyone else of course! [chuckle] But I think him mostly because of what he's done with the electric guitar and what he's accomplished and his vision of the electric guitar. He's one I'd really like to work with. There would be...you never know, maybe some day, I'm hoping. There are also others, friends of mine that I still haven't done certain types of projects with. I look forward to everything; I don't want to miss out on anything. It's not easy to stretch yourself beyond measure but I love it.
THIRSTY: Where is Sonny Landreth going? More albums? More collaborations? Is anything going to stop or does the train keep going?
SL: The train will keep going until somebody MAKES me stop, all of the above. I look forward to everything. I'm always looking ahead, always working on a new album and a new project. It's about considering different types of projects, you know, you have to be open. If you learn to be open these opportunities seem to show themselves. I look forward to all of it. We do a lot of live shows and will be working on a new album soon here. The other cool thing that's happening is my catalog; the masters are reverting to me from the last label deal I had. Levee Town is the first one to come back home. It was originally released by Sugar Hill in 2000, and we mastered it and added bonus tracks. The next one to come back will be The Road We're On and two years after that will be the live album Grand Street. I'm really happy about that. I wish we could have done this years ago, but that's just sort of how it all unfolded.
THIRSTY: I really enjoyed our conversation…Psyched for all your upcoming work.
SL: Yea man absolutely. I appreciate it, you take care.
Links: