By Michael Lara
Tokyo, Japan
---
"I uhhwaa ohhhhh! Coming down the mountain! One of many children… Everybody held their own opinion… Everybody held their own opinion… Holding it back, it hurts so bad, jumping out of my flesh and I say… Ahhhh… Cash in!"

"Fireweed" - Patrick Watson
---
Over 20 years since this epic JANE'S ADDICTION call to arms and over 30 years since its triumphant 1976 Summer Olympic games, the colorfully vibrant city of Montreal has emerged as one of the finest homes to artisans of all kinds. And why? Well, the factors are aplenty for this beloved metropolis that some would say is the Istanbul of North America in its uncompromising encompassment of both North American and European cultures. Being the 2nd largest French-speaking city in the world, a most unique environment has been shaped since its foundation in 1642.
With its official motto "Concordia Salus" meaning "well-being through harmony," Montreal has a most intriguing yet little known connection with its sister city Hiroshima and the entire nation of Japan whose own historical stress on the importance of harmony is legendary worldwide.
Acting as not only music ambassadors, but as one of Montreal and Canada, PATRICK WATSON proudly carried and delivered its Coat of Arms into Tokyo this past summer at Creativeman's massive 10th Anniversary SUMMER SONIC FESTIVAL. While compatriots MARIE-PIERRE ARTHUR and ALEXANDRE DÉSILETS were absent from this international festival, inclusion in 2010's edition along with its mountainous-based FUJI ROCK elder sibling wouldn't be a surprise as all three delightfully dispense their own opinions to give treats in full. No matter your season, nor city, their collective confectionaries are musts to put in your trick or treat bag. During this seasonal time of harvest, this is apt music for one's especially rigorous day come Halloween, from dawn to dusk and hence forward.
Halloween itself is of course annually replete in both excitement and apprehension for all participants in what is to unfurl later with the daunting multiple challenges of what to buy, what to make, what to wear, where to go, with who and so forth. Fittingly, these three from Montreal provide a bountiful backdrop to ensure you are all sorted in preparations, operations and recovery analysis from Marie-Pierre to Patrick to Alexandre.
MARIE-PIERRE ARTHUR - Marie-Pierre Arthur (2009)
As the sun rises and one struggles to get out of bed, Marie-Pierre Arthur (vocals, bass, guitar, piano) alongside François Lafontaine (piano, harmonium, acoustic guitar, backing vocals), Louis-Jean Cormier (guitars, lap steel, banjo, bass, backing vocals), Olivier Langevin (electric guitar, lap steel, backing vocals), Robbie Kuster (drums, percussion, backing vocals and Guido del Fabbro and Mélanie Auclair (cordes) provide an clear catalyst to start again and charge fully through the day as 11 tracks fuel you in your exploratory preparations for a most wondrous night ahead.
"Déposer les armes" is just the alarm clock you want to awake to with its shimmering swirling keys repeating lightly over and over ever so gently, but still strongly as Marie-Pierre's angelic voice floating above it all as it builds mightily with you up and into that shower, bright-eyed and motivated. Turning off the water and looking at your to-do list and clothes to wear, "Elle" briskly walks you through those decisions as you sip your coffee or tea with a noticeable slight, yet bright smile effortlessly covers your face as you peruse over your enticing to do list.
Walking out that door and relishing your surroundings, "Droit devant" wondrously baths in its ode to discovery. Catching your eye on a side street, the peeking minimalist stroll "Ma tête à off" gives you direction to a shop for costume assistance. The sheer jubilation of grand finds becomes evident in the happy bounce of "Pourquoi," giving you momentum and more creative ideas. Stopping at a café to admire your purchase and emerging creative enthusiasm, the slow lap steel western sway of "Tout ca pour ca" importantly calms in helping further organize your thoughts as this day unfurls effortlessly.
You must have Adobe Flash Player to use this function.
Getting up and taking it to the streets once again, the tight, hypnotic jaunt of "Qui sait" acts as your next navigator as your curiosity grows and then something just hits you full. Reawakening your past "Sans mémoire" spins round and round, causing your eyes to look within and without you as they concurrently explode in intensity while "Entre nous" gently brings you back to the now.
Composed, "Le vent m'appelle par mon prénom" mysteriously guides you to your flat another way as you come down a different side street in ensuring you don't miss another opportunity to accessorize appropriately. You are not let down as you find the shop "Pas le courage" while it hypnotically draws you in. As you slowly walk throughout its wonderland landscape, you find that last vital item for your ensemble. Warmly assisting, you at last make your way back as your excitement amounts with all you have in your bags to make this night just like heaven.
Opening your door, the phone rings and after chatting with your dear friend, you realize dusk is fast approaching and the need to strategize and execute your final dress and cosmetic ingredients and arrangements, a rising swirl flows through your mind, body and soul as you find yourself so alive.
PATRICK WATSON - Wooden Arms (2009)
Moving into the ever so critical strategic pre-op and operations applications, your faithful cinematic sonic doctors Patrick Watson (vocals, piano, organ, memotron), Simon Angell (banjo, guitars, pedal steel, charango), Mishka Stein (bass), Robbie Kuster (drums, percussion, marimbas) with additional laboratory assistants become the glue to your growing creation that ultimately demands that you reprise Colin Clive's famed Frankenstein line, "It's alive… It's alive! Alive!" And now it's you.
"Fireweed" hauntingly commences operations as a dreamy acoustic fog overcomes you as your pour yourself a glass of wine to steady your nerves as you swear you've seen something strange out your window. Pondering upon the infinite choices in directions to go and savoring each sip on your lips and tongue before this nourishment trickles down your throat in helping your creativity channel, "Tracy's Waters" multiple eclectic concoctions have your at-home laboratory in seeing what collaborates best. With a regional injection from the suggested and sprawling "Beijing" opens up an even wider spectrum of possibilities that both make you neurotic, yet at the same time pleasingly mad as your transformation into such a scientist is pure liberation.
With such an intense feverish pace of activity, you and your assistants, take a much needed break alongside with the Green Fairy, better known as absinthe, as "Wooden Arms" is clearly its twin brother. The pure boundless mind-opening effervescence of this session finds a peaceful come down in the misty string-field "Hommage" that slides into the slow circus organ march of "Traveling Salesman" that opens up brilliantly, awakening you to get back to work.
Splashing cold water onto your face, rolling up your sleeves, the running acoustic banjo-fed "Big Bird In A Small Cage" has you finalizing adjustments to your beautiful creation. "Down At The Beach" crisply reflects the numerous ingredients interplaying as it all comes together as there simply is no time to chat as dusk is fast approaching and humility spins up and down scales throughout "Man Like You" in discussions with your doctors.
The final touches come together in "Where The Wild Things Are" as the both clothes and costumes take shape on your frame as the piano tick-tocks with darkness about to fall. Voila! Your confidence in creation reaches fruition and solidifies in "Machinery Of The Heavens" with everything in place, perfectly fitting and make-up spot on. As you are now ready to leave your lavish laboratory, Watson sagely, emphatically and elementarily states, "You got to get out!" Indeed, this world awaits you.
ALEXANDRE DÉSILETS - Escalader l'ivresse (2008)
Opening your door, you feel crisp autumn air while a slight breeze pushes the seasonal aroma to comfortably embrace for a most momentous night ahead: Your friends Alexandre Désilets (vocals, percussions), Jean Massicotte (beats, guitars, bass, synthesizer, piano, organ), Serge Nakauchi Pelletier (guitars, bass, beats, claviers), Robbie Kuster (drums), Joseph Perrault (drums), Jean-Philippe Goncalves (drums), Jérôme Hébert (acoustic guitar), Akido (textures) and others await your arrival to their lavish Halloween music and film festival costume party.
As you march to the rising nocturnal adventurer "Trafic Aérien," the distance to their Victorian seems far as alone you swirl in its rise and fall of what is to come in your deep anticipation. Leading you to the long dimly lantern lit road to the steady bounce of "Monalisa" which gives you a final crescendo push so you can now see the storied 19th century mansion.
Eerily, the leaves rustle and cross your path as you approach the Jack-O-Lantern lit way to their front door. Grappling the heavy copper door knocks, you give it a good 1-2-3 while you can hear their slithering slider "Mission Apollo." After nothing, a reprise of yours brings an answer as the heavy wooden creaks open as the volume becomes and a Riff-Raff dressed man ushers you in. Their house impeccably outfitted and all participants in full fancy dress mode, true identities are hard to decipher. Seeing the dry-iced filled punch bowl, liquid refreshment and enlightenment is near while Alexandre and his collaborators enter into their sparse, yet rich long breath of eternal life that is "J'échoue." They allow you the chance to marvelously mingle with a hearty diverse conglomeration in humanity amongst it all.
You must have Adobe Flash Player to use this function.
Deciding to step outside on the veranda, fresh flavorful air filters into your lungs as they play "Aléatoire," feeling it powerfully penetrate richly into your head as its hypnotic beat subconsciously reverberates. You begin to wonder what exactly was in that ever so savory punch you had a few glasses of moments ago with one still in hand. A rubbish worry you come to conclude as a bright moon emerges behind the clouds to greet you and those others on the veranda just as the somewhat Spanish guitar-flavored "L'éphémère" provides the perfect backdrop to the clear expansion of your universe as it builds in strength and vitality, requesting reentry into the main floor where Alexandre and others give a knowing warm, yet mischievous smile to your delight as it echoes in its finish.
"I Cry" follows in its breaks into beats of yearning surrealism that makes you revisit the punch bowl while conversing with a vivid colorful assortment reflective of the collective artisans graciously hosting as you feel the zenith is coming as you reconvene with the fine company previously met on the veranda. As the acoustic guitar jangles about in "Escalader L'ivresse," the timing could be no better as you both savor each other, the music, décor, company and more and the clear mutually appreciative biorhythms shared between reflective in their finale. Culminating in a shimmering resonant beauty, you wave a warm goodbye for now to Alexandre and company as the two of you walk past those still alit Jack-O-Lanterns and both happily and hazily hum along to that pumping finish that confirms that this was a day in a life to remember and one cashed in.
With such a rich triumvirate of talents and far more in all regards, Montreal is a city full of people whom beckon an unhurried visit. Of course, if unable, you can always bring the mountain to you.
Helpful tools for your ascent of or descent from Montreal :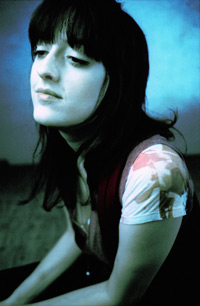 Marie-Pierre Arthur
Marie-Pierre Arthur:
myspace.com/mariepierrearthur
mariepierrearthur.com
bonsoundrecords.com
Patrick Watson:
myspace.com/patrickwatson
patrickwatson.net
secretcityrecords.com
Alexandre Désilets:
myspace.com/alexandredesilets
alexandredesilets.com
maisonettemusic.com
Montreal:
ville.montreal.qc.ca/
tourisme-montreal.org/
en.wikipedia.org/wiki/Montreal
Halloween:
en.wikipedia.org/wiki/Halloween_around_the_world
Creativeman Productions/SUMMER SONIC:
creativeman.co.jp
summersonic.com
Smash/ FUJI ROCK
smash-jpn.com
fujirockfestival.com
Absinthe
en.wikipedia.org/wiki/Absinthe