You must have Adobe Flash Player to use this function.
By Kevin English
Scotch Plains, NJ, USA
---
Writhing around the filthy stage like a man possessed, lead singer Keenan "Hot Pants" Mitchell of Bottle Up & Go stole the show at this year's CMJ Music Marathon and Film Festival. I'd heard whispers of these derelicts from other artists and music industry execs, but hadn't quite bought into the hype until I experienced them for myself.
A few hours before the late October show, I literally bumped into one third of the band at an open bar on Bowery in New York City. We shouted introductions at each other as a large group of unrelated indie musicians played Rock Band over the venue's shitty sound system.
Keenan Mitchell (credit: Roger Kisby)
---
THIRSTY: What are you drinking?
Keenan: I don't know. What are you doing here?
THIRSTY: Came to grab couple of cocktails and interview a few bands.
Keenan: Oh yeah? I'm in a band. Interview me.
The festivities that night included a set of dusty old vendor tables, a crowded massage station, and a make shift hair salon at the back of the artist lounge. Our timely interview began right before Keenan emerged from the barber's chair with a complimentary hairdo.
Keenan: You like my hair?
You must have Adobe Flash Player to use this function.
THIRSTY: Yeah…you look like Eazy-E.
Keenan: Right on. Wait, what?
THIRSTY: The rapper from NWA? He had a Jheri Curl.
Keenan: Oh ok. Yeah...I told them I wanted to look as sleazy as possible. More than I usually do.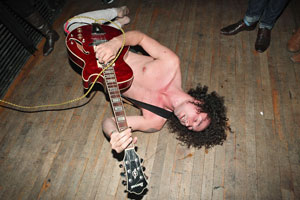 Keenan Mitchell (credit: Roger Kisby)
---
I'd listened to a few of their new records recently, but the band's slight obsession with death, bones, and taxidermy made me a little uncomfortable, so I kept my distance as we continued to make small talk.
THIRSTY: So what have you been doing with yourself?
Keenan: Selling real estate.
THIRSTY: Selling real estate with a Jheri Curl?
Keenan: Yeah. It's not going too well.
The band's front man/guitarist admits that he'd prefer to loaf around the city, carrying his Wesleyan degree in his "important" pocket, playing enough shows to pay for food, unmentionables and his $300 a month rent payment. Keenan's band is currently living out of drummer Fareed Sajan's bargain basement in Buswick, Brooklyn with saxophonists, Lucas and his twin brother Andrew Carrico (alto and tenor respectively).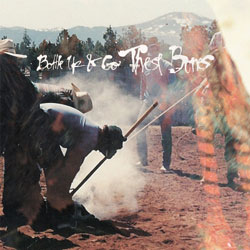 These Bones - Bottle Up & Go
---
THIRSTY: What does a $300 apartment in New York look like?
Keenan: Just picture the worst imaginable place in the world.
THIRSTY: I'll take your word for it.
I can appreciate their humble existence and perhaps even their skinny-jeaned public persona, but what impressed me the most about BU&G was their passion and pension for music. They started out as a Leadbelly cover band at the Art School Pop Music Conservatory in Connecticut, but soon discovered a demand for their own original material.
According to his bio, "Keenan writes lyrics that mix the language of the bible with the spirit of ancient blues hollers, western iconography, murder ballads, drunken dreams, morning tremors, hospital visits, and jail time". I'm not sure what else to call it but brilliant.
The bare-chested, shoeless demon from Oregon performed four hours later, as if it was his last faithful moment on earth. I watched their entire set with squinted eyes and an open mouth, as their gritty sound -- a combination of blues, psychedelic garage band punk and rock n roll-- engulfed everyone within shouting distance.
Their latest record, "Rather Be Dead", features percussion heavy, driving rhythms and this catchy, self hating chorus:
I don't want any more last chances
I don't need anybody saving dances
I hope that nobody comes near this side
I'm going to die tonight.
The pain behind each riff, drum pattern and horn solo subtly transforms this sing-a-long into a crowd favorite. BU&G has a quite a knack for sharing their common struggles without being preachy. Judging by the eyes of their zombie like following, I'd say that BU&G is a band more of us should watch out for in 2010.
"Rather Be Dead" is a preview from Bottle Up & Go's forthcoming full length album, due for a winter release.
Links: