You must have Adobe Flash Player to use this function.
By: Sarah L. Myers
New York, USA
---
Black Diamond Heavies are simply one of the best live acts I've seen. John Wesley Myers has a voice like Tom Waits gargling glass, and Van Campbell's drum skills rival Phil Rudd's. The Heavies were picked to open for Nick Cave and the Bad Seeds last year, and just appeared with the Horrors for another night in New York City. When I met them, they just finished their set opening for "The Big Lebowski" at the film's festival- the crowd of bathrobe-wearing, White Russian-sipping Dudes were wiggling in their seats. Two whiskeys in, I remember why stomping Southern rock n' roll is my favorite sound in the world.
THIRSTY: Can I ask you about the tour with the Horrors? How did that come about?
John: Yeah, that's just something that was offered to us. At the time we were not really privy to their music but, you know, I think it's going to be a good tour. It's just one of those things that somebody offers. I think they'll bring a bunch of people because they're really popular. I'm sure they're great. People have told me they're a really good band.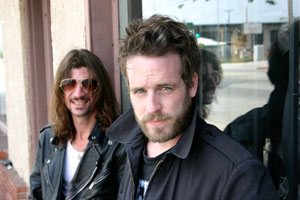 John Wesley Myers and Van Campbell
(credit: Patrick Boissel)
---
THIRSTY: Is there anybody that you're really wanting to work with?
John: AC/DC.
THIRSTY: And you cover "Long Way to the Top".
John: Yeah, we do that sometimes. When it's appropriate.
THIRSTY: Yeah, I was sad you didn't do it tonight but I'm glad you opened with "Nutbush", although I wasn't dancing yet so I was kind of sad.
John: Yeah, and Tina Turner we'd love to work with. The Black Keys have kind of stolen our thunder a few times like, we talked at one point about doing a Kimbrough cover record, and low and behold the Black Keys did it. Junior Kimbrough cover record. And then the Black Keys do like the last recordings with Ike Turner that he ever does. They're good guys though.
THIRSTY: And what about working with Nick Cave?
John: We'd love to. Hopefully, I think the shows went really well and we're a very easy band to have opening. We don't require a lot of time or anything.
THIRSTY: What other dates do you have coming up around the world?
John: We've got Australia. The next time we go to Australia we're going to do Tasmania and New Zealand as well. And every time we go to Europe we try to move a little farther East and hit Moscow and China's opening up.
THIRSTY: There seems to be a big appreciation in Europe and Eastern Europe for really dirty southern rock n' roll bands. I think that's really interesting. What are your thoughts on that?
Van: I think what it is, I mean it's something that we've thought about a lot because we had an immediate response in Europe, and people just connected with the music in a way they didn't in the States. And I think it's part of the same story with the (Legendary) Shack Shakers, if you're doing anything that's roots oriented I think people in Europe just have a greater sense of history, or at least a longer sense of history. It's more real to them so they identify with, you know, not only with a kind of music that's authentically American but it's also like you're drawing upon, you know, there's historical references in the music and I think they relate to that because they have a greater sense of history. That's my theory.

Van Campbell and John Wesley Myers
(credit: Patrick Boissel)
---
John: I've learned more from Europeans about American music history than I ever knew over here. We go over to Germany and France and people like play shit for us, from America, that we've never even heard of!
Van: Even beyond, trying to go further out it's almost like we try to go further in to the interior of America to try to play more out of the way places. Smaller towns. It's almost like the same thing to us, but by going to further in you're going further out from pop culture and you're sort of - we played a show in Leed, in the Black Hills of South Dakota or in New Mexico and it's like being in another country, because not a lot of bands go through there. I mean, just in terms of the response you get from people, which, that's kind of what it's all about. That's something we really try to do. We've always done that.
THIRSTY: When you go through those small towns, who is your audience? Who do you see?
John: Everybody. It's every class of people. Every color. It's pretty awesome. They really like bands and are just really appreciative. We'll play a show to somebody in there with their grandpa, especially in small towns. It's great for us! We really enjoy it.
THIRSTY: Van, do you still live in Kentucky?
Van: Yeah, I mean I've lived all over but I moved back to Louisville. Louisville's a very skinny, seemy town. It's a little bit tough to get settled there. We just played a show in Frankfurt, Kentucky, which nobody plays there but we found this little place. It was great. A little Louisville audience. Not that we have anything against Louisville but it was good to get off the beaten path. I mean, hipster is good but eventually that becomes your bread and butter or whatever.
John: Hipsters buy records!

Links: