You must have Adobe Flash Player to use this function.
SEPTEMBER 2009
By: Sarah L. Myers - Editor-In-Chief
New York, USA
---
It's my favorite New York City bar, my favorite New York Dolls song, and now it's my favorite way to get trashed.
Best Of: The Trashiest of the past 3 years
You've read the interviews and seen the pictures, but do you know the story? In my three years as Editor-in-Chief, I've met my heroes - the best of the best. Blixa Bargeld, Nick Cave, Joe Coleman, Legs McNeil, Mickey Leigh, Lemmy, and on and on. I want you to know what I was thinking when I posed for that picture, crossed that velvet rope, or accepted that ominous drink.
Behind every one of these interviews is a story. In each of these pictures you see a tiny glimpse of why I live a Thirsty life. I do it because I don't remember how not to. I met Ryan Licht Sang in March 2004. Ryan saw the world through a different set of eyes. Through him I learned more about the person I already was. I've always thought that anyone who never knew him was cheated. Ryan taught me to Stay Thirsty, and all I want is for the rest of the world to live that life.
It's been fun remembering these moments. I hope my rock n' roll memories inspire you to go out and create your own. Stay Thirsty!
Sarah and Lemmy
---
Lemmy Kilmister
July 2007, Chicago

Lemmy was touring with the Head Cat, his rockabilly side project with Danny Harvey and Slim Jim from Stray Cats. I got to the Double Door early and hung at the bar. Wasn't long before the man rolled in - second skin black jeans, creepers, bolo tie, unbuttoned Western shirt, and trademark pirate hat. I had one thought. "LEMMY." Like no other words existed in my brain. Lem played video poker during our chat, and we shared Jack and Cokes and Marlboro Reds. (This girl steadied herself on the bar after that smoke!) After the show I hit the dressing room. Lemmy was shirtless, sweaty, and looking exactly like the rock god he is. Slim Jim was taking his makeup off. I had another thought. "I have been initiated!"
Mickey and Sarah
---
Mickey Leigh
June 2007, New York City
I felt so privileged when Mickey invited me over to Joey Ramone's apartment for our interview. I tried my best to play it cool (I always do), but couldn't help saying "that's the couch from the solo album! He was sitting right there!" I noticed everything - the framed 1960s posters of the Stones, the Doors, and Joey's beloved Who. I took note of the pattern on the bedspread and the JAWS cookie jar (it played the theme when opened). I imagined what it would have been like to interview Joey here, my dream since I was 12. It made me love him and miss him more.
Blixa Bargeld
September 2007, San Francisco
Blixa Bargeld and Sarah
---
We'd been trying to get Blixa for more than a year when the email came in from his assistant. He was finally available and back in the States, having wrapped up a number of European appearances. I booked a flight to San Francisco, biting my nails and researching everything I already knew about the most influential figure in Ryan's musical life. I wanted to ask him everything, but struggled with questions, somehow finding it hard to piece the words together. All I had were sounds and images - the "Z.N.S" video, his duet with Nick Cave "The Weeping Song", that unbridled, feral scream. Blixa chose an organic tea restaurant for our two-hour interview in the Mission District. I arrived very early and chose a table outside. I wanted to see him arrive. With each step he took to cross the street, wearing a three-piece black suit buttoned to the neck and a stack of magazines under his arm, I became more nervous. Blixa ordered a pot of wild mushroom tea, and took great care in pouring some out into my cup. It was such a kind gesture and after just a few minutes I was comfortable. Everything about that day stays with me. His elegance and humor, not to mention the sheer scope of his vision, reminded me why Ryan admired him so much. Blixa offered to take a photo with me before I even asked, and signed my Neubauten book I'd brought along for the interview. I dropped my journalistic front and broke into the biggest smile I'd worn in years. Everything I wanted for Thirsty and Ryan's legacy happened that day. And it became the beginning of so many more aspirations.
Crispin Glover
December 2006, Chicago
This was a weird one! Chicago writer Andy Lyman and I got to the hotel early to join the press squad - Crispin was promoting the first installment of his "What is It?" trilogy. We originally were told we had 10 minutes, which Andy (being a huge fan) stretched into 30. Crispin also has a very exact, pointed way of talking that transforms a single word into a sentence. The highlight was definitely a hilarious live reading of "Rat Catching", and the way Crispin pushed his water glass around the table into a strange constellation.
Henry Rollins
November 2007
"Sarah? This is Henry Rollins calling you incredibly late." One of the best conversations I've ever had, interview or not. Henry is so insightful and hilarious. I could listen to him tell stories all day. More than a year later, Henry came to Chicago for a spoken word appearance. He remembered me and gave me passes to the show and a VIP pass to come backstage. (Literally, behind the curtain. No dressing room needed.) His tour manager said they rarely give me them out. Henry spent time with two special fans before we exchanged hellos. Brief, but very cool. Just like onstage, Henry goes a mile a minute!
Sarah and Joe Coleman
---
Joe Coleman
March, 2008, Brooklyn, New York

Joe was our first big interview from the very start. He is a true genius and was Ryan's favorite artist. We'd spoken over the phone and I'd attended his exhibit wrap party in Brooklyn in 2006 (where I drank whiskey with Hank III), but Joe and his beautiful wife Whitney invited me over to their house for the next interview. I remember feeling absorbed as soon as I walked through the door. I was swaddled by darkness, velvet, draping, and greeted by wax figures of FIdel Castro and OJ Simpson. The "Odditorium", as their home is known, is a museum of all things mysterious, odd, and macabre. Medical specimens, shrunken heads, serial killer art and letters, and more little toys and figurines than I could take in. (A giant sting ray is attached to the bathroom ceiling - what a surprise seeing that over your head!) After a few hours with Joe and Whitney, I knew the outside world wouldn't look the same. Joe also gave me one of the greatest gifts I've ever received - a sketch of myself, red cowboy boots and all, posed on the loveseat.
Jimmy Webb
June 2007, New York City

Trash and Vaudeville is my idea of heaven. Sacred ground. So many famous feet graced that iron staircase. I'd first seen Jimmy on MTV a long time ago, some blurb about punk fashion. I loved his white blond hair and custom leather pants, stitched together and clinging for dear life to his slim hips. He represented what New York City meant to me. A person and place trapped in time, my favorite time, on St. Marks. We spent a couple of hours with Jimmy after the store closed. Every rack of clothes and ever corner had a story. Jimmy's laugh and storytelling is irresistable, and his passion for rock n' roll is without a doubt the most sincere I've ever seen. When I wrote the story I called Jimmy "rock n' roll beating heart." He is also a dear friend and a pure soul. When I think of New York City, I think of Jimmy.
"The Trashiest of the Trash: My Rock n' Roll Memories"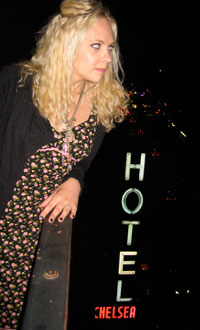 1. Meeting Nick Cave outside Chicago's Metro after the Grinderman set. Chip off the old block, Nick's son Luke tried to leave the venue with a beer in one hand and his girlfriend holding the other!

2. Vodka-champagne cocktails backstage with Trash Talk. Evil in a bottle.

3. Hanging backstage with Primal Scream at the Metro, and their disorienting live version of "Higher Than the Sun" that made me wonder what was in my drink.

4. Dancing to Johnny Cash's "I've Been Everywhere" with Eugene Hutz behind his DJ booth at Chicago's Debonair lounge.

5. Rushing the stage during "No Fun" at The Stooges at Chicago's Congress Theatre.

6. The East meets the Midwest: Beers, beers, and more beers with the Bullys at Manitoba's in New York City!

7. Stealing anything not nailed down from CBGB's the week before it closed (you should see my bathroom!)

8. Eyeing every inch of Arturo Vega's loft like I was in the Smithsonian. Checking out the infamous shower stall of "Chinese Rocks" fame!

9. Watching the crowd sing "No Woman No Cry" back to the Wailers from the side of the stage, chilling upstairs with singer Elan and the band.

10. Leaving scribbled notes to Ryan all over the Chelsea Hotel. Not a stone left unturned in that place...
Links: